If you plan to marry in a locale known for its over-the-top hotel suites, like in Las Vegas, and planning a destination wedding, then choosing a suite as your venue could be a unique option to accommodate an intimate group.
"Getting married in a suite can be more affordable than renting a large-scale venue, overnight accommodation costs are built in, and the space is usually beautifully decorated," says Ellie Durbin. Durbin is the founder of The Aisle Assistant, which is a virtual wedding planning service.
Pros and Cons of Suite Weddings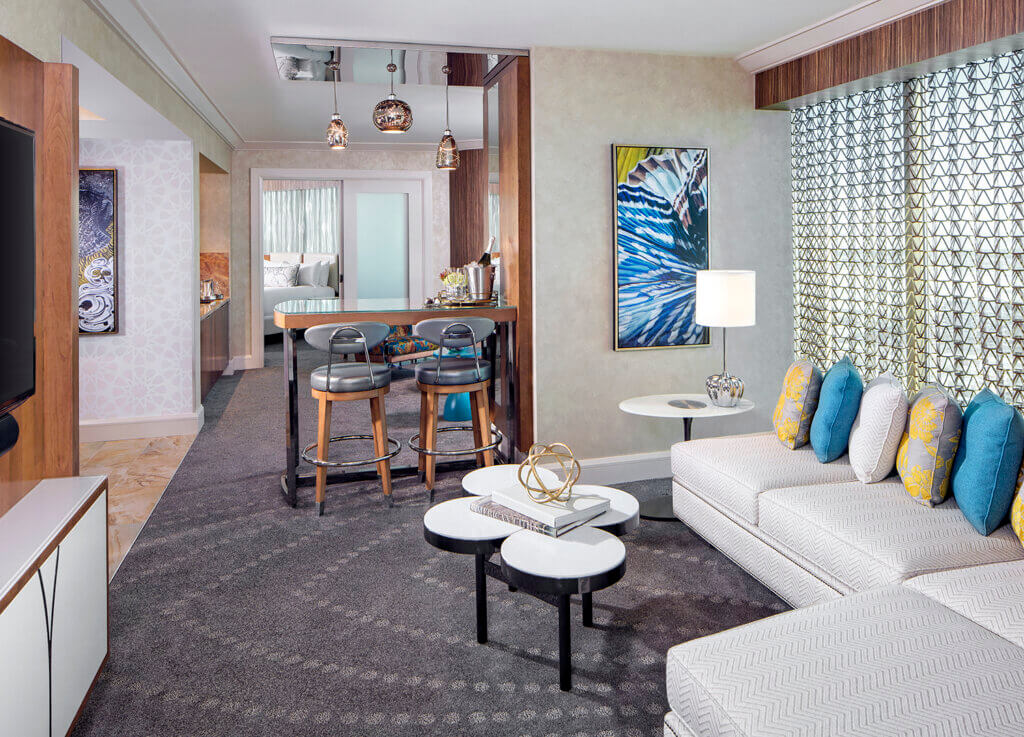 The pros of a suite wedding are being able to control your environment. You'll never have to worry about it raining on your wedding day. The space will also come pre-decorated and you don't have to worry about your guests driving anywhere.
From a photography perspective, Charles Moll, who owns Charles Moll Photography, says he likes the controlled environment aspect best.
"Unlike outdoor venues, suites provide a controlled environment where you can manage lighting, temperature, and avoid issues related to weather," says Moll. "Many suites have unique, elegant interiors and decorations, which can serve as a wonderful backdrop for photos."
There are some cons, as well.
"Decor and furniture likely can't be moved or changed," says Durbin. "If the space isn't large enough for the group it could be too cramped. It can also be tricky for catering if there isn't a kitchen in the suite and food must be brought in from another part of the hotel."
Suites can also sometimes be small, limiting the angles and shots available to the photographer. This can also translate to the photographer and other wedding vendors getting in each other's way and in the way of guests. Lighting also needs to be a consideration, and is something you will need to carefully check out before booking.
"While you can control the lighting to some extent, suites may lack natural light, which is often preferable for wedding photography," says Moll, the photographer. "Depending on the artificial lighting in the suite it may cause challenges for your photographer. I have photographed weddings where the suite has florescent lights which can cause weird banding in the images at certain shutter speeds."
Suites Work Best for an Intimate Wedding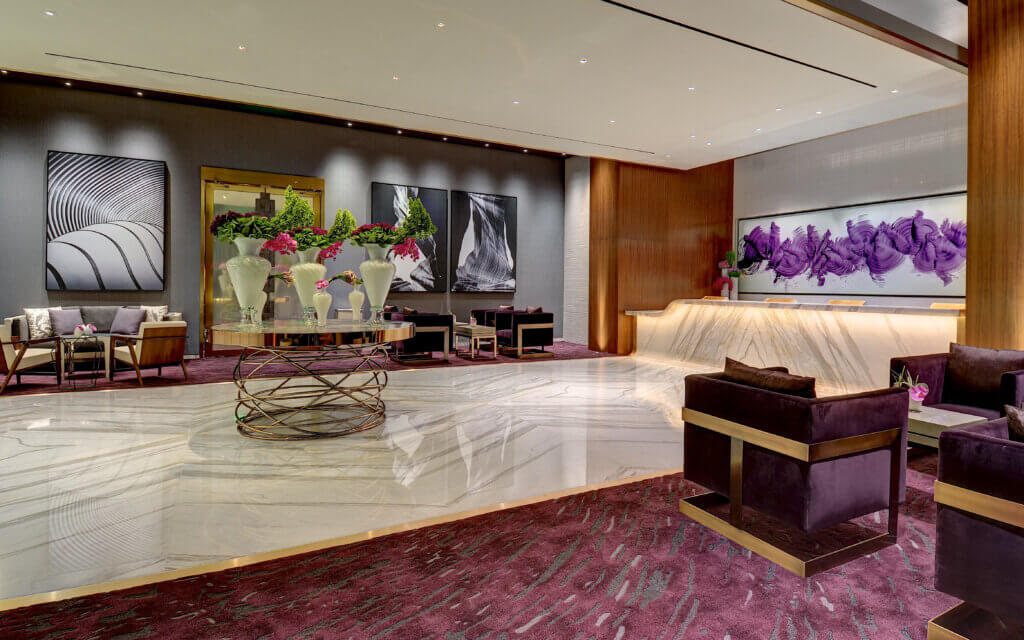 Suites often create a more intimate setting that can translate beautifully in photographs. They're especially fitting for close-up shots and portraits, Moll tells us. But you'll want to think hard about your guest list if you decide to book a suite for your wedding.
"If you're planning to get married in a hotel suite, be realistic about how much space you have to work with. The most important thing I can advise is to keep your guest list small," says Aviva Samuels, founder of Kiss the Planner, a boutique destination wedding and event planning company.
You're going to need to plan out the space carefully and how everyone will fit into it.
"If both the ceremony and reception or taking place in a hotel suite that isn't big enough to accommodate chairs placed in rows, as well as another area for tables, then consider having guests sit at the tables during the ceremony," Samuels says. "Or, if the suite has an outdoor patio, that can accommodate ceremony chairs, this can work well, but you would still need to consider this your back up plan, in case of inclement weather."
What to Look for When Scoping out Suite Venues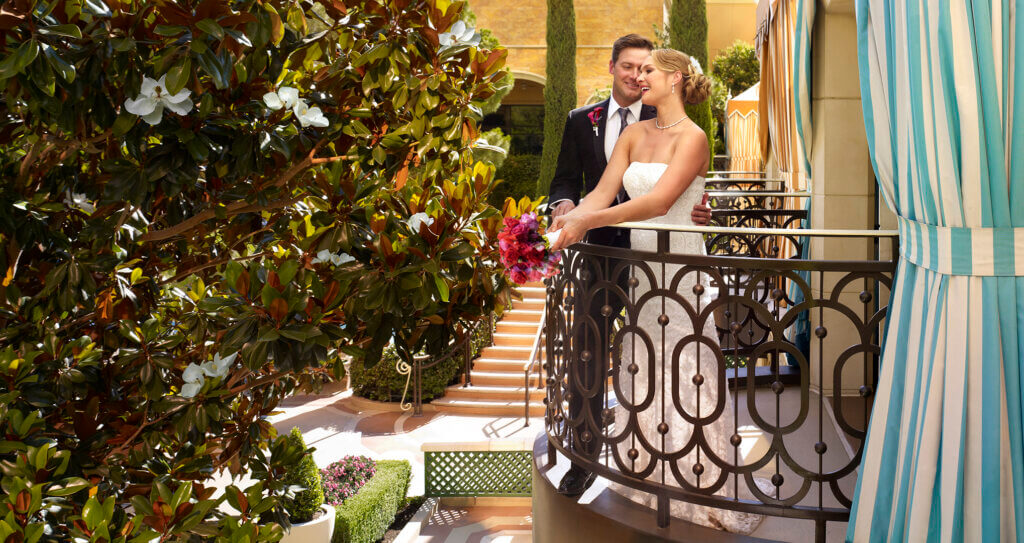 When looking at suites, you'll want to find ones with ample natural light if possible. This will allow for better photographs.
"Look for large windows or skylights, as these are a bonus. The direction the windows face can impact the light quality at different times of the day," Moll says. "Check your suite at the time you hope to get married to make sure the sun is not creating harsh shadows, or the space is too dark. If the suite has good natural light, schedule the ceremony when the light will be best. This is typically in the early morning or late afternoon, commonly referred to as 'golden hour'."
You'll also want to pay close attention to the layout. The suite needs to have enough space to incorporate all aspects of your wedding. Everything from getting ready to the ceremony and reception should be considered.
"Make sure there's enough room for your photographer to move around to capture different angles," Moll says. "Pay attention to the suite's decor. Neutral or lighter colors can help reflect light and make the room look bigger in photos."
Durbin, The Aisle Assistant founder, offers this advice:
"I would make sure the bedrooms can be closed off and there is enough room in those spaces for hair and makeup artists to come in (if needed). Consider what the ceremony backdrop might look like and how guests will flow through the space."
Overall, a suite wedding can be a sweet idea. They're perfect in a location with top notch suites and are planning an intimate wedding with just a handful of family and friends.
---
The Suite-est Idea Of All?
Grabbing tickets for the 70th wedding anniversary vow celebration at Caesars Palace. Join us in recognizing over 5 million happily married people by renewing your own vows. See you there!