Lynn Marie Goya serves as the Ex-Officio Clerk of:
Board of County Commissioners

Clark County Board of Equalization

Clark County Liquor and Gaming Licensing Board

UMC of Southern Nevada Board of Trustees

Mt. Charleston Fire Protection District Board of Directors

Clark County Water Reclamation District Board of Trustees

Clark County Debt Management Commission

Clark County Redevelopment Agency

As an elected official, the County Clerk works on behalf of the public to ensure government transparency and preserve the county's unique history.
Other Services Include:
Marriage Licenses

Certified Proof of Marriage

Certificates of Vow Renewal

Passport Acceptance

Proof of Life Verification

Lobbyist Registration


Certificates of Permission to Perform Marriages

Filing Fictitious Firm Name (FFN/DBA) Certificates

Filing Notary Surety Bonds and Administering Notary Oaths

Administering and Filing Oaths of Office for Various Elected Officials

Publishing Approved County Ordinances, Amendments, and Resolutions

Public Records Request Fulfillment for Various Boards and Commissions

Please explore our website for more information on these and other services.
---
About Lynn Marie Goya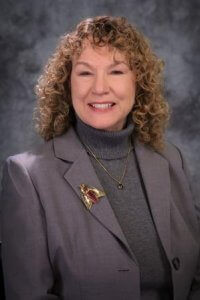 Lynn Marie Goya was elected as the Clark County Clerk and has been serving since January 2015. Clark County, which contains the famous Las Vegas Strip, issues approximately 80,000 marriage licenses per year to couples from almost every country in the world. The local wedding industry generates over 18,000 jobs and contributes $2.5 billion in annual economic activity.
When Goya discovered a sharp decrease in wedding tourism, she immediately took action, working with the legislature to create a special wedding promotion fund that generates over $1 million per year. She created a public/private partnership with the wedding industry that evolved into the Las Vegas Wedding Chamber of Commerce and works closely with Las Vegas Convention and Visitor's Authority (LVCVA) and Travel Nevada to strengthen this core legacy industry. Through her leadership, Clark County expects to increase weddings between 5-6% in 2021 after declining for more than twenty years.
Prior to being elected, Goya was a freelance journalist who wrote for local, regional, and national publications including USA Today, Audubon, Family Life and the Boston Globe, and co-authored two Falcon Press hiking guides with her son. She is an award-winning playwright, an Emmy-nominated writer; received the Frederick L. Ryan Award for Economics; the JCPenny Golden Rule Award for community leadership; and the EMERGE Nevada 2016 Alumni of the Year.
She is the 2022 President for Nevada's County Fiscal Officers Association (CFOA).
She served on the 2019-2021 Board of the International Association of Government Officials (IGO).
Awards and Recognition:
2021 Crown Communities Award Winner: Clark County Clerk Customer Service Website Redesign

2021 iGO Excellence in County Government Award for various achievements and initiatives

2020 Cashman Good Government Award Finalist from Nevada Taxpayers Association for "Ensuring Marriage Integrity"

2019 iGO Innovator Award (Clerk's Division) for overhauling the Marriage Officiant program to include online and in-person training

2019 Center for Digital Government, Government Experience Award for MLIC.Vegas and online customer service improvements for national and international customers

2018 Honorable Mention Good Government Award from Nevada Taxpayer's Association for innovations supporting the addition of new married names to marriage certificates

2018 NACo 2018 Achievement Award for streamlining and standardizing the marriage officiant application process

2016 Best Practices – Records Management from the National Association of County Recorders, Election Officials, and Clerks (NACRC) (Award) for "Low-Cost Tech Innovations Save Time and Money for County Clerk"

2016 NACo Achievement Award for "Low-Cost Tech Innovations Save Time and Money for County Clerk" (Award) (Video)

2015 Women of Distinction Award for Corporate and Government Services from the National Association of Women Business Owners of Southern Nevada (Award)

2015 Alumni of the Year, EMERGE Nevada

Achievements:
Implemented a secure online and in-person credit card processing service to reduce cash intake and allow the department to collect online order requests 24/7;

Created a simplified website for couples, MLIC.VEGAS, with a QR code that chapels and wedding planners can use on their literature to direct customers to our mobile-friendly application. Now, 100 percent of the couples use the online application, which reduces wait time for couples and printing costs for the department;

Worked with the legislature to provide much-needed technology funds to all Nevada county clerks;

Implemented a strategy to protect digitally archived permanent public records to secure and protect them from potential data loss or ransomware threats;

Overhauled the marriage officiant application process and implemented a mandatory training program to ensure officiants understood their rights and responsibilities to the state;

Streamlined the certificate filing process saving hundreds of hours of staff time;

Reorganized the Clerk's Office management team and created a new system for employee review and training;

Created an online scheduler for civil marriage ceremony and passport acceptance appointments;

Spearheaded promotional campaigns including Las Vegas Marries the Military in 2017 and 2018, "Say Yes to the UK Dress", May as Royal Wedding Month and the Pop-up Marriage License Bureau at McCarran Airport resulting in over $20 million in national and international publicity for Las Vegas Weddings.

In-Process Initiatives:
Digitizing county permanent public records that date back to 1909 and creating a transparent public search;

Developing a strategy to balance privacy of personal information with public access to information;

Creating an ESRI geocoded Story Map with over 1-million data points of marriage certificates with a data hub that will be available to researchers who want more in-depth information on who is getting married;

Creating a Celebrity Timeline with over 350 celebrities from 1920's John Gilbert to Joe Jonas;

Informational customer service portal where couples can access all things wedding;


5-Millionth Wedding activations.