This September marks 70 years since Las Vegas was named the "Wedding Capital of the World," a title that was officially acknowledged on September 23, 1953, in the London Daily Herald.
With over 5 million marriages celebrated in this city, it has undoubtedly earned its "romantic" reputation. A launch party to honor this milestone was held on April 27 at 5 p.m. inside the Copa at the Bootlegger Bistro.
Unveiling plans for Southern Nevada's 70th anniversary event, a spectacular celebration recognizing it as the "Wedding Capital of the World," special guests took the stage, including Lorraine Hunt-Bono, former Nevada Lieutenant Governor and co-producer; Lynn Marie Goya, Clark County Clerk; and Dennis Bono, host of the award-winning Dennis Bono Show and co-producer.
Clerk Lynn Marie Goya announced that the 70th Anniversary Celebration will be on September 3 at Caesars Palace. This monumental event will include a Sunday brunch, a Vegas vintage-style show produced by Pompey Entertainment's Damian Costa., a mass vow renewal, an elaborate wedding cake and more. Over 9,000 couples, who were reached via email, have shown interest in attending this special commemoration.
"There's almost no industry or business that lasts this long. We have been the number one global [wedding] destination for at least 70 years, and that is pretty impressive," Goya said, expressing her enthusiasm for the 70th Anniversary Celebration. "I can't wait to see couples renew their vows."
The 70th Anniversary Celebration will be more than a typical Vegas extravaganza. For those who are interested in partnering, this event presents an opportunity for local businesses and other community organizations to participate. Caesars Palace, the Las Vegas Convention and Visitors Authority, the City of Las Vegas, the City of Henderson, the City of Mesquite, North Las Vegas and the Nevada Partnership for Homeless Youth have already established partnerships for the occasion.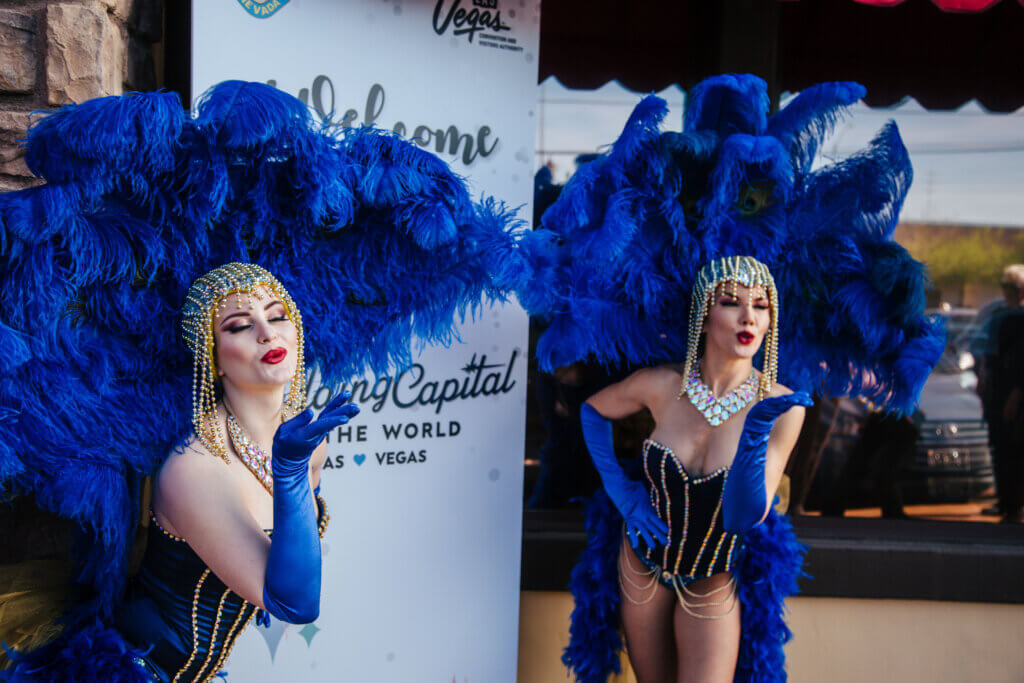 After sharing his own unique proposal story, award-winning host Dennis Bono uncovered a curious centerpiece on the stage—a new logo in the likeness of the Las Vegas Welcome Sign that honors this historic event—that spelled out "Las Vegas Will You Marry Me," which also happened to be the song title of a piece written exclusively for the anniversary.
Bono seamlessly transitioned from a speaker to an entertainer as he sang this new catchy crooner-tune written by Dan Slider. Two Vegas showgirls wearing glittery deep-blue corsets with feather headdresses danced gleefully beside him. Reminiscent of classic Vegas headliners like Frank Sinatra or Dean Martin, this performance was a preview of the Vintage Vegas show, which will premiere at the 70th Anniversary Celebration in September.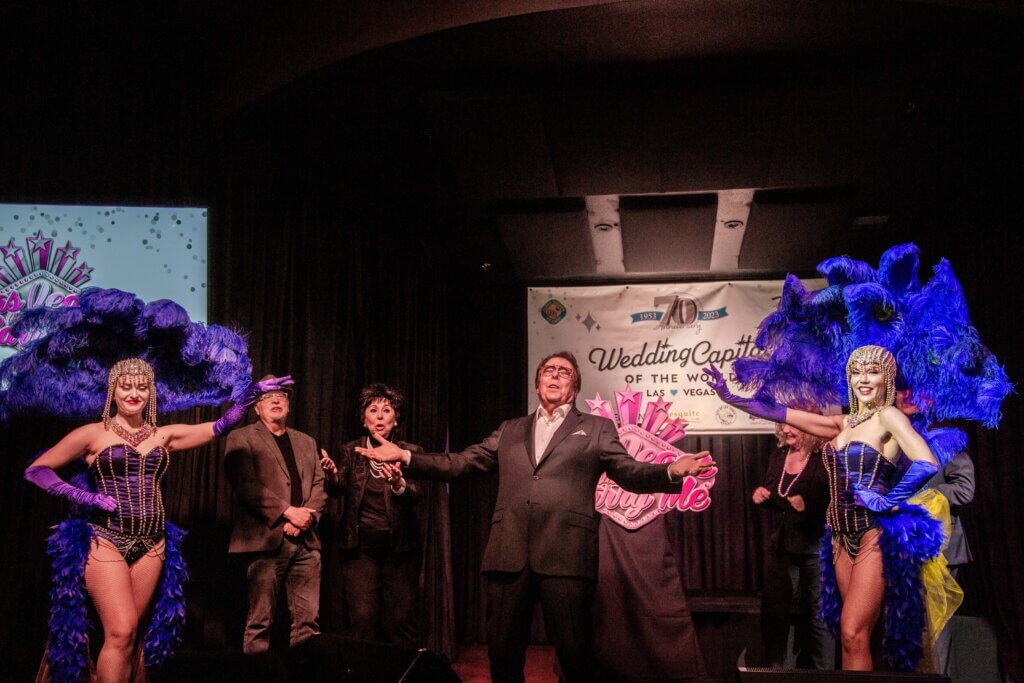 Before closing his smooth jazz number, Bono teased, "You ain't seen nothing yet. Tell your friends that this is going to be a big event that they don't want to miss."
Tickets sales begin in mid-May. General admission tickets will be $70, and VIP vow renewal tickets will be $170 per couple. To register names for the exclusive presale, visit Weddings.Vegas/Event