The courage to make the first move is sometimes all it takes to spark true romance. Shane Warner took his shot by messaging Sean McAllister, a Las Vegas entertainment host, and it worked. After talking for a few weeks, they agreed to get together and finally meet in person.
An Unforgettable Date at the Elephant Bar
"So our first date was at Elephant Bar at The District at Green Valley Ranch," says Sean. "Sadly, it does not exist as the Elephant Bar anymore. That tells you how long ago we met." They laugh.
Nestled next to one another on a cozy couch, they talk amiably about how their Vegas romance began. Shane brightens as he describes how, although he had previously been aware of his partner's stunning appearance from television, he found him to be even more attractive when they met in person.
"I remember him walking around the corner, and it was weird seeing him in person because I'd always seen him on TV," says Shane. "I'm like, 'Oh my gosh, he's much better looking in person,' and he looks good on camera. So that says a lot."
Shane and Sean dated for about five years before they were engaged. Everything came together perfectly at the pivotal moment when Shane got down on one knee and proposed. There was no doubt in their minds that Las Vegas was the right location for their wedding celebration.
A Modern Twist on a Vintage Vegas Wedding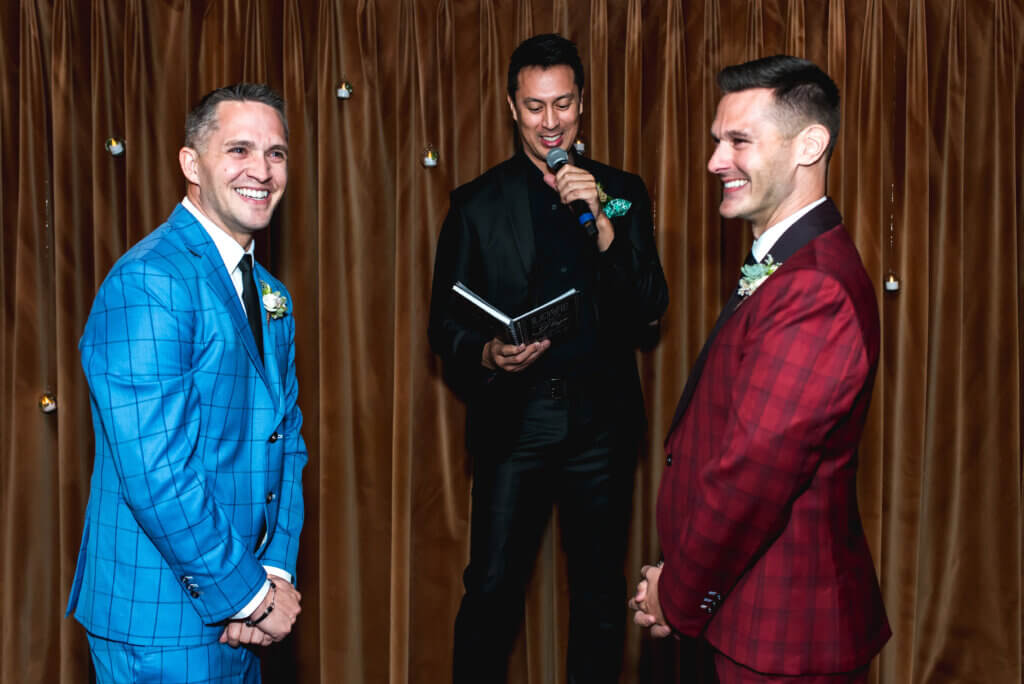 Shane and Sean cared deeply about their wedding's environment and wanted it to reflect what they had envisioned. The glowing couple had an intimate ceremony in an elegant venue and picked a location that they described as the perfect spot. They knew immediately that their big day would be unlike any other wedding party on the Strip. The happy couple beams warmly while sharing the details of their eloquent wedding ceremony.
"We really took time to choose the place that felt right for us. We weren't necessarily going by tradition on anything," says Sean, noting that instead, "we just said, 'Let's wipe the slate clean. Let's do what feels right for us.' And that's exactly what we did."
About a year and a half later, they exchanged vows at the Downtown Grand in downtown Las Vegas. They were surrounded by close family and friends as they commemorated an exciting new chapter in their love story. The Downtown Grand was the ideal place for them to have a wedding ceremony, which integrated a vintage Vegas flair with a contemporary twist.
"It was a little bit of old-school Vegas combined with a modern wedding," says Shane. "The Downtown Grand did an amazing job taking care of us and our friends."
Unrivaled Hospitality Shines in Las Vegas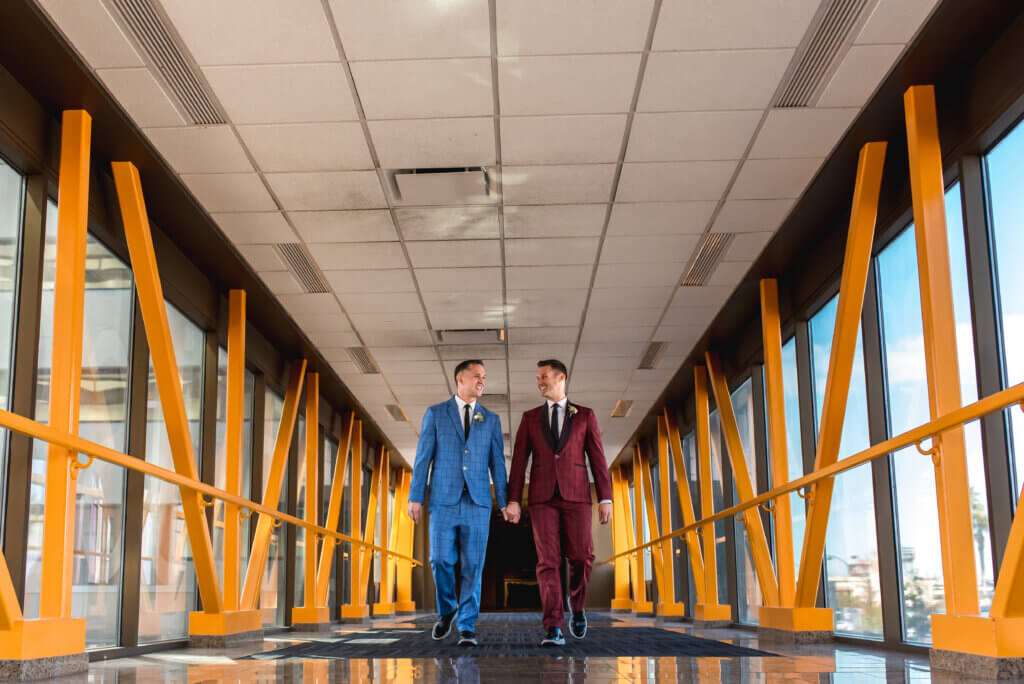 Whether the marriage ceremony is more intimate or more extravagant, every love story is worth celebrating with the same fervor. No other city offers the same enthusiasm and commitment to providing engaged couples with everything they need to plan the wedding of their dreams. It is unrivaled in its charm and intrigue.
"Las Vegas is a hospitality city," says Sean, "and we got to see firsthand what Las Vegas hospitality looks like in dealing with everyone who had a hand in our wedding here. Las Vegas could not have been a better place for us to get married."