For more Las Vegas wedding food inspo, check out the Vegas Wedding Capital Instagram.
After you've said "yes" to the dress and decided on a venue, the next decision is a culinary one. Arguably, one of the most important elements of your wedding is the food. What type of food will you serve? Should the reception be sit-down formal, or a more casual buffet with food stations and passed hors d'oeuvres?
On a granular level, there are even more elements to factor in when it comes to the menu. What type of cuisine? Should it reflect the bride and groom's heritage? Or just their favorite foods? A mix of high and low? Regional specialties?
Since the possibilities are endless, we chatted up wedding planners, caterers and experts for their insights into planning your wedding's foodscape. Here are their top five culinary moments.
Themed Food Stations
While most weddings stick to the traditional steak or fish, there are couples going rogue with buffets, DIY food stations and even late-night snacks.
Kevin Dennis, the owner of Fantasy Sound Event Services, says that wedding guests want to socialize and dance. "While seated dinners certainly have their time and place, most couples and guests want to mingle freely all night. This is where grab-and-go stations and passed hors d'oeuvres are returning to popularity, but with a twist. Mini versions of fan favorites and small plates such as poke bowls, charcuterie plates and various pastas can be filling yet easy enough to take with you as you're enjoying the wedding."
And while you don't often think of vegan dishes as wedding food, Dewey Losasso, the corporate executive chef for Bill Hansen Catering, is trying to change that with vegetable-forward stations that mimic more traditional carnivorous fare. He's introduced turnip carving stations, deeply roasted vegetables that are packed with flavor and zesty, crunchy salads.
Smoky Signature Cocktails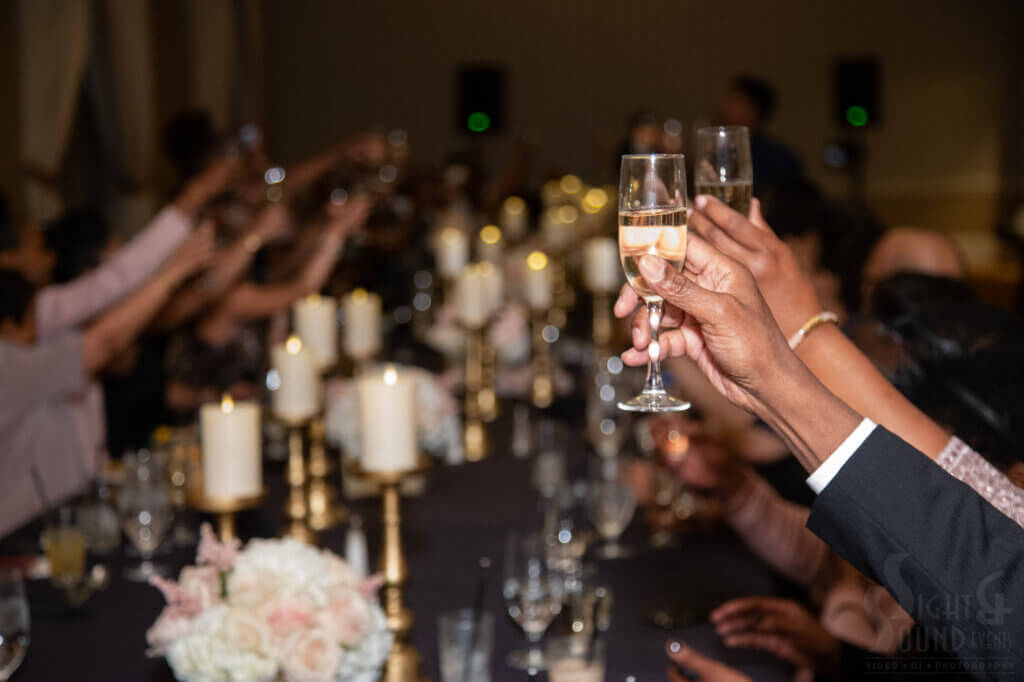 The concept of getting the party started immediately can also be carried through to the cocktails. After all, what better way to loosen up than with a tray of drinks waiting for guests as they enter the reception? From an execution standpoint, this also helps alleviate long, annoying lines at the bar.
Losasso always recommends a welcome cocktail at the beginning of the event. These creative libations can reflect the couple's favorite spirit or stay on theme. Losasso notes that tequila is becoming the most popular alcohol for signature cocktails, and he tries to add a smoky element for flavor and depth. One of his most requested drinks is a Paloma with charred pomelo (as opposed to grapefruit), which is steeped in the tequila for a multisensory experience.
Fresh fruit infusions, liquid nitrogen and artisanal ice also add to the wow factor and are tricks caterers use to punch up their mixology offerings. For a more masculine and/or traditional touch, Losasso recommends a Moscow Mule or Old Fashioned.
Comfort Food
"The last two years have us longing for a sense of security," says Peter Mitsaelides, a director of catering for a country club. "Especially popular is comfort food that embraces fond childhood memories."
Steven Feinberg, who owns Bunn DJ Company, is seeing a lot of wedding food that reflects the couple's personality, versus tried-and-true dishes. "Couples are serving their favorite snacks, whether it's popcorn straight from the machine or hiring an ice cream truck, it's all about telling a story to your guests through the foods you love."
Lately, wedding guests are snacking on gourmet versions of White Castle burgers, tacos and quesadillas, grilled cheese and tomato soup shooters, New York-style pretzels, mac and cheese balls, corndogs and eggrolls.
Cultural Cuisine

Food that honors the couple's heritage and/or culture is being embraced across the country. "So many couples had to postpone their nuptials due to COVID," notes Mitsaelides. "Now is their chance to truly celebrate, but with a personal touch. The emphasis is on reconnecting with family and friends and personalizing the festivities. Couples are integrating many meaningful moments into receptions, especially food with a family or cultural connection. They're even sharing passed-down family recipes to recreate."
Better yet, multicultural weddings make for a delicious menu. Dewey recommends highlighting your family's heritage and traditions and expressing it through the cuisine. For Italian weddings, for example, he'll present penne vodka, chicken parmigiana and zeppoles. Southern-style meals are also very on trend, including chicken and waffles.
Losasso recently catered several "mashup" weddings. For a Polish and Lebanese celebration, which honored both sides of the aisle, he served stuffed cabbage and pierogis, complemented by tabbouleh, falafel and sauteed branzino. "While the Polish stations were heavier than the Lebanese cuisine, it was a hit with all the wedding guests," Losasso says. "This was definitely one of the more challenging weddings I've ever done."
Naked Cakes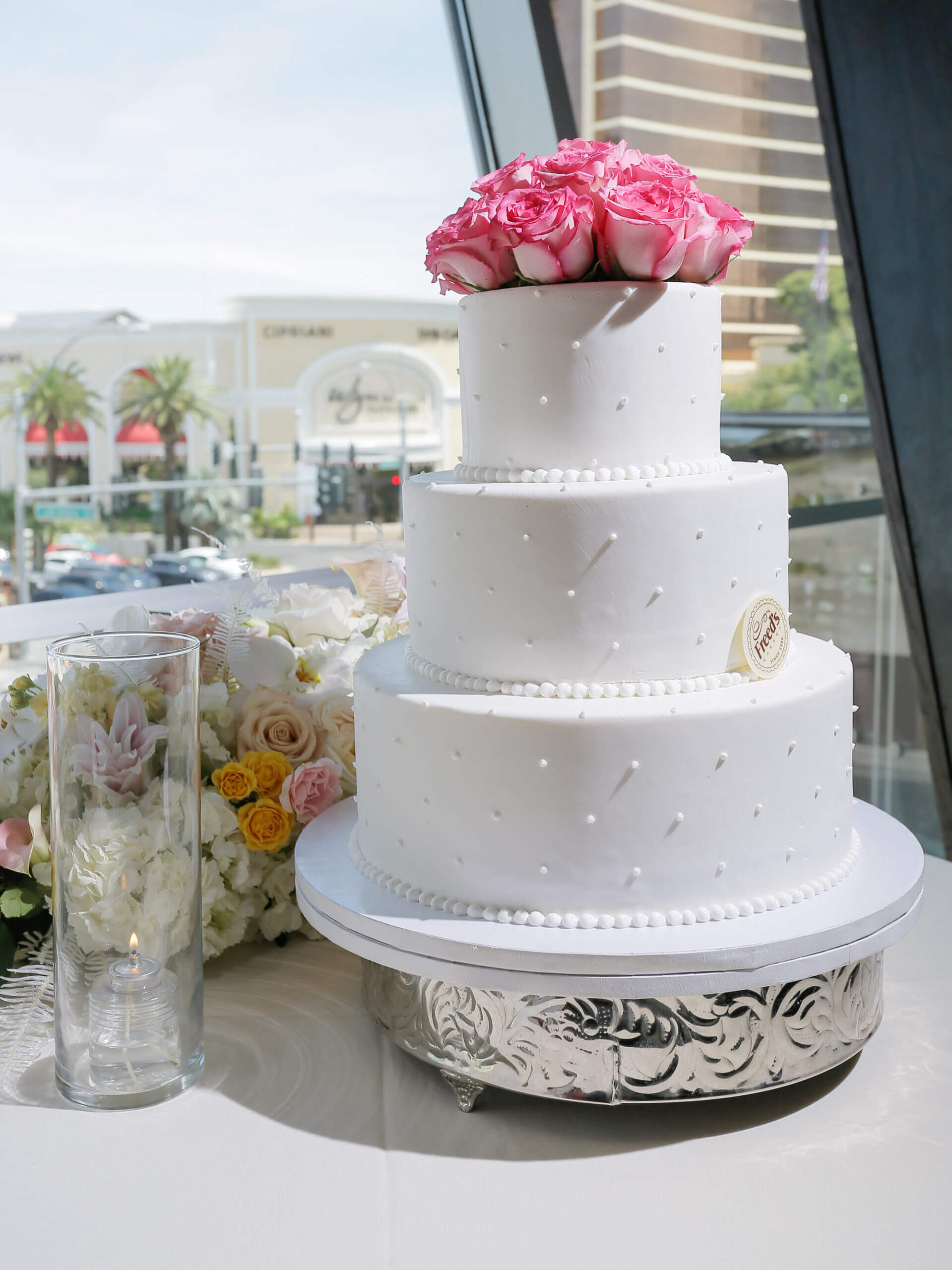 Skin is in! While Groom Cakes were all the rage for a while—and are still very much a part of bigger nuptials—today's wedding parties are opting for "Naked Cakes."
According to wedding planner and Fêtefully Founder GiGi McDowell, "Many are ditching the traditional icing-covered wedding cake for a naked cake. It's just what it sounds like." This sweet trend also dovetails with the idea of simpler, more artisanal weddings.
"There's no need to cover up all the magic happening on the inside," McDowell explains. "Show off all the layers, textures, and flavors of your cakes. If you want to add a little pizzazz, add a flower or two. This is a growing trend because Naked Cakes are unique, budget friendly and modern. They are still growing in popularity, but it's truly what's on the inside that counts.
Luxury Is In
Wedding planners all agree that their events are still as luxurious and over-the-top as ever, especially after the pandemic postponed so many "I dos."
"Weddings are doing the opposite of scaling back," remarks Nora Sheils, founder of Bridal Bliss. "Couples are spending more than ever. Not only for 2022, but budgets in 2023 are tracking to be just as high if not higher. Couples and parents save for years for a wedding. Weddings are one of the few recession-proof industries as we saw in 2008 and 2009 and continue to see today. A couple is not going to cancel their wedding because of the economy."
Find the Best in Las Vegas Wedding Food Offerings
Stay up-to-date with the hottest culinary trends with Las Vegas wedding food offerings. The number of Vegas wedding styles creates opportunities abound, with traditional and cultural cuisine at their centers. Explore our website to learn more.