Most pet-owning couples consider their animal companions to be members of their family. When it comes to weddings, couples with a furry friend are likely to include them in their marriage ceremony. Many animals even have a special role in a pet friendly wedding, like flower dogs and ring bearers.
In fact, a poll of 2,000 dog owners, commissioned by Amazon Handmade and conducted by OnePoll, found that nearly two-thirds of people would have their dog involved in their wedding day. Moreover, the survey showed that 70 percent of dog owners would ask if a wedding venue was dog-friendly while searching for locations.
Lyric Russell and Heba Hassan, co-owners of FairyTale Pet Care's Las Vegas branch, say that more than 50 percent of couples, with the majority being millennials and younger generations, have premarital pets. During the pandemic there was a boom in pet adoptions, catalyzing more intimate pet-owner relationships.
We chatted with the co-owners of FairyTale Pet Care to learn the best practices for including fur babies in a wedding ceremony. From wedding invitations to pet apparels, here is a handy guide to help you plan your pet-friendly wedding.
This interview has been edited for length and clarity.
Inform Everyone Involved of the Pets' Attendance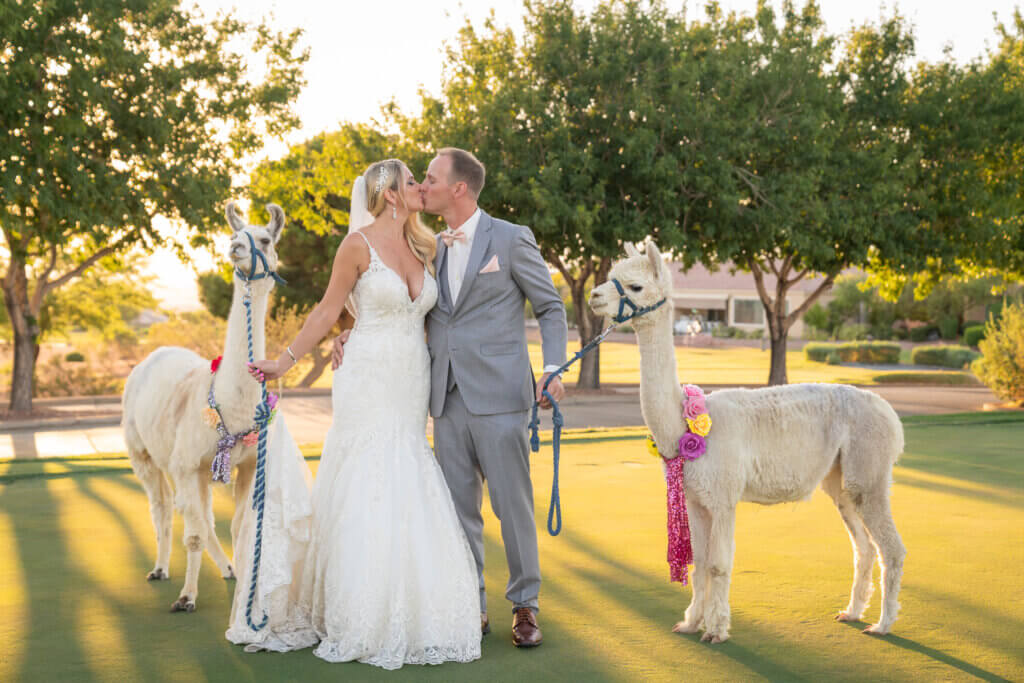 To help the big day run smoothly, it's important to let guests and vendors know ahead of time that pets will be present at the wedding. To make the invitations more personable, Lyric and Heba suggest illustrating pets on the invites as one way to get the word out.
"This news is also important because some guests may have allergies or are not inclined to be around pets," say the FairyTale co-owners. "By providing advance notice, guests can prepare themselves to attend comfortably."
It's also important to notify all the wedding vendors that pets will be in attendance as soon as possible to ensure a pet-friendly environment.
"To streamline this effort, couples should notify their wedding planner to relay this information to all other vendors, especially the photographer to coordinate pet photos and the venue to ensure compliance with the onsite pet policy," say Lyric and Heba. "A good wedding day pet care company will coordinate this with your wedding planner."
Speaking of wedding photographers, couples should not assume that all photographers are experienced in taking pet photos. This is a special skill.
"When looking for your photographer, make sure to ask if they have shot pets in the past and, if so, to show you examples," Lyric and Heba explain. "Also, look for a photographer that is pet-friendly. There have been so many times we have been at weddings, and the photographer wants nothing to do with the pet. This tends to leave the couple frustrated with only a limited amount of pictures."
Tips on Finding the Perfect Pet-Friendly Venue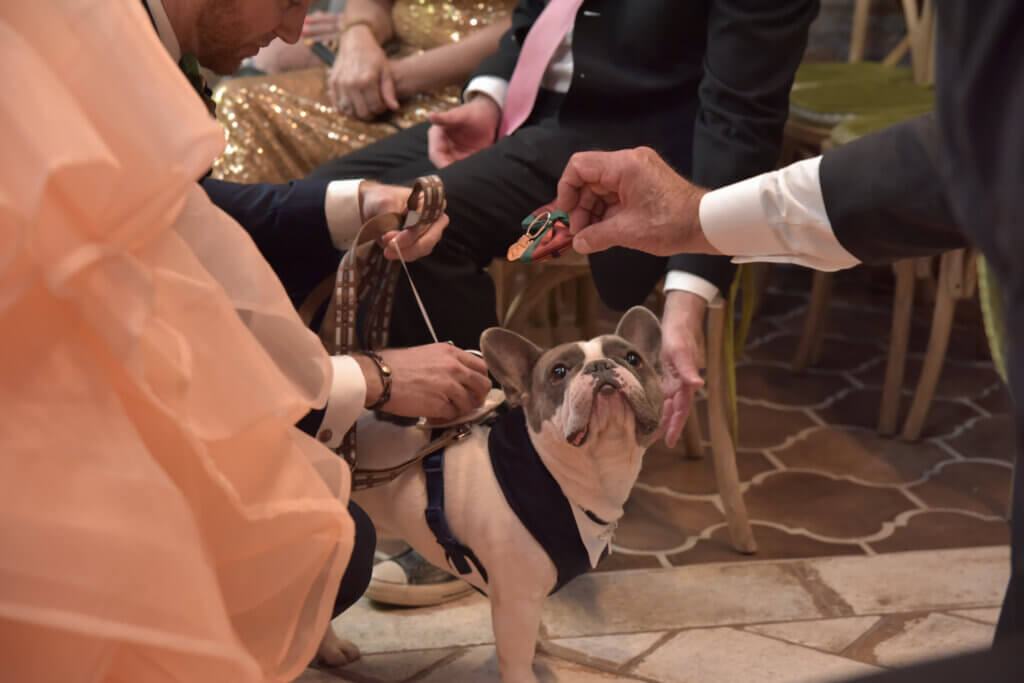 While searching online for a pet-friendly venue, read the website's blog posts to gain insights about which venues may or may not allow pets. Some premium pet care services, such as FairyTail Pet Care, provide recommendations on which locations are accepting of furry friends, have a clear understanding of their pet policies, and also offer comprehensive pet insurance.
Lyric and Heba on hiring a professional pet care service. "This is a win-win, as it allows for all parties involved (couples and venues) to rest assured knowing that there is sufficient coverage. Other key benefits of a wedding day pet care company that provides pet insurance include venues being more inclined to allow pets on property even if they typically do not (this allows for better venue optionality for couples) and venues may waive their pet liability fees (this means cost savings for couples)."
Why Should Couples Hire a Pet Care Company for the Big Day?
It is highly recommended that a couple finds a pet care company to streamline the wedding celebration, to save them time and energy. Plus, the romantic pair and their honored guests won't have to be concerned with delegating pet sitting duties if they hire a pet care company.
"Couples tend to forget that the atypical day and environment can be stressful and triggering for pets. That's why we highly recommend that couples have a dedicated professional handler to support their pet for the entire duration," say the FairyTale co-owners, "and no, this is not a job for a friend or family member for twofold. One is that taking care of a pet during a wedding is a true responsibility. Two, allow your friends and family to be present and celebrate your special day as guests and not service providers."
Lyric and Heba shared a useful checklist to use while researching professional pet care services. These are some things to consider when couples are in the planning phase:
Professionally trained handlers (to ensure all-around care)
Insurance (covers pet and venue property)
Roundtrip transportation (to and from the venue)
Rental wedding pet attire (provides a variety of collars)
Vendor coordination (to partner with your planner, photographer, and venue)
Photography assistance (handlers are well-equipped with toys and treats to get your pups camera-focused)
Wedding pet posing guide (provides an assortment of poses to choose from)
Meet and greet with your assigned handler prior to your event day (if needed, to ensure pet comfortability)
What Pet Supplies Should Be Brought to the Wedding?
All pets are different, and their reactions to a new environment will vary. But a pet sitter can gain the furry friend's trust faster when they give them their favorite treats or toys, say the FairyTale Pet Care co-owners. It's also important to take into consideration if a pet has any health conditions that need monitoring during the special day.
"Treats and familiar items are great motivators for making sure the day goes as seamlessly as possible," say Lyric and Heba. "Additionally, if their pet requires any special medical attention, couples must inform their handler and provide all necessary medications and supplies to ensure full and proper care."
Best Practices for Dressing Your Favorite Furry Companion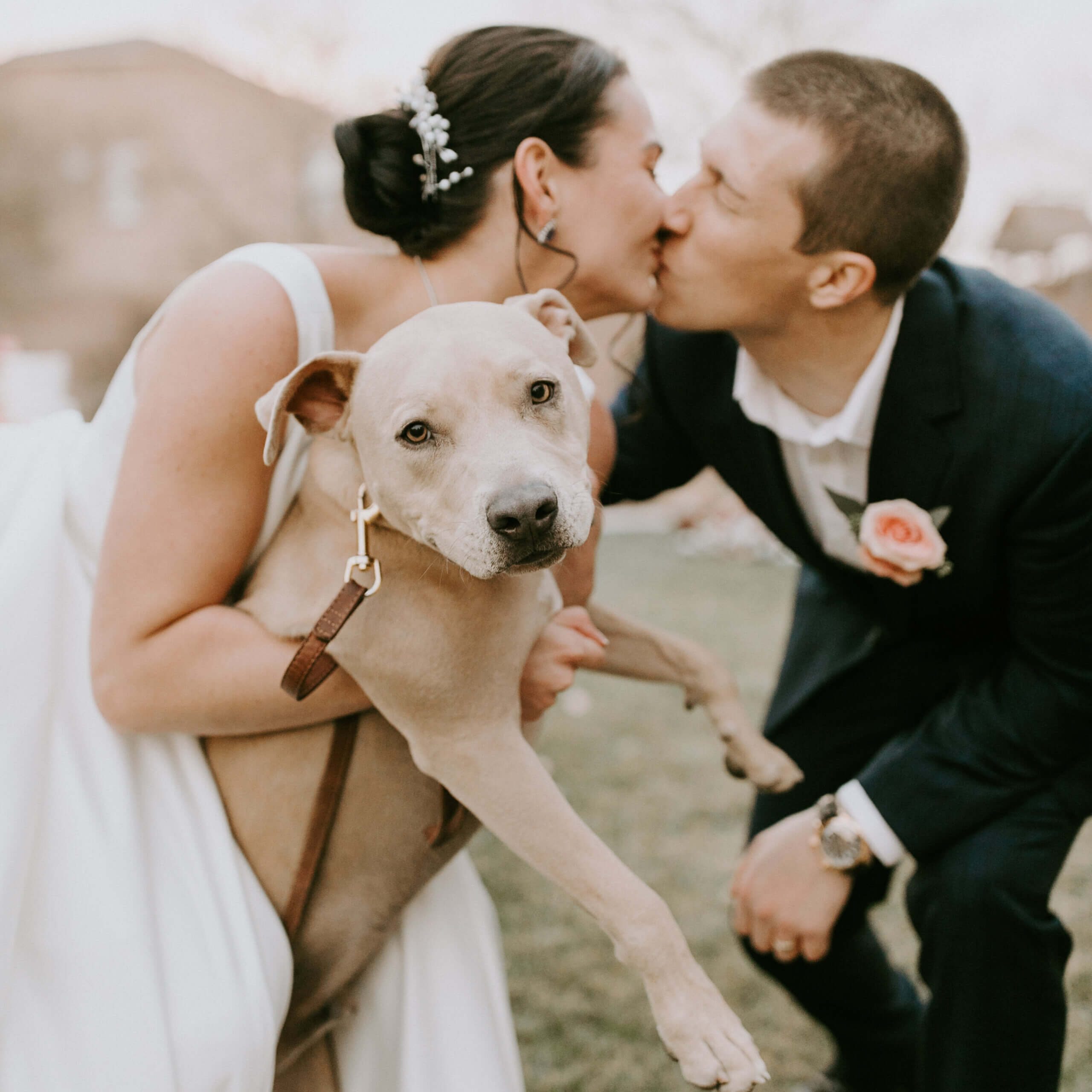 While coordinating wedding wardrobe choices, sometimes couples may want to dress up their pets, too. Most wedding day pet care companies will provide basic attire, such as bandanas and flower collars, say Lyric and Heba. Ordering customized pet clothes is a great idea, too. Couples will find a variety of pet wear vendors on Pinterest that sell personalized pet apparel.
"We recommend that couples order custom attire months in advance in order to confirm correct sizing and to get their pet used to wearing it for the duration of the day," say the FairyTale co-owners. "When couples practice putting on the attire, it helps make things a lot smoother on the actual wedding day."
To make a wedding day with pets go smoothly, it's crucial to consider all the special little details that go into making it a paw-fect marriage ceremony.
For more information about pet-friendly services, visit fairytailpetcare.com.