A love like Jillian and Kyle's transcends time
Timing was crucial in the romance between Las Vegas entertainment reporter Jillian Lopez and entrepreneur Kyle Markman.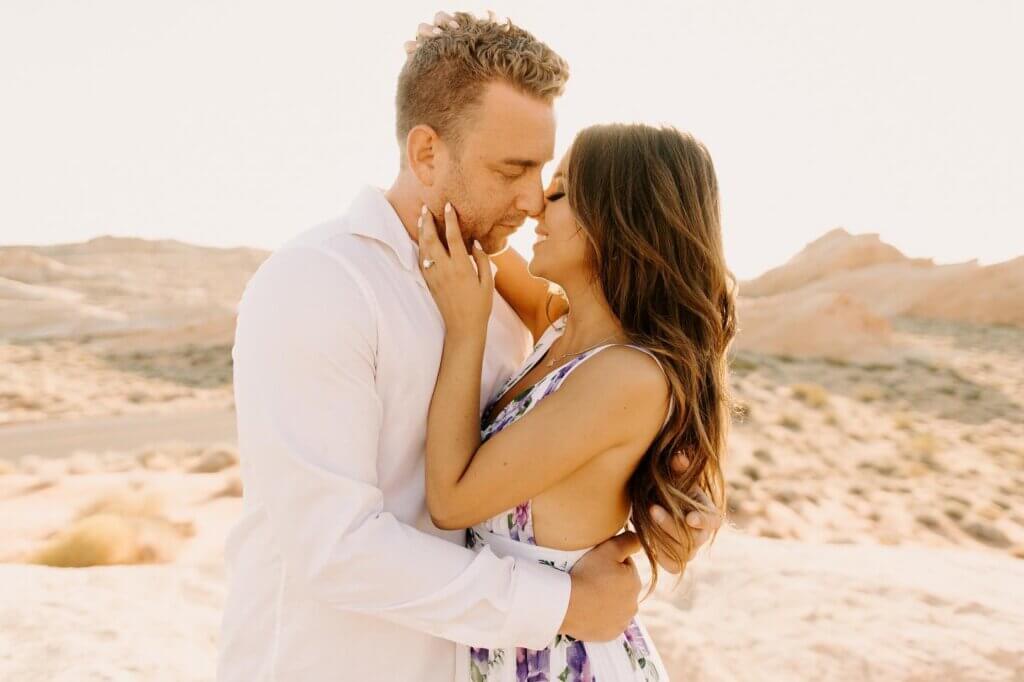 The two met when Kyle visited Jillian's Las Vegas television studio, where she was working as a producer and reporter. Kyle asked her out for a glass of wine, but she already had plans to leave town that weekend. She told him to follow up with her in a week when she returned. But she didn't hear from him again.
"It's all about timing," says Jillian, her bright eyes meeting Kyle's, as they sit closely side by side, "but in the moment, I was definitely annoyed." They both laugh.
A year later, Kyle reached out to Jillian with a business proposal, asking if he could return to the show, and she let him.
"I don't know why she let me," says Kyle, with a grin.
"It was a slow news week," jokes Jillian.
Journey To The Proposal
Jillian and Kyle dated for a year and a half before venturing on a romantic getaway for three weeks in Thailand. During their epic adventures, they stood in front of waterfalls, rode elephants together and had the time of their lives. The atmosphere could not have been more idyllic.
"When we were in Thailand on a vacation, that's when I realized I couldn't live without her," says Kyle.
He got the ring, intending to pop the question in front of the Eiffel Tower in Paris in May 2020. Unfortunately, the COVID pandemic changed everything, but it didn't stop Kyle from finding another way to propose.
On April 24, 2020, Kyle took Jillian on a surprise date. They hopped in the car, then he blindfolded her. It did not thrill her going into it blindly. He drove to their favorite casino, Red Rock Resort, which had shut down during the pandemic. Holding hands, he guided her through the gate over to the swimming pool area facing the hotel.
When Kyle removed her blindfold, it unveiled lit hotel rooms on the building, spelling out, "Marry Me?"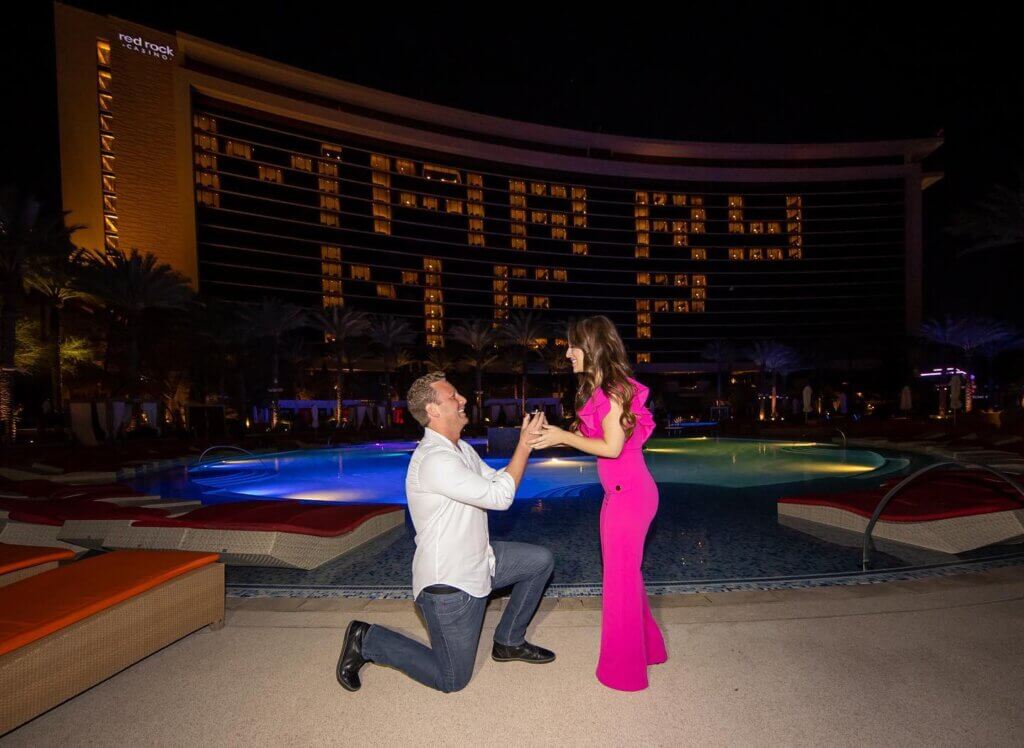 It took her a moment to process it. Once everything came into focus, she realized what was happening, and she shoved him in jest.
"It's funny, when you get engaged you don't remember, you black out, especially as the girl," she says. "He told me I pushed him away and there was video proof." She beams as she rolls her eyes.
Kyle pulled her in close, dropped on one knee, and proposed to Jillian. She said yes.
A Dream Wedding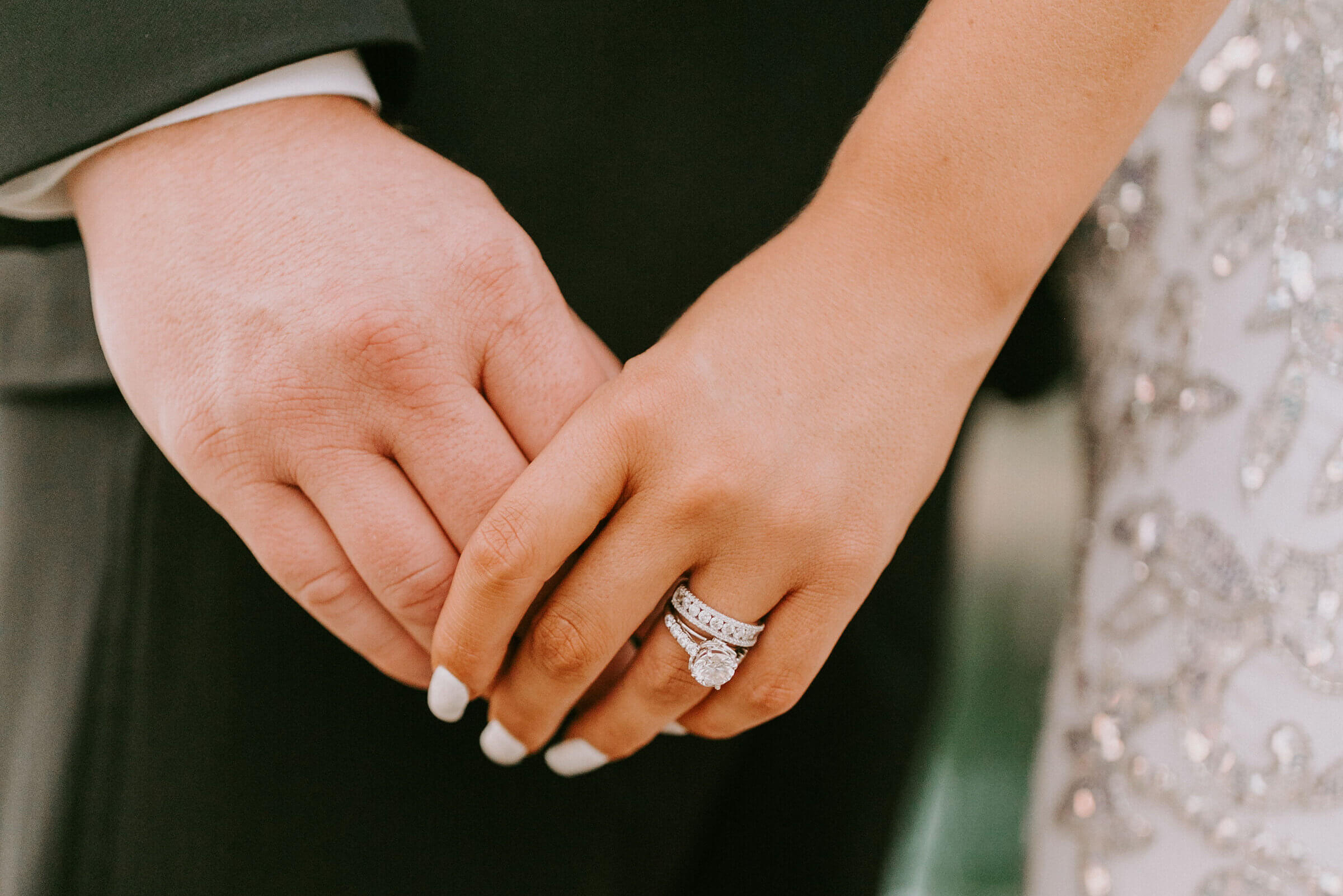 A Vegas wedding isn't a cliché for Jillian, who grew up in Las Vegas, while Kyle hails from Dallas, Texas. Their nuptials took place at Spanish Trail Country Club on September 25, 2021 with a formal affair and a gigantic party.
Jillian expresses how special this town is to them.
"This is where we met and fell in love. We knew we wanted a big wedding. Who doesn't love an excuse to come to Vegas for a wedding?"
The Jillian and Kyle Love Story
Share your love story with the Wedding Capital of the World and be part of the five million love stories of couples who exchanged vows in Las Vegas, NV.