Las Vegas has everything a couple needs to experience a spontaneous "movie magic" moment: romantic restaurants, inspiring views and a legendary nightlife. In a city where anything is possible, a starry-eyed lover delivered a cinematic wedding proposal akin to a romantic hip-hop dance flick.
On February 2, a Las Vegas couple had an unforgettable experience together at the 24 Oxford inside the Virgin Hotels at the monthly talent show "Tuesday Blend."
To kick-start the evening, a trio of lively hip-hop dancers performed a slick routine to DJ Good Vybe's remix. Cool shades of purple and blue illuminated the intimate venue's small stage. As the music seamlessly transitioned from one song to the next, more dancers gradually joined the performance, extending from the platform into the stage pit, shaping the show into an immersive flash mob.
Read More: The Bride's Journal: 'We Ditched the Traditions and Made Our Wedding Truly Personal'
Event producer Vanessa "V" Fuñe, also known as V, and her girlfriend, Jessica Owens, attended the show that evening. The couple harmoniously mingled with a growing number of enthusiastic performers emerging around them in a carefree atmosphere. Jessica smiled while watching the show; she was oblivious to what V had planned.
A sequence of smooth dance moves led to a significant moment that forever changed the course of the couple's lives. When the DJ played the popular remix of Jagged Edge's hit, "Let's Get Married," the dancers slowly moved away from the center of the dance floor to make room for a special announcement.
A Dance Proposal to Remember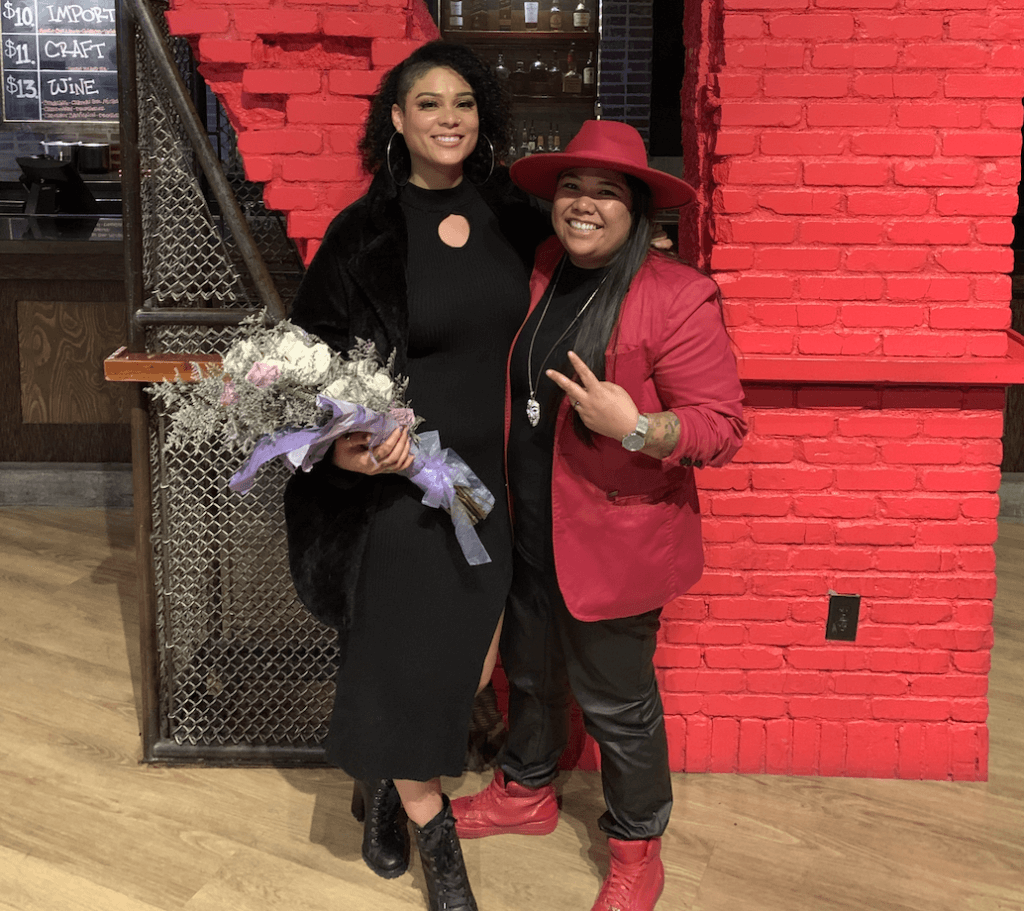 V took Jessica by the hand and guided her to the center of the room. She handed her a flower bouquet and poured her heart out to Jessica, reciting a warm speech.
V kneeled to propose. She presented an engagement ring in a striking silver rose jewelry holder. Jessica, shedding happy tears, giddily accepted her proposal, and they embraced. Jessica's parents and aunts—who had traveled from out of town—emerged from the crowd to congratulate them.
The newly engaged pair spent the rest of the evening celebrating their love and commitment, surrounded by family and friends.
Jessica describes her new engagement as "surreal" and can't stop looking at her dazzling ring. "Every time I watch the proposal video, I cry tears of joy," she says.
Celebrating a Rich Relationship
Before their engagement, the couple had been friends, which eventually blossomed into a romance. They were familiar with one another since they both worked on the same LGBTQ+ events in town.
About four years ago, V was producing a lesbian event hosted by Eden Entertainment. Jessica remembers walking V to the pool area, but V, who had been so focused on her work, had no clue that would be her future fiance. Jessica couldn't help but notice V's bright smile and the gold vest she wore in the pool.
The second time they met was while Jessica was bartending at a Pride Las Vegas event that V was also working. This time around, the event producer did not miss the opportunity to talk to Jessica and started following her on Instagram.
"All my friends kept talking about how hot this bartender was, but it wasn't until I saw her talking to someone outside of the bar that I saw this light around her that completely hypnotized me," says V. "I don't even drink much, so I gathered whatever courage was within me to order a drink."
This all led up to the pivotal moment when the two matched on the Her app and started dating about three years ago. It had been eight years since V had been in a serious relationship. She had sworn off any romantic affairs to solely focus on her career until Jessica came along.
"It was like the universe kept pulling us together," says V.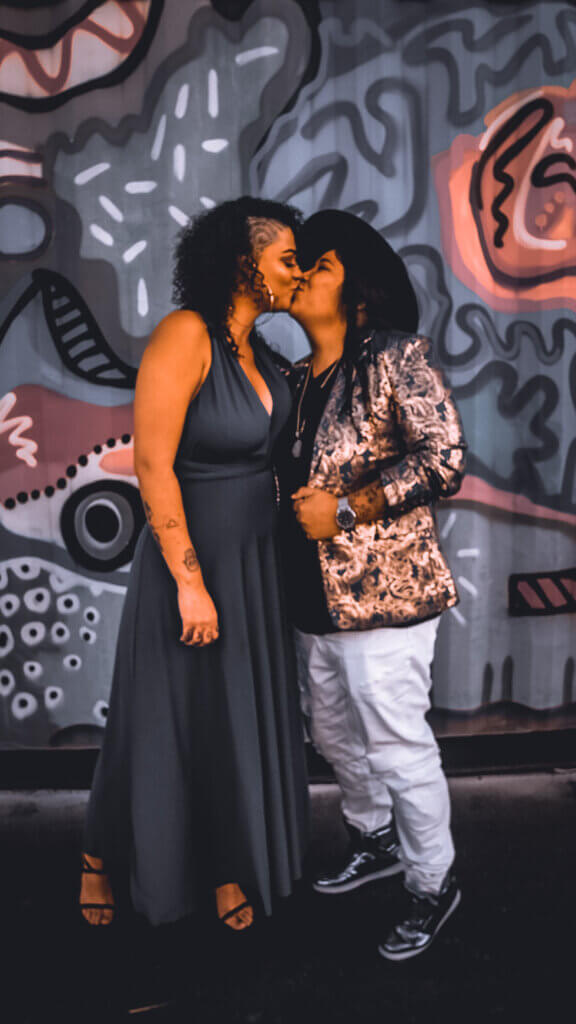 Their prior relationships had left them both in a constant state of tension, teaching them that the most important thing they needed to learn together was how to truly receive the love they gave each other while also allowing each other enough room to learn how to love themselves.
"It meant learning how to take a breath during any miscommunication and come from a place of solution and unconditional love rather than one person being right or wrong," says V.
From Loud and Lovely to Spiritual and Intimate
V is a big-time event producer. Therefore, the couple is planning to have an intimate wedding ceremony, inviting about only 40 people. Their big day will be an opportunity for their families to get to know one another through playing games, cooking, and spending time together. This special occasion will also reflect the betrothed's spiritual attunement. A shaman will wed them instead of a traditional wedding officiant.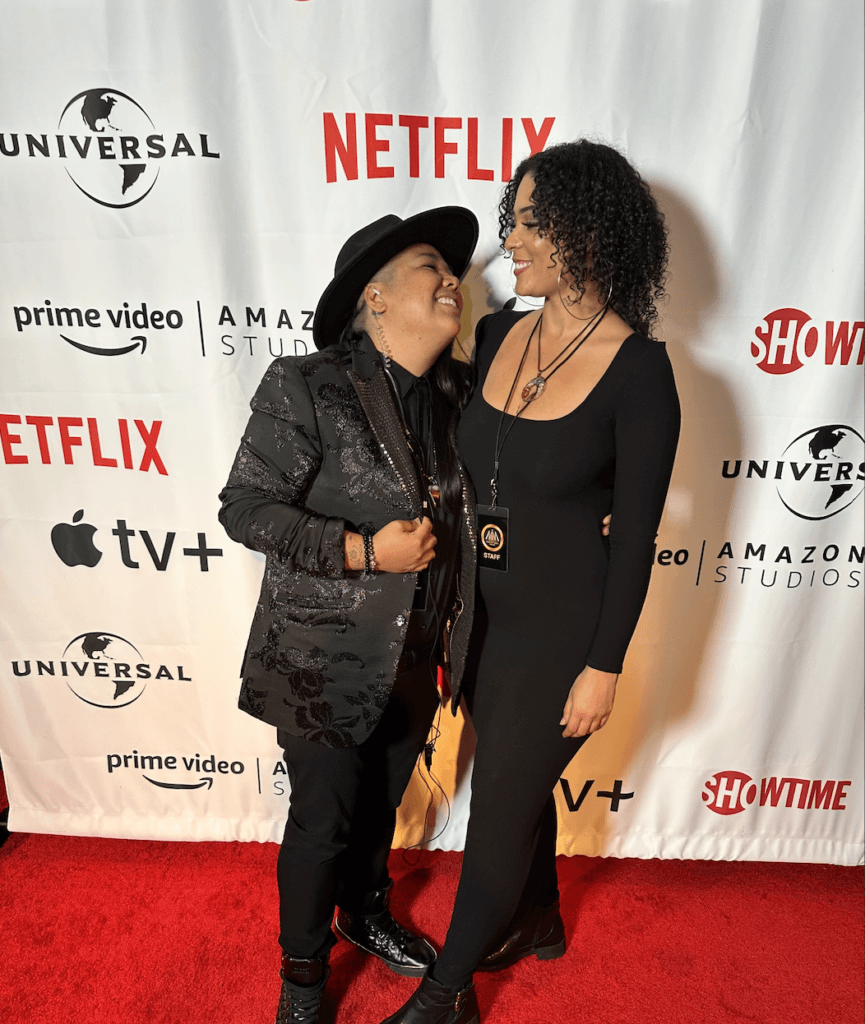 Read More: Say 'I Do' With a Side of Adventure
"We're looking to do a spiritual wedding performed by a shaman with Native American drums rather than a piano. [And we'll wear] specially made outfits that allow us to be barefoot and grounded with the earth," says Jessica. "Our best friends are chefs and wedding planners. So they'll be there to support us, but the goal is to make it stress-free and for V to not have a 'producer' mind."
The couple haven't chosen a location yet, but they are looking to tie the knot in spring 2023.
V describes their love as an otherworldly feeling, as if they knew one another in previous incarnations. "We're energetically connected in a way that we've never experienced before, and we couldn't ignore it."