Even before we got engaged, my husband Drew and I had a vision for our wedding: a winter date, minimalist décor and a rustic glam aesthetic. Since we already lived in Las Vegas, and so did a majority of our guests, we chose the Hilton Lake Las Vegas Resort & Spa, about 20 minutes from the Strip. We reserved it for a Sunday to make it easier for my out-of-town guests to fly in for the weekend and enjoy Vegas sights.
When it came time to decide if I was going to hire a wedding planner or not, I concluded I would rather take the money spent on that and put it toward the actual wedding—while planning it myself. I knew that would mean more stress, time spent planning and sleepless nights—but a more upscale wedding. I didn't make the decision lightly, but did give myself one compromise: I hired a one-day coordinator, Tara Marie Events, whose job was to organize all the vendors and be there to coordinate them on the day of so I could actually enjoy it.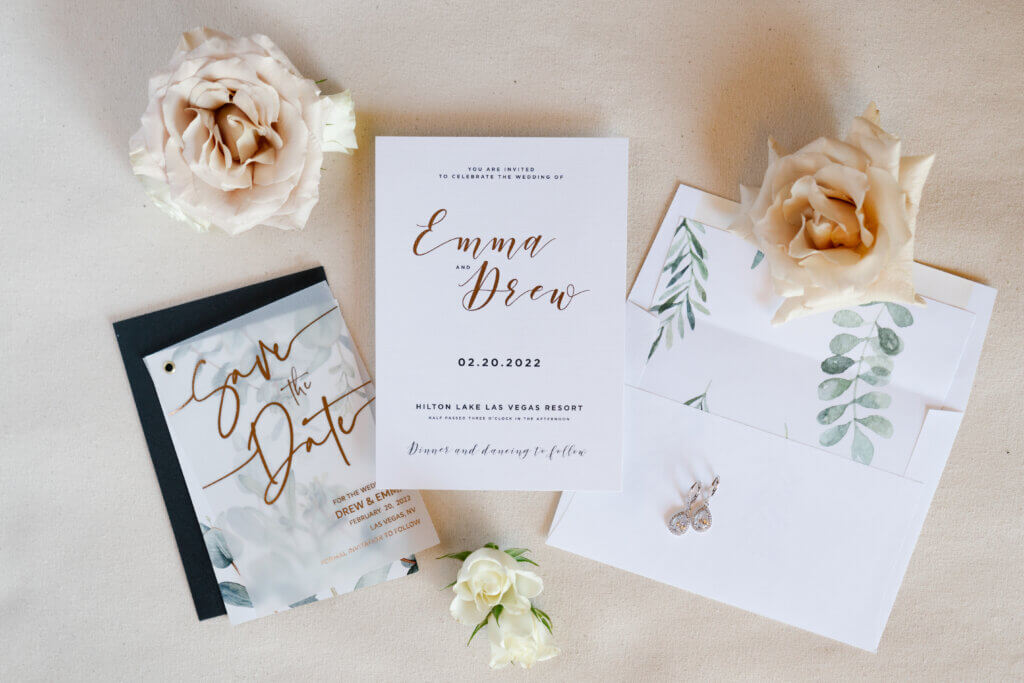 In contemplating the many details that go into every aspect of the ceremony, cocktail hour and reception, brides that are type A like myself dive into aggressive depths of research. There are wedding-related videos on literally every micro topic imaginable, and therefore countless decisions to make. And don't even get me started on the landscape that is #WeddingTok.
We selected sage green, rose gold, black and white as our wedding color theme, which played perfectly off the atmosphere and vibe of Hilton Lake Las Vegas and the surrounding lake, mountains and greenery. It was a little bit rustic, a little bit glam. We spent two big chunks of our budget on aspects that were really important to us: a sizeable amount of bistro light strands to cover the ceiling of the lakeside pavilion and a three-course sit-down dinner selection with open bar.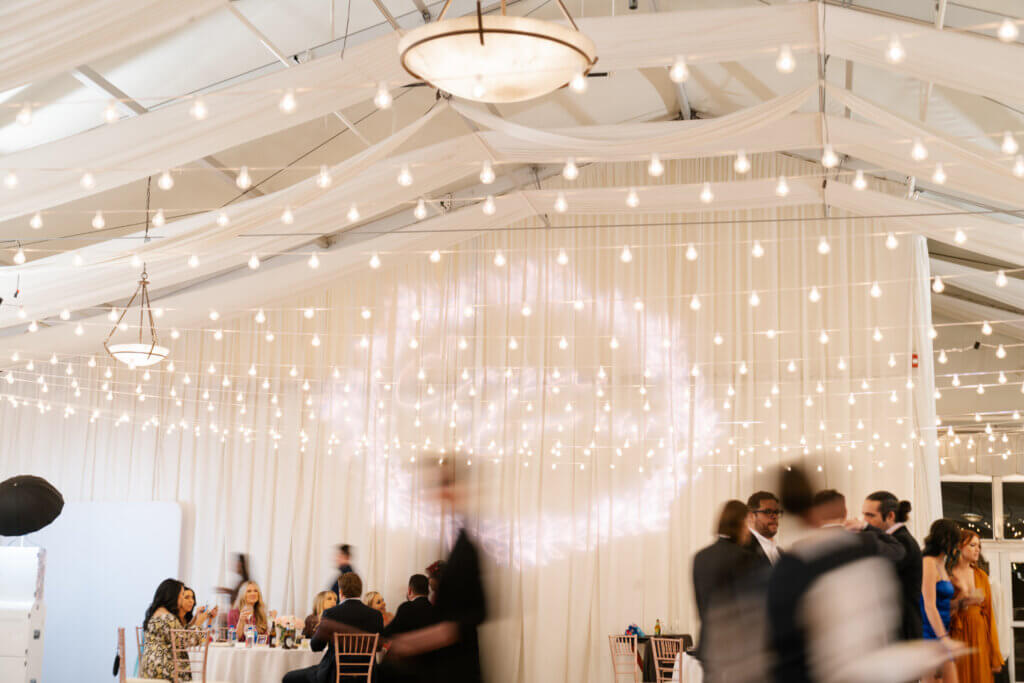 Drew and I also knew that we wanted to ditch quite a few of the traditions and the cliché "shoulds" and make our event truly personal.
We did things a little bit differently for our Sunday wedding
• We did not want a wedding party. No bridesmaids, no groomsmen, no fighting over shades of peach or who got chosen or the costs for those included. Stress, gone!

• I was walked down the aisle by my mom to a song by The Cranberries.

• Drew and I didn't sleep separately the night before.

• We limited speeches. We each chose a longtime best friend to say a few short words, so as to keep the mood light. No parents spoke, but if they had really wanted to, we would have been fine with it.

• We had two guestbooks—one physical one to write in and one digital playlist where guests could add their personal favorite songs.

• We did the wedding gift registry online and orders shipped to your house, or guests could simply donate to the honeymoon fund. It made it so easy to track and no one had to haul in a gift to the venue.

• We wrote our own (long) vows well in advance and put a lot of thought into them and a lot of inside jokes. Months later, our friends still bring up funny lines that were in our vows, so I guess they were memorable!

• Things I also hit "delete" on: a rehearsal ceremony, garter toss, first dance with parents, wedding favors, late-night menu.
I wasn't nervous or stressed leading up to the big day. Everything had come together well in advance, and I was in constant communication with my day-of coordinator and vendors. We checked into the Hilton Lake Las Vegas for two nights, where a suite was part of our wedding package, and went down with a mound of boxes to unload and set up the table decorations ourselves.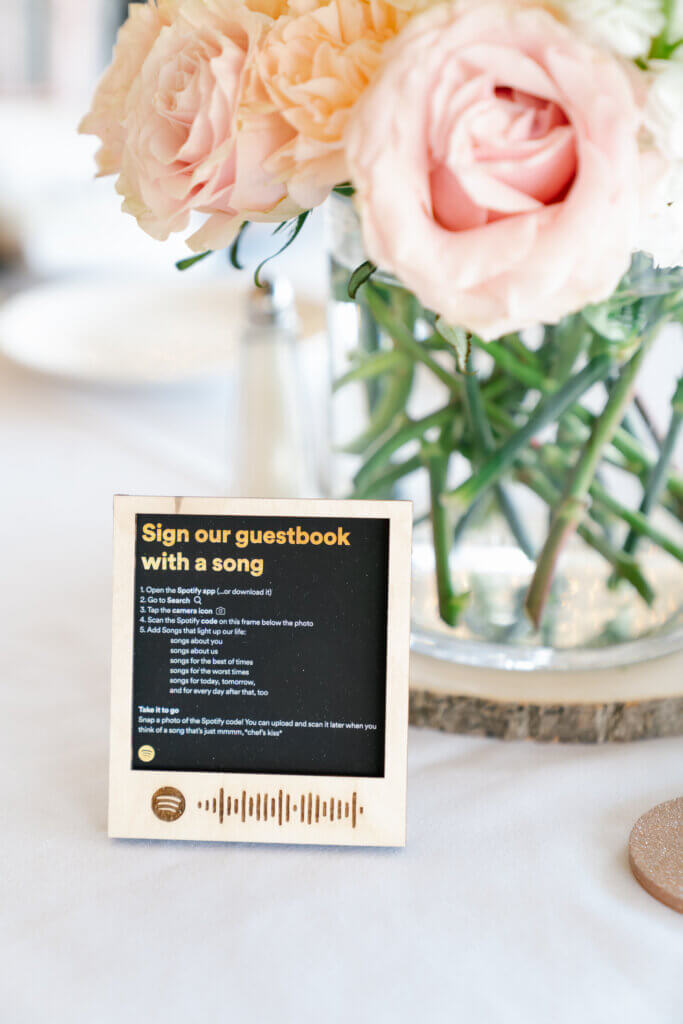 The morning-of seemed like an anomaly compared to most stories I had heard or witnessed. Drew and the kids and I got up at 8 a.m. and strolled down to breakfast at the hotel restaurant, casually eating and spending time together. There was no getting up at 6 a.m. to tend to eight bridesmaids getting hair and makeup done. I did no social media or behind-the-scenes or transformations or planned videos—that's what my videographer and photographer were for and it alleviated stress. My hair stylist—who was also a guest—and my makeup artist arrived at 10 a.m. and worked on me until I got the one-hour notice until First Look.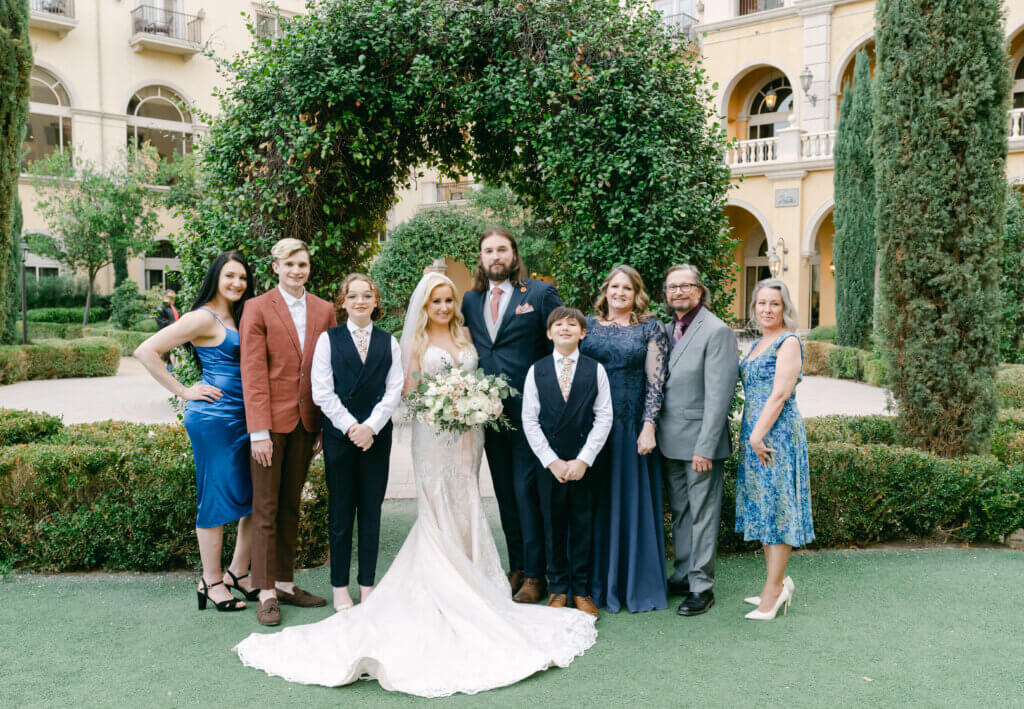 After getting into my very heavy dress, my mom helped me downstairs where Drew and his two kids were waiting. It was so unbelievably special to have the kids participate in the First Look, so their reactions, along with Drew's, were all captured on film at the same time. We had a nice half hour to ourselves, taking lots of photos and videos together before the big show of the ceremony started, but by then I was relaxed. Drew and I were in the bridal holding suite together drinking Champagne before lining up. One of Drew's best friends performed the ceremony, and we walked back down the aisle to a song we saw in concert on our very first trip together.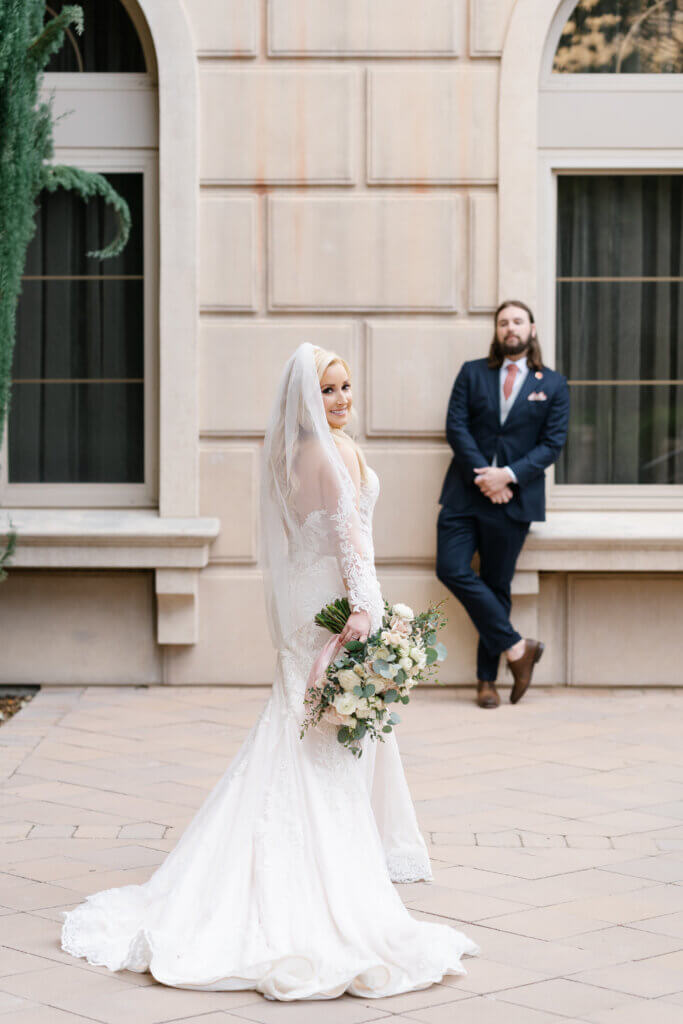 After gathering for family pictures and taking a few lakeside photos, we made our entrance to "The Adventure" by our shared favorite band, Angels & Airwaves, and right into our first dance. Guests could see the sun setting outside through the pavilion's floor-to-ceiling windows.
Our guest count of about 70 was the perfect size to catch up with everyone individually—whether I hadn't seen them in years or weeks—and take photos in our photo booth.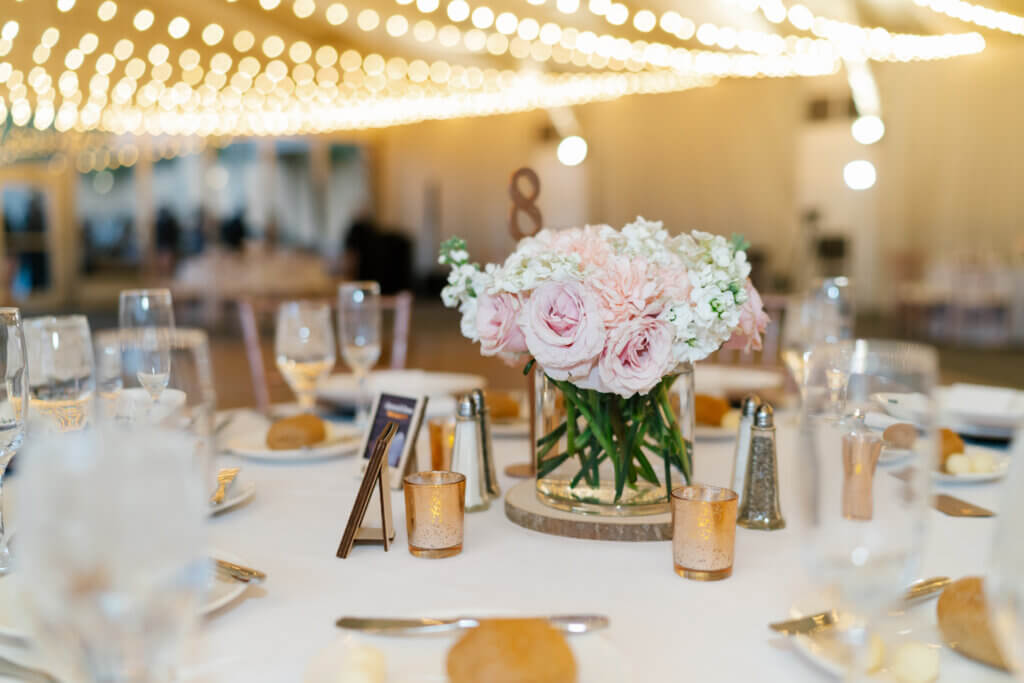 I am not about the stuffy weddings, and I think ours turned out the perfect amount of elegance combined with a casual edge. Everyone could be relaxed, drink, socialize and dance without an itinerary of reception happenings. One of my friends visiting from New York said "Wow, I got to sit down and talk to you, normally at weddings the bride who invited me is too busy running around!"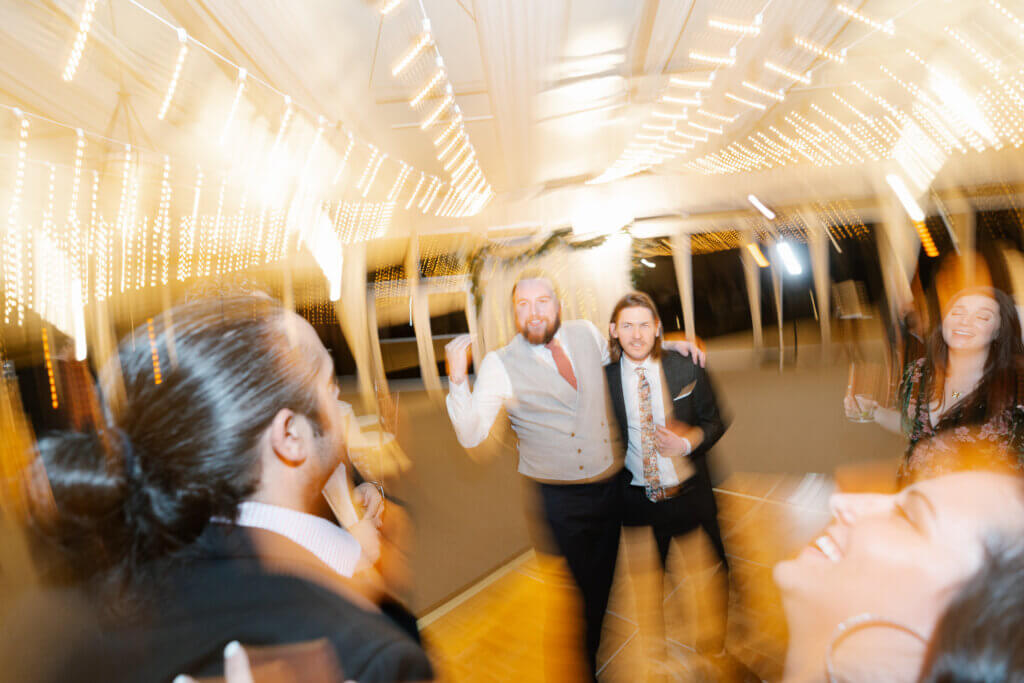 As the reception wrapped up, Drew and I headed to the hotel's lobby bar, where a smaller group of our close—and buzzed—friends had filed in for late-night snacks and drinks. And just like that, 14 months of planning commenced in one beautiful evening.