Sure, you can get married inside countless gorgeous wedding chapels. But step outside, and a whole new world of love and wonder awaits. While outdoor weddings have always been a thing, today's couples are turning to mother nature for a sense of adventure and beauty.
The Knot.com listed "otherworldly domestic destinations" as one of the top wedding trends of 2022. And in Southern Nevada, the options are truly spectacular—from helicopter rides over the Grand Canyon to the luscious reds of Valley of Fire State Park to the breathtaking moonscapes of dry lake beds.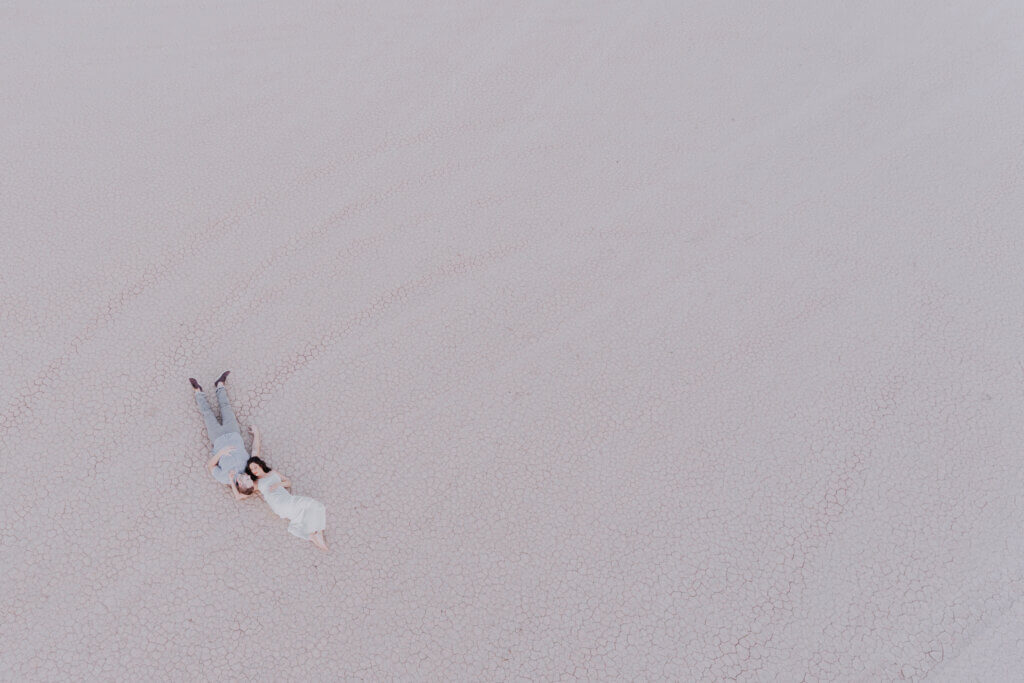 Reverend Janet R. Miller, a non-denominational minister who has been marrying folks in Las Vegas for 25 years, says that outdoor weddings grew in popularity during the pandemic and have remained popular ever since. (Being outdoors is still more COVID-safe, so keep that in mind when choosing a venue.) Miller's favorite aspects of outdoor weddings are the "serenity" and spotting bighorn sheep at Valley of Fire.
"There's obviously lots of different definitions of 'adventure,' but I think the appeal is mostly scenic: beautiful settings … and great photos in a unique destination," says McKenzi Taylor, founder of Cactus Collective Weddings, which caters to adventurous couples. Taylor says that her company does weddings "anywhere scenic that's off the beaten path [or] remote. But my personal favorite is Red Rock."
"It's this beautiful gem," Taylor says of Red Rock Canyon. "It's so close to a city, but still has so much wilderness and so much scenery that people don't even know it really exists until they dig for it. And, obviously, Las Vegas is primo for getting married. So it's a perfect combination of providing such a beautiful location in such a short distance from the main city attraction."
Just the Right Amount of Adventure
The best thing about the au naturale wedding concept is that it can be tailored to your desires as a couple. Whether you want to break a sweat or just look like you did, there are ample options. One of Nevada's tourism slogans is "don't fence me in," which is especially true for outdoor weddings.
That being said, the deeper into nature you get, the smaller your wedding party may need to be. Adventurous weddings work best as elopements or microweddings. Most nature locations require permits that limit party size. The absolute max is generally 50.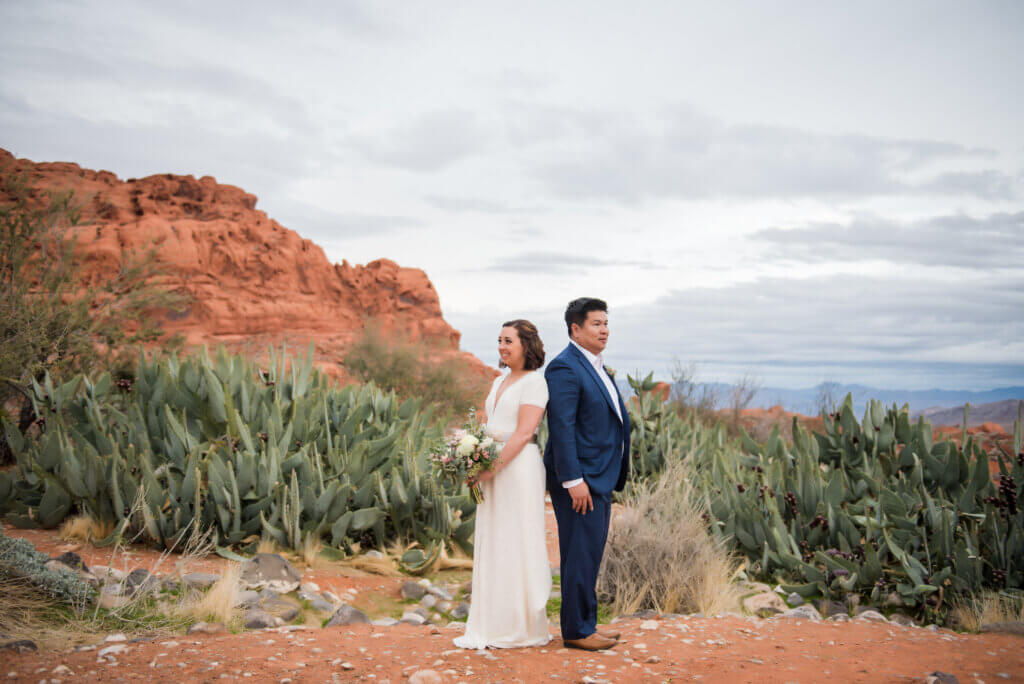 This is where hiring an outdoors-focused wedding planner can really make things easier. Wedding planners will help couples find the best location for their unique situation and guide them through permitting (if not do it for them all together). An outdoor wedding takes extra planning, so the help is definitely worth it. Cactus Collective Weddings and Adventure Weddings Las Vegas both specialize in helping couples easily and conveniently tie the knot outdoors.
For daring and athletic couples who want to actually exert themselves, Adventure Pact is a great choice. Headed by multi-sport athlete and photographer Kayla Altman, this wedding service's unique pitch is "your wedding day + one truly epic adventure." If you want to kayak or climb or hike or overland to your vows, Adventure Pact will help find a way.
Originally from Atlanta, Altman, a rock climber, fell in love with the mountains surrounding Las Vegas, and decided to make Nevada her home.
One of the challenges of a truly adventurous wedding is that the more adventurous it is, the more logistical problems arise. Think lugging heavy photography equipment up mountains and permitting restrictions. "Most of my couples end up doing the actual marriage stuff in the city [or a state park or a dry lake bed], and then combining it with an adventure the day of or later," Altman says. "I did a dry lake bed [wedding] recently, where the next day they're cliff jumping at Nelson's Landing."
Sometimes Altman will take couples on "wreck the dress" adventures, where the couples wear their wedding clothes and hiking, climbing or, as the previous couple did, cliff jumping. Whatever they do, Altman captures the excitement on her camera for the most brag-worthy wedding photos ever. Interestingly, Altman says that wedding dresses are surprisingly resilient and don't "get wrecked" as much as one would imagine.
Location Location Location
The defining aspect of any destination wedding is the location itself. Fortunately, Southern Nevada has a wild variety of vibes just waiting to be enjoyed.
Couples who want to go light on the hiking and heavy on the scenery, should consider locations such as Cactus Joe's; Nelson's Landing, a ghost town in Eldorado Canyon; Seven Magic Mountains, a desert art installation; and the visitors center at Valley of Fire State Park.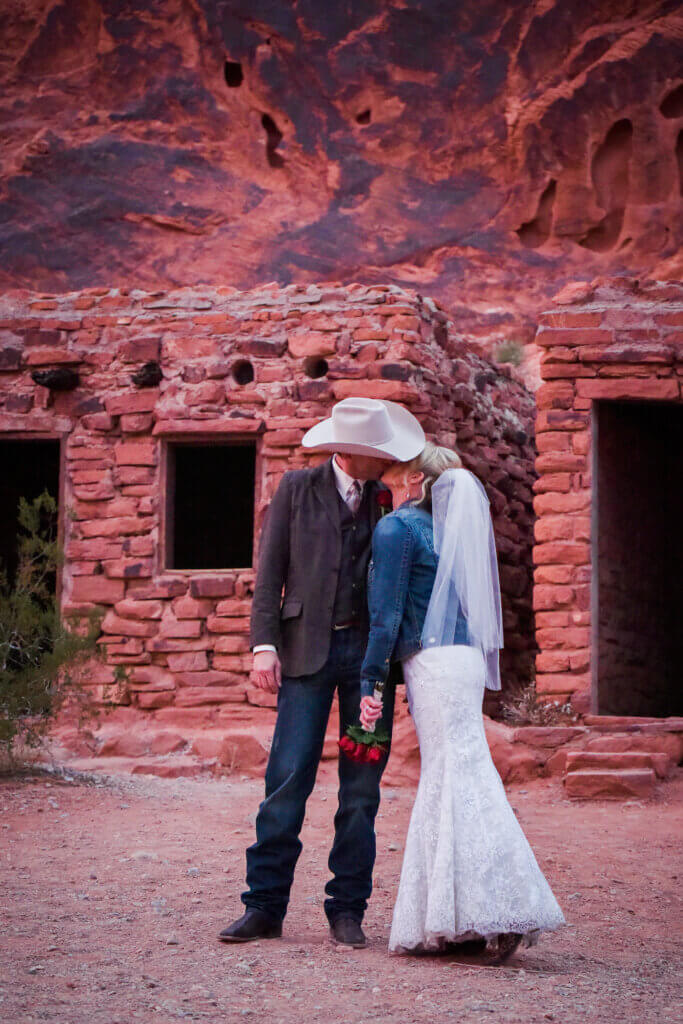 "You're really able to get up in the red rock [at Valley of Fire]," says Paul Bloch, co-founder of Adventure Weddings Las Vegas. "So the photography becomes very vivid and colorful and dramatic with beautiful rock structures."
Bloch likes Eldorado Gold Mine "because there are lots of things to pose the couples with are the photos after the ceremony." Additionally, the owners of the area added a small chapel, "so there's shade available for the bride and groom during the ceremony," Bloch says. "We're one of the few companies that [are] allowed to do weddings inside the mine. So we've gone in the middle of this mountain in a mineshaft and done weddings, and we especially like them in the summertime because it stays around 65 degrees."
Lisa Werner, Bloch's co-founder and wife, concurs. "If you're looking for a rustic wedding or unique place to do a wedding, that's definitely it," she says.
Going High or Fast for Love
For those who want a balanced mix of fresh mountain air and modern-day amenities, Las Vegas has some elevated options. Take Lee Canyon ski resort. That's right, a snowy winter wedding is less than an hour's drive from the Las Vegas Strip. The resort is located in the Spring Mountains at a base elevation of 8,510 feet. Or simply escape the desert heat in the summer; Lee Canyon is way cooler than the Vegas Valley.
If you'd like to package your hotel stay with your mountain wedding, check out The Retreat on Charleston Peak. This lodge-style experience is in Kyle Canyon at 6,700-feet elevation.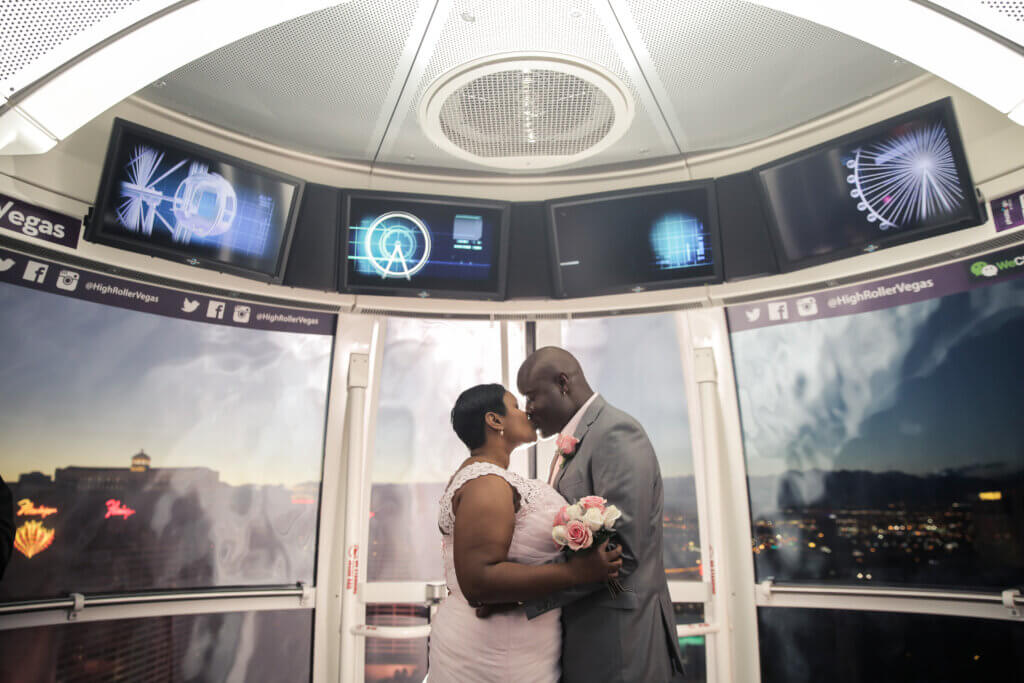 What to do if you want a sense of adventure without any actual danger? Take your love to new heights inside the High Roller observation wheel. You and your guests will soar to a height of 550 feet inside your own cocoon of love. The views of the Strip are unbeatable and planning is a breeze because wedding packages are provided by Caesars Entertainment.
If heights aren't your thing, but you've got the need for speed, SPEEDVegas has your ticket to ride. This non-traditional location in Sloan, Nevada, offers an elegant party space as well as the opportunity to mark your love with a few laps in an exotic supercar such as a Lamborghini Aventador, a McLaren 570 GT4 and a Ferrari SF90 Stradale. SPEEDVegas also offers adult go-karts and off-roading. As for those helicopter weddings, several Las Vegas-based companies offer wedding and proposal packages (Maverick and Papillon are the best-known brands). In addition to the classic Grand Canyon trips, helicopter rides can include aerial tours of the Strip and trips to Valley of Fire. Simply put, when it comes to adventurous weddings in Las Vegas, they sky's the limit!