The famous Elvis Presley wedding cake, like the Presleys themselves, was anything but conventional.
Christina Nasso, general manager of Carlo's Bakery located inside the Venetian Las Vegas and a diehard Elvis fan with tattoos to prove it, was the ideal culinarian for recreating Elvis and Priscilla Presley's iconic wedding cake.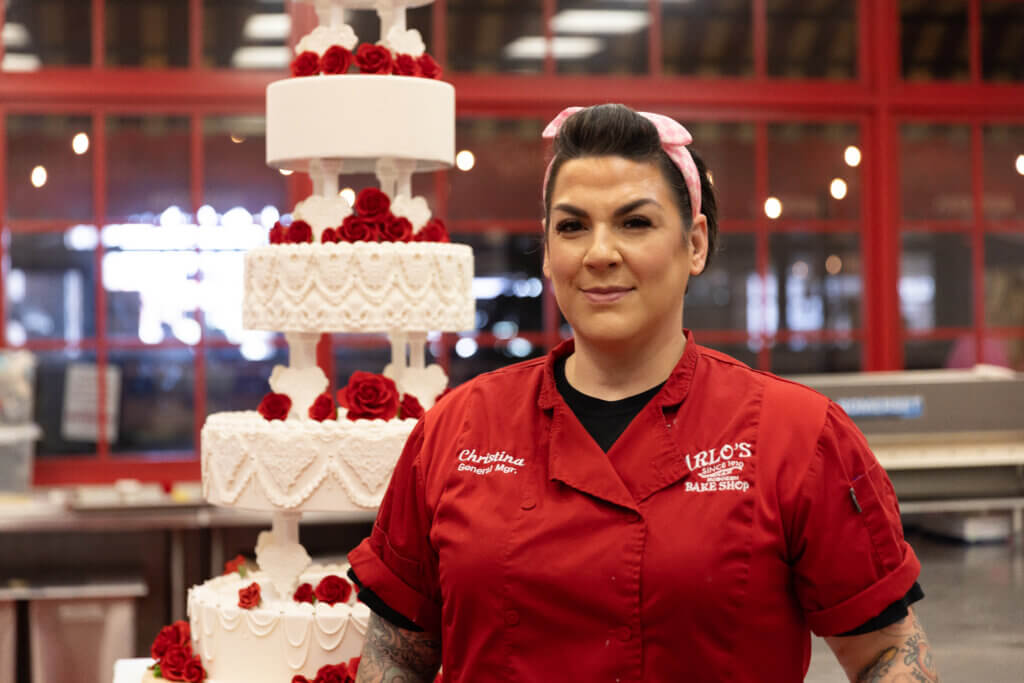 The Presleys' Las Vegas wedding is among the most famous celebrity matrimonies of all time, just like their massive six-tiered wedding cake. The divine dessert consists of yellow sponge cake with kirsch-flavored Bavarian cream, apricot preserves and marzipan roses. Over the span of two days, almost entirely by herself, Christina is reconstructing the 1967 wedding cake in honor of the Wedding Capital of the World's 70th Anniversary Celebration on September 3 at Caesars Palace.
Recreating the Elvis Presley Wedding Cake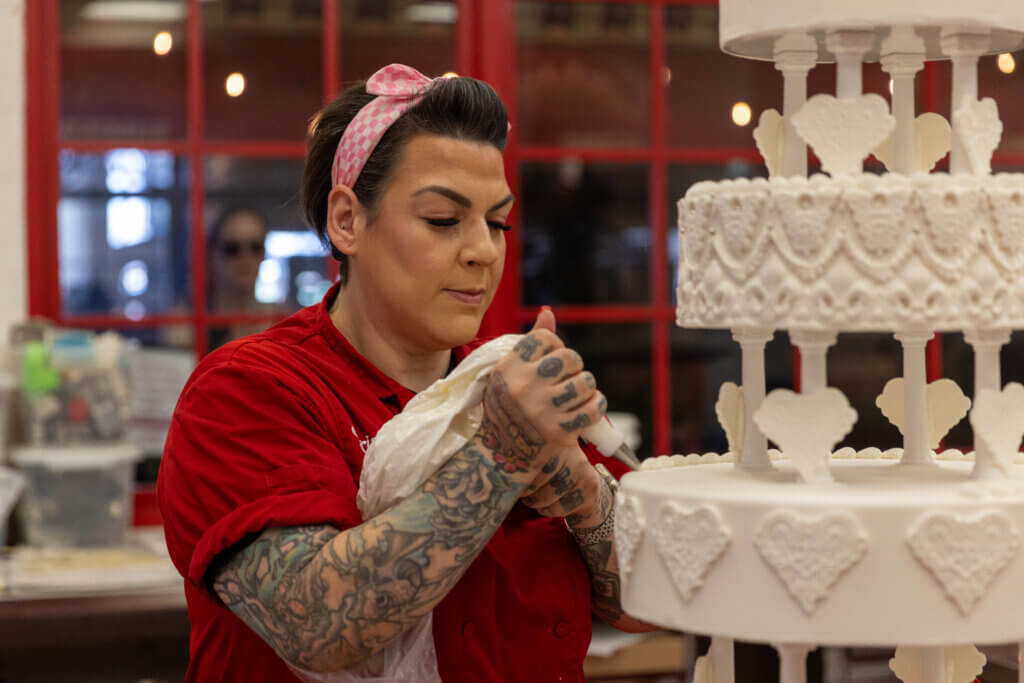 Venetian guests looked through large glass windows at the onsite bakery where Christina worked diligently on the cake. Wearing a powdery pink bandana — Rosie the Riveter style — she smoothed out a thick sheet of white fondant and draped it over one of the smaller cakes, which will be a tier for the extraordinary cake. Near her workstation, a baking sheet with red flowers sits, awaiting assembly onto the historic dessert when the time came.
Replicating the Presleys' wedding cake is no easy feat. It's an inspired dessert with intricate designs and a unique flavor profile. The six tiers are not identical either. With its immense size and fame, the head baker elaborates on what makes it a complicated confection.
"It's a whole slew of things that I want to do. I have to pull myself back in and go, 'Well, is that going to look like the original cake?'" says Christina. "I think the one that they made was pretty cool, and it's really something that I can change a little bit as I put my own little spin on it (and) I think the hardest part is not veering too far from that original concept."
Christina will add her own embellishments to the piping, but won't stray too far from the blueprint.
The Original Confectionary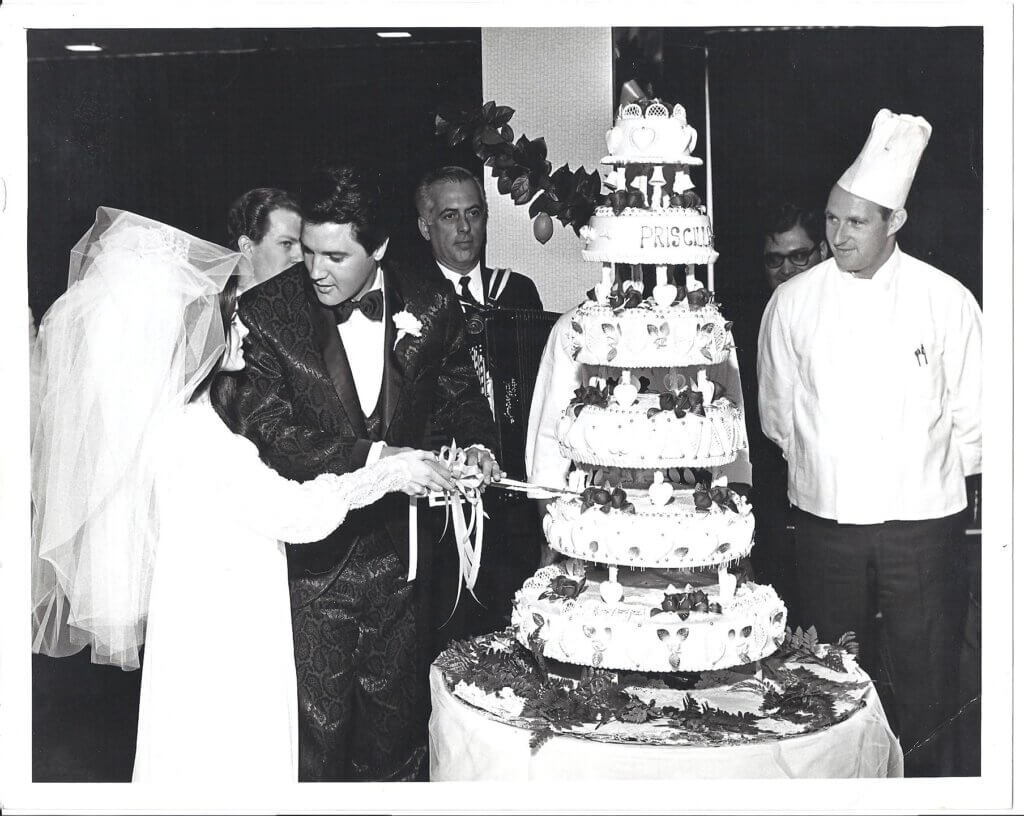 Elvis had a distinct taste. From his love of fried peanut butter and banana sandwiches to party meatballs, it's no surprise that his wedding cake would also be a standout. Their wedding cake, like the Presleys themselves, was anything but conventional.
"It's pretty classy. It's pretty straightforward," says Christina, "but it's also got a lot of spontaneous elements to it, which I think suits him, right?"
We can thank Bjorn "Bill" Jaeger for designing the original wedding cake. When Elvis and Priscilla got married at the Aladdin Hotel on May 1, 1967, Jaegar was the head chef. Yet, according to his son, Jag Jaegar, he never made a big fuss about it.
"My father has the quintessential Las Vegas start to his career," said Jag Jaegar in a statement. "I recall him casually mentioning that he made the Presleys' cake in a conversation about the famous wedding like it was no big deal. That's just the way he was—modest and understated."
Elvis fans who didn't get a slice of his original wedding cake may have a taste of its latest iteration. Anyone attending the Wedding Capital of the World's 70th Anniversary Celebration can see for themselves.
"I hope it comes out amazing like the way I envision it in my head and that everybody else likes it again," says Christina. "I hope people look at it and go, 'Hey, that's really cool.' It's a little bit different from the original, but it gets the point."