Professional DJs make it look easy, but curating a dynamic wedding reception playlist is like creating a work of art. It takes time, effort and skill to curate an unforgettable music playlist.
We chatted with Tony Sinatra, Chief Vibes Officer at Vegas-based Eccentrik Events, to provide couples with the best tips on how to put together a memorable music playlist for their big day. For over 20 years, Tony has worked as a professional DJ, delivering authentic musical experiences for several high-end brands such as the UFC, NFL, Louis Vuitton and Dom Perignon.
When it comes to weddings, the Chief Vibes Officer and his talented team don't treat them like ordinary gigs. Instead, Eccentrik Events considers it an honor to bring their clients' vision to life by playing music that reflects their personal style while also keeping the party alive.
Music has the power to make or break a wedding party. Some romantic partners may create their own playlists due to financial constraints, while others may decide to have complete control over them solely to personalize them.
To avoid a dull dance floor — and how to crush a reception playlist from the first dance song begins —here are some tips from an expert on how to make the celebration flow smoothly.
This interview has been edited for length and clarity.
How to Select The Best Music For Open Dancing
First, consider what kind of energy the music should reflect to best fit your special occasion. Keeping the flow consistent will help keep the dance floor fresh and exciting.
DJ Tony Sinatra says, "Ninety percent of the time, I would always recommend putting the slower songs towards the beginning of the open dancing. You want the energy to flow equally throughout. So when it peaks, it isn't like a roller coaster taking you all the way down. You want to make sure it's a good flow throughout the night."
When it comes to song selection, it might be overwhelming for couples that love a variety of music. But, thanks to modern music services through platforms Spotify and Apple, music choices prompt the apps to generate fresh ideas by sharing other songs with similar vibes.
"I suggest glancing through their playlist, taking at least five to 10 of their favorite songs and creating new playlists and seeing what other recommendations (come up). Spotify and Apple Music recommend (songs that might help them find the right) vibe," Tony says. "They could also go through their list and look for artists that they know or songs that they know or select ones for sure that they don't like out of there."
Play the Slow Jams First — Then Switch Into Party Mode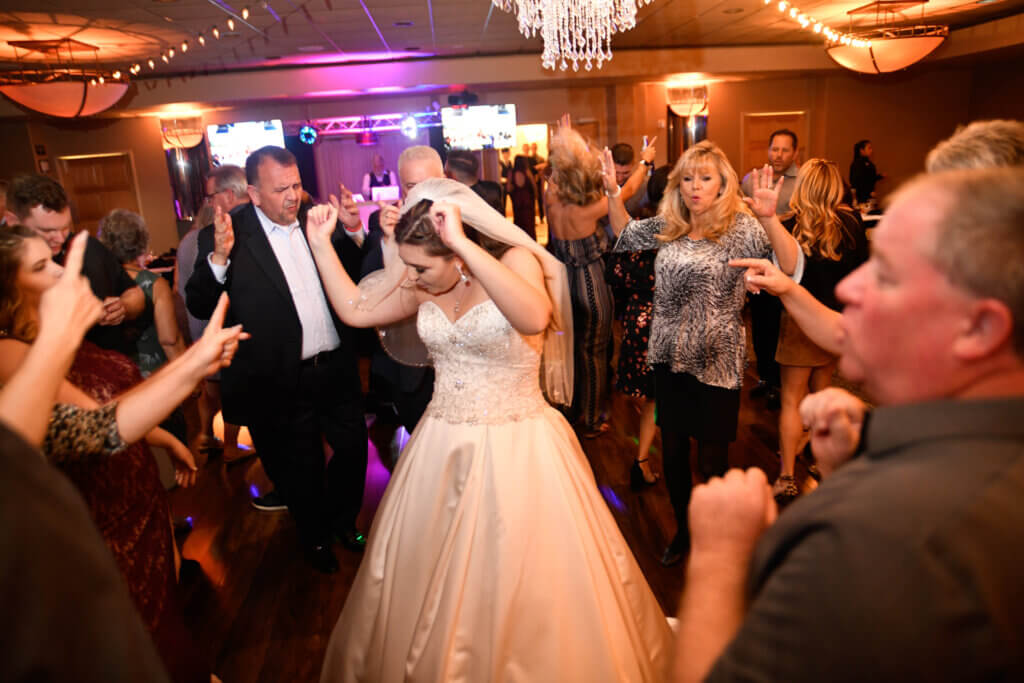 After finalizing the song selections, the next step is to organize the order in which they play. Some couples may like to put it on shuffle; however, that leaves the way the music flows up to chance. A slow song in the middle of an exciting moment might kill the vibe.
"You have to make sure that timeline is flowing … make sure that everyone is on the same page," says Tony.
How many slow songs does a professional DJ usually play at a wedding reception?
"Most couples want one or two slow songs, if any are being played. So I keep the ratio of slow songs down," Tony says. "Every once in a while you'll have someone that wants to do an anniversary dance or couples dance, but most of the time people want to keep the energy (high) and the party going."
Ultimately, this is the biggest day of a couple's lives, so it's most important for a couple to play music that will match the memories they wish to make.
Pro Tip: Make sure that all the couple's favorite songs get played and do not get cut off before the night ends. Verify the playlist's duration, length and total number of songs.
Don't Forget to Build a Couple's Do-Not Play Song List
The songs a couple doesn't want to hear should also be noted. A song that transports a romantic partner back to an unpleasant time or irritates them could disrupt a harmonious celebration. Taking a moment to review music that shouldn't be played is just as important.
Tony says of the do-not play song list: "It's because some couples might have a song that might bring back memories of something that they don't want to (remember) or they might have a song that they hate and it's just one of those cringy songs. A lot of couples have been putting the line dancing (songs) on the do not playlist like the Cupid Shuffle and the Wobble. They've just wanted to keep it more of a party vibe (instead of cheesy)."
What About Guests Who Want to Make Song Requests?
During some weddings with live DJs, guests like to make song requests. But is that a good idea?
"As long as the songs fit the vibe and the mood, I'll usually play with them. You might get an idea from it. It's happened to me a million times," Tony says. "Sometimes you could be stuck and not know what to play next. And someone comes up and requests a song and you're saved."
A thoughtful song request from a friend or family member might lead to a magical moment that highlights an inside joke or prompts the couple to share a sweet memory with their guests. What's most important is for the newlyweds to focus on what music they want to be the soundtrack of their love story.
Indoor vs. Outdoor: How the Setting Affects The Playlist
Weddings happen all over the world during different seasons. Some couples choose to have their wedding reception outdoors while others rather hold their party indoors. The time of year a romantic pair decides to get hitched might set the tone for the music they want to play.
"Let's say you're doing a reception during the day and you're outdoors, you're going to kind of want the vibe to be more summery. When you're celebrating outdoors at night, you might want something with a club or party vibe," Tony says. "It all depends on the wedding theme and what they're going for. But the season and the atmosphere definitely could take a toll on programming a playlist."
Above All, Have Fun and Make it Your Own
There's no right or wrong way for a couple to curate their own wedding reception music playlist. Newlyweds interested in leaving out all the traditional songs or activities can create their own customs. There's ways to include crowd favorites while still playing the music a couple loves. Selecting songs for a wedding party doesn't have to feel like a chore. In fact, it brings lots of opportunities to get creative and spark joy.
"A lot of people think that weddings must be traditional and I understand that, but a lot of the traditions are out the window," Tony says. "Make the music about you."