Las Vegas wedding professionals gathered at Tuscany Suites' expansive Florentine Ballroom to discuss the State of the Wedding Industry. The stage was adorned with neon-style signs: a heart and the words "LOVE WINS," with a diamond ring-shaped light for the 'O.' With food, live music and libations, these event professionals knew how to throw a party. But it wasn't just a celebration; both civic leaders and industry experts discussed market trends, the impacts of the pandemic as well as some exciting new marketing plans.
"That there's a lot of exciting things happening," says Clark County Clerk Lynn Marie Goya, whose office put on the event. "There are new chapels open, there are young people getting in the industry and the whole community is welcoming them. [Couples] should look for all the other opportunities in addition to the ceremony and wedding party, of how people want to share their excitement."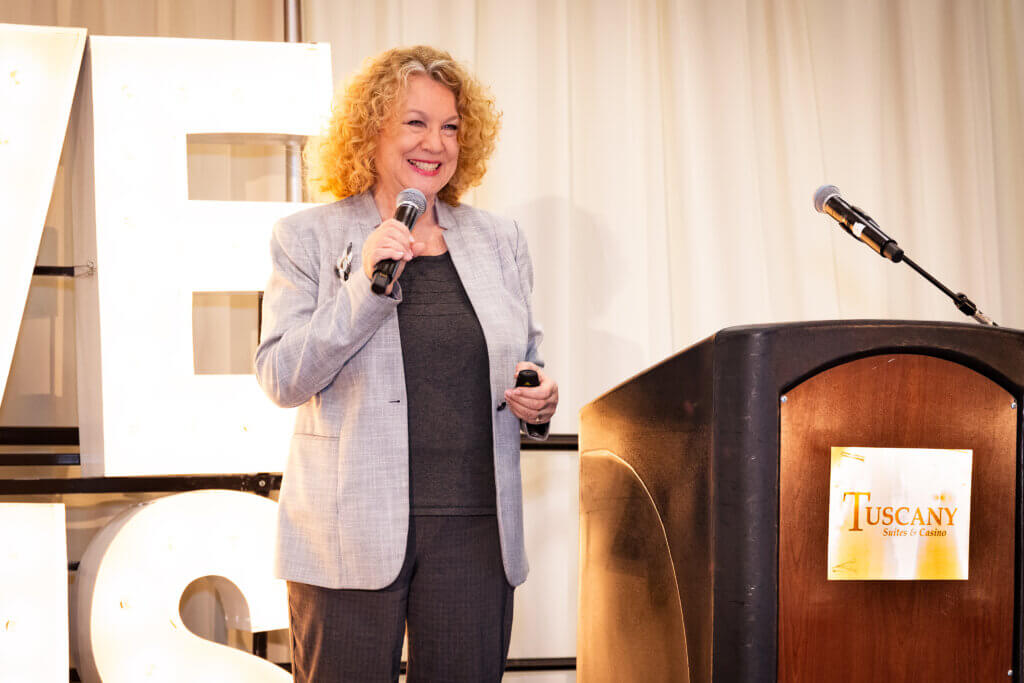 Goya says that 2022 is a special year to get married in Las Vegas. In addition to the pent-up demand from the pandemic, people love the year itself, which has included several special numbers. The next special date is 11-11-22, which means there's still time to plan a Las Vegas wedding for then.
Marriage-minded members of the Armed Forces should mark their calendars for Clark County's "Las Vegas Marries the Military" event on November 10. While the details are still being worked out, anticipate an amazing day that honors and celebrates active duty, veteran and reserve service members alike. Expect special packages and big savings.
On February 20, Clark County also celebrated giving its 5 millionth marriage license to California couple Mayra Ramirez and Luis Pantoja. Clark County is celebrating with the Five Million Love Stories campaign. Couples who have gotten married in Las Vegas are invited to share their photos and stories at visitlasvegas.com/five-million-love-stories. Every month, a new couple will win a Las Vegas vow renewal and second honeymoon.
Additionally, couples, tourists and locals alike can download a digital passport at fivemillionlovestories.com to receive special offers and giveaways from Clark County businesses.
Couples can also participate in the "Lucky in Love" giveaway by kissing in front of eight fabulous locations, including the "Future Is Colorful" stairs at Fashion Show Mall, the Bellagio Fountains and the "LOVE" sculpture at The Venetian. Kiss in front of one or all locations. Each spot is a new entry, and you could win a Lifetime of Vow Renewals by Chapel of the Flowers. For more information, visit luckyinlovelasvegasgiveawayrules.com.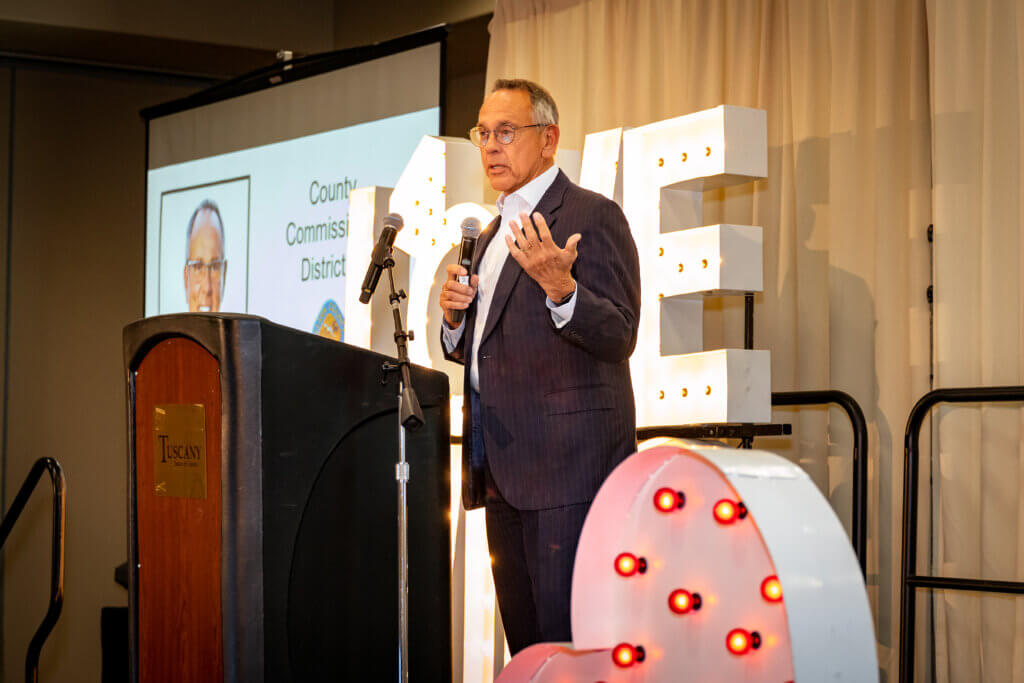 The biggest takeaway from the 6th Annual State of the Wedding Industry event was how much the different parts of the wedding industry—from venues to local government to small business owners to social media—all work together to deliver the best experience possible to each and every couple.
History Comes Alive
A traveling museum exhibit of Las Vegas wedding history adorned the back half of the ballroom at the State of the Wedding Industry event. Signage featured photos and background on Las Vegas wedding chapels—some long ago demolished (Hitching Post and Silver Bell Wedding Chapel) and others still in operation today (Graceland Chapel and Little Church of the West). Wedding dresses from over the decades added a soft touch to the display. From the sleek tailored look of the 1940s to the poofy-sleeved princess gown of the 1980s, Vegas brides have always been fabulous. 
A few contemporary nuptial looks complemented the trip through time, and were provided by The Story Bridal Couture and Gaetano Fashions. Other signs celebrated the first celebrity weddings, urban design, as well as the 5 millionth marriage license issued by Clark County.
"If you get married in Vegas, you join a long line of famous and infamous people. That makes your marriage even more unique along the lines of Elvis, Paul Newman, Barbra Streisand and Bette Midler," says curator and historian Cynthia Ammerman of Polis: Cultural Planning, LLC
The Industry Speaks
With so many industry professionals in attendance, many were happy to share their thoughts on the state of the wedding industry. Here's what they had to say:
Jason Whaley, president of the Vegas Wedding Chamber says, "If there's one event [wedding professionals] should be attending, it really is this one. This is really the explanation of where the industry is going and how it's performing and what's next on the horizon. So it's a really important event."
The industry is exploding, according to Whaley. His own business, Smash Booth (photo booth rentals), is up 200 percent from where they were in 2019. "I think everyone's excited to be out and getting married again and celebrating. It's just going to be getting bigger."
Bruce Bommarito of Bommarito Global Strategies says that the economic impact of tourism and the wedding industry is immense. "The wedding industry is a global industry. And it's not often thought of as a huge industry, but it is." On top of that, he says that Las Vegas is one of the best, if not the best, destinations for international couples in the world.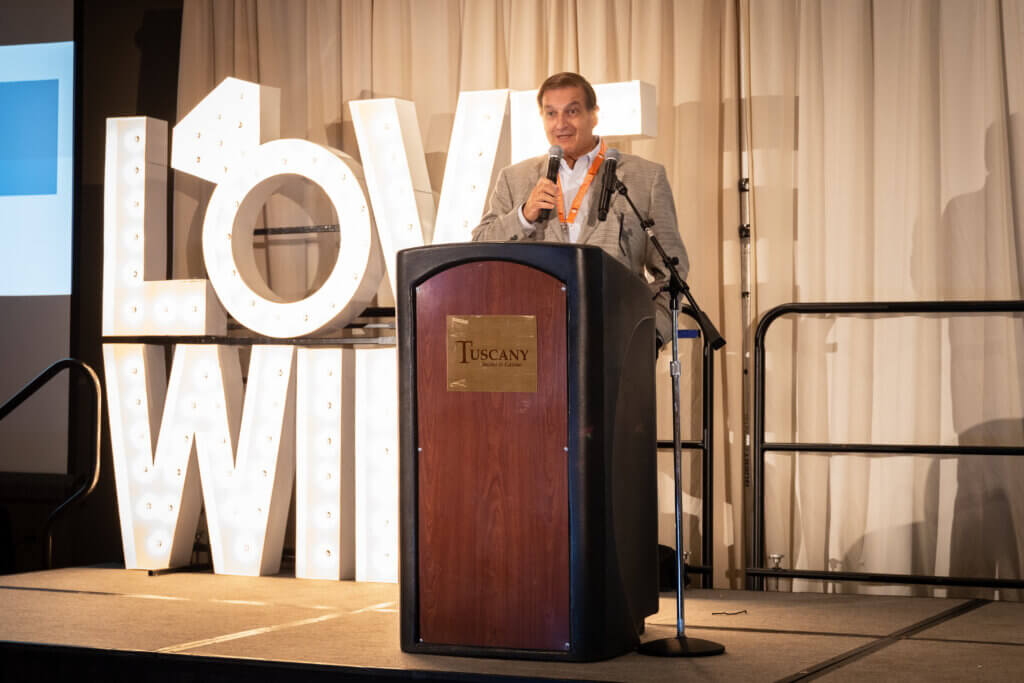 For Amy Vandermark of Boulder City's Forge Social House event venue, it's all about sharing the love. "We're excited for [couples] in the Valley. It's all about finding joy. And the wedding industry is ready to find joy with them," Vandermark says. "It's more than pent-up demand. It's excitement. We are getting to experience joy together. And everyone is excited about that."
Reverend Janet R. Miller, who has been marrying people as a non-denominational minister for 25 years, has seen the industry grow and expand over the course of her tenure. She does a lot of outside weddings, which have been extra popular since the pandemic.
"I love what I do. I go all over the place," Miller says.
She gives every couple she marries a $2 bill folded into an origami heart. This year, the shape has extra meaning because the numbers on the bill line up to reveal the year they got married: 22.
Retired school teacher Gordon S. Hale attended this event because he wanted to learn more about the industry. The 81-year-old taught students of all ages for 47 years and has worked as a wedding officiant for two. A Las Vegas resident since 1968, he's only done four weddings, for family and friends. But after this event, he's looking at expanding. He's amazed to learn how many people are involved in the Las Vegas wedding industry. And by the fact that 5 million people have gotten marriage licenses in Las Vegas. "That was an astounding figure to me."