One of the first big decisions that engaged couples must make is where to hold their wedding. Most romantic couples have their hearts set on selecting a special setting to celebrate, and ceremony locations are a key factor to consider. Not only is it one of the most important events of their lives, but the wedding venue and ceremony locations are usually the second most expensive item in an American wedding — right behind the cost of a wedding gown.
This is 2023, and times have changed, so it's perfectly acceptable to choose a non-traditional venue, even if it might raise your grandparents' eyebrows.
---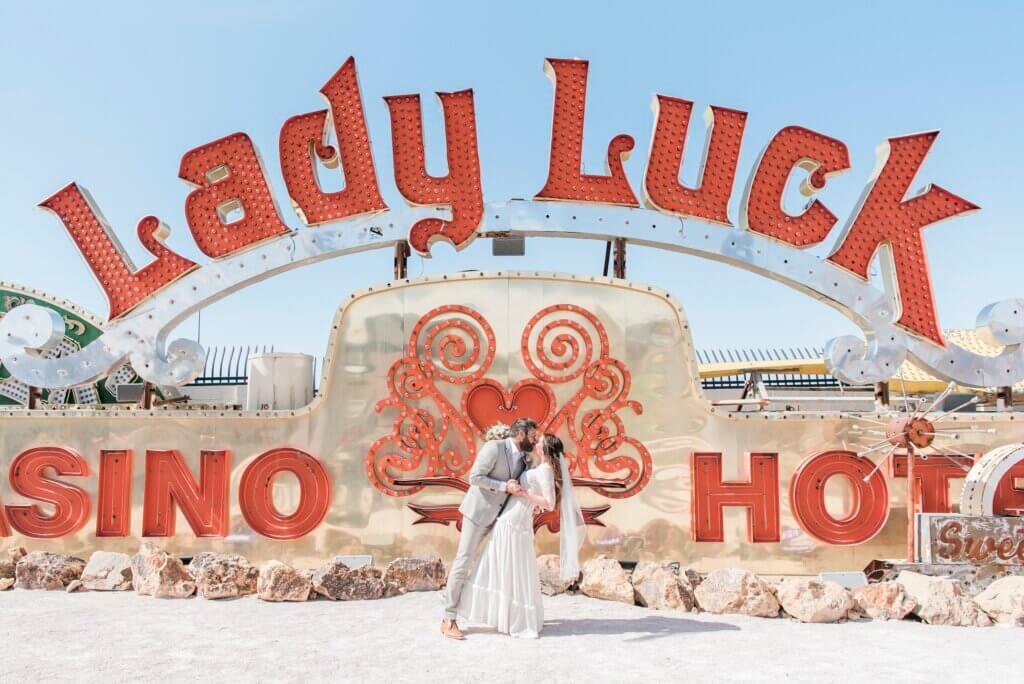 There are many unconventional ways to tie the knot in Las Vegas, besides the cliche settings situated on the neon-lit boulevard. From the breathtaking mountain views to the candlelit dining rooms, this extraordinary town knows how to woo anyone who dares to fall in love with it. This leaves plenty of room for new traditions to bloom in out-of-the-box spaces. It is, after all, the Wedding Capital of the World.
So if you're looking for a one-of-a-kind wedding location, whether you want to get married underwater, at a brewery or in a ghost town, then you've come to the right place.
For more ceremony locations that don't look Vegas — and some that really do — check out Las Vegas elopements that cater to creative spirits.
Shell-abrate Underwater
Nothing shouts adventure like an underwater wedding. Some couples even wear traditional formal attire, such as wedding gowns and snazzy tuxedos, along with their scuba diving gear while submerged in an aquarium or in the ocean. Instead of vocalizing vows, couples usually communicate with hand signals or cue cards to profess their love for one another in this unique environment. But as outlandish as this ceremony may sound, it's become more popular in recent times, with many betrothed couples interested in getting hitched underwater in places all around the world.
A marine marriage takes thrillseekers to exciting new depths. According to CNN's interview with Jenna Landi, director of brand research at Pinterest, searches have indicated that nontraditional weddings are trending.
"Alternative weddings — especially underwater weddings — have jumped 305 percent on its platform," says Landi.
The technical aspects of an underwater ceremony might be tricky, but that doesn't seem to dissuade fearless couples from making a splash in aquatic ceremony locations.
Recommended underwater Vegas venues include Silverton Casino's aquarium and Mandalay Bay Resort's Shark Reef Aquarium.
Brews and Dos
Did you know there's a historical connection between beer and weddings?
The word "bridal" originates from "bride-ale," which was when a celebratory beer was brewed and sold at weddings with all the profits given to the newlyweds to help them purchase new household items (similar to when couples today create retail registries).
According to Vine Pair, "The Anglo-Saxon Chronicle's first documentation of a bride ale depicts a rowdy feast following the marriage of an English earl and his betrothed." Craft beer is on the rise, giving beer-connoisseur couples a variety of ways to hold a buzzworthy wedding bash.
To double down on this theme and unconventional locale, swapping flower girls for "beer boys" has also become the latest boozy tradition. "Beer boys" are usually adult male buddies who hand out cold brewskies to guests before the bride walks down the aisle. In a similar fashion to a food and beverage vendor at a baseball game, during a wedding ceremony, a barefoot man wearing a Hawaiian button-up walked down the aisle, tossing icy beers to celebrants. A video clip of this brew-tiful moment went viral on TikTok.
Recommended Vegas venues include Ellis Island Casino, Hotel & Brewery and Hofbrauhaus.
Love Never Dies in a Ghost Town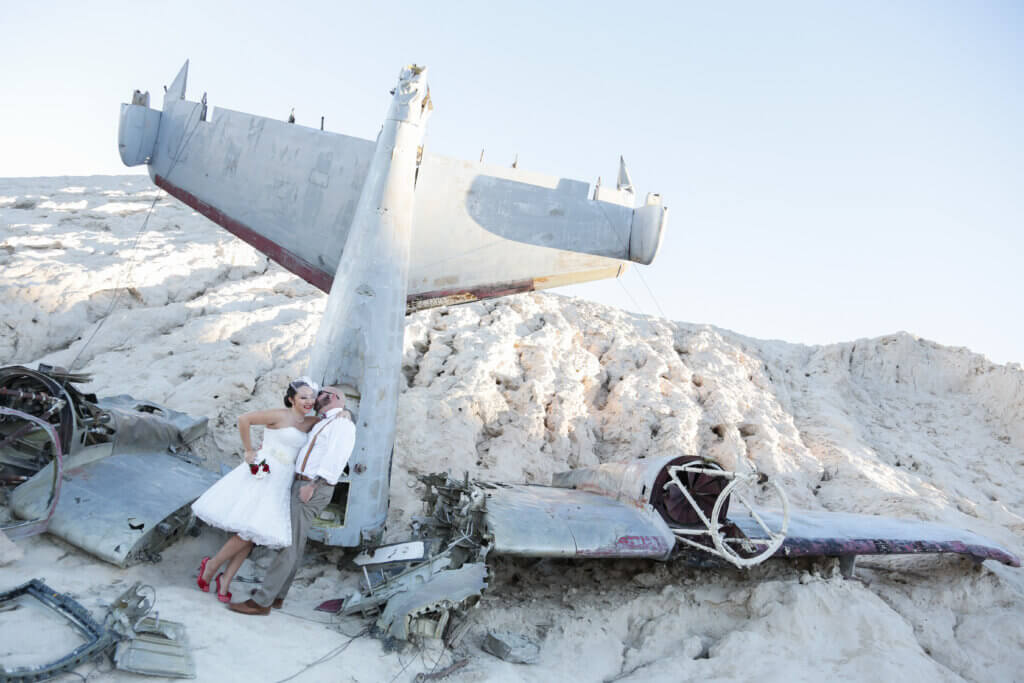 Picture this: Wedding banners draped across abandoned historical buildings, celebrants making toasts in vintage saloons, and posing for photographs in front of a rustic backdrop. If this sounds like the ideal setting to tie the knot, then you might want to celebrate your big day in a ghost town, especially if you are a history buff or love spooky stuff. A ghost town is a formerly flourishing town that is now wholly or nearly deserted, which is usually a result of the exhaustion of a natural resource.
Blending mystery and nostalgia, an abandoned town turned wedding venue typically offers a spacious outdoor setting sprinkled with eclectic artifacts and fascinating backstories that put a unique spin on a marriage ceremony. When planning a wedding in a natural environment, keep in mind the weather conditions and sometimes the lack of electricity. Booking an acoustic band, for instance, would be a great way to enliven this old-timey scenery.
Some of these historical landmarks have also transformed into popular vacation spots for honeymooners, which may offer some couples the best of both worlds.
Recommended Vegas venue includes the nearby Nelson Ghost Town.