Thousands of successful ceremonies happen in Las Vegas each year. Perhaps the city's most famous chapel, Little White Wedding Chapel stands as the iconic site for a spectrum of weddings. From planned ones to quickly planned ones and everything in between, the variety speaks for itself.
Famous for its drive-thru ceremony window, the Little White Wedding Chapel has hosted scores of celebrities for their nuptial ceremonies. Read on to discover famous Las Vegas weddings and their participants.
Star Power
Decades of A-listers have graced the chapel's halls. In the past, Dixie Chicks lead singer Natalie Maines and Adrian Pasdar were notable guests. Michael Jordan held a witching hour ceremony at 2:30 a.m. to Juanita Vanoy in 1989. Another legacy wedding, Britney Spears spurned a famous 55-hour whirlwind marriage with her 2004 ceremony to Jason Alexander.
Modern pop stars and Hollywood legends that have tied the knot recently are Joe Jonas and Sophie Turner; Ben Affleck and Jennifer Lopez; Bruce Willis and Demi Moore; and Kourtney Kardashian and Travis Barker.
While not a betrothed couple, Little White Wedding Chapel has a track record of appearing in movie and sitcom sets across production houses and networks. Talk shows including "Good Morning America" and "Entertainment Tonight" are among notable network names. Long-running series such as "The Bachelor" have also brought the wedding bells to the big screen on many occasions.
An Offsite Officiant
Little White Wedding Chapel owner Charolette Richards has overseen thousands of weddings in the chapel and around Las Vegas. The "Wedding Queen of the West" repertoire includes household names and Vegas icons, many of which preferred the privacy of nearby resorts and less conspicuous chapels to conduct proceedings. The number of ceremonies conducted since the Chapel's opening — Richards herself officiating many — is climbing in the high six figures.
Richards was there when Frank Sinatra and Mia Farrow said "I do" in the old Sands Hotel in 1966. She also was present when Elvis Presley married Priscilla at the former Aladdin Hotel in 1967 under the cover of darkness. Judy Garland and Mark Herron were wedded in Little Church of the West, as well as Rita Hayworth and Dick Haymes at the former Sands. International famous Las Vegas weddings, such as that of Chinese opera singer Xiao Xiang Yu, also bring in a portion of business.
A New Legacy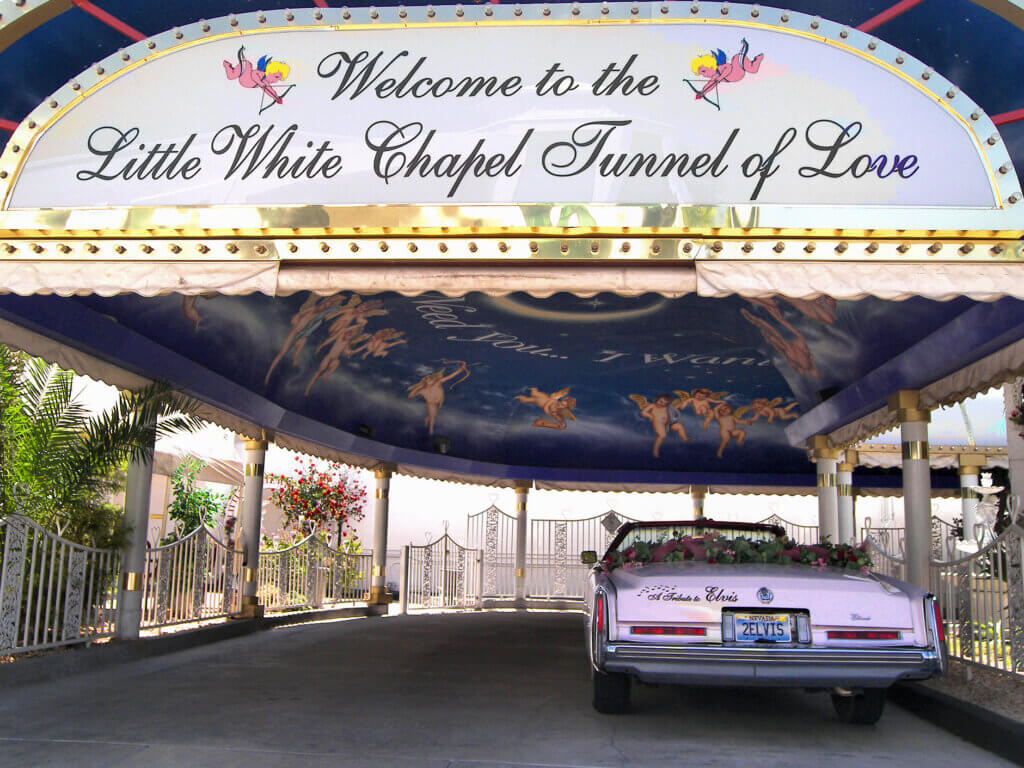 The historic Little White Wedding Chapel torch has been passed. Vegas Weddings acquired the chapel in November 2022 after a years-long conversation surrounding ownership. All current charms will be preserved in this transition, so newlyweds can expect to see the familiar faces of the priests and officiants employed there. This includes Richards herself, who is approaching 90 years old and will continue to hold the position of Honorary Minister
"They're not getting rid of me yet!" Richards proclaims in a recent press release. "Marrying couples and sharing my Love Recipe of a happy life together is in my bones and I'm planning to keep that going as Honorary Minister."
Marry at Little White Wedding Chapel
Future newlyweds, bear this in mind. In order for the ceremony to be valid, couples must obtain a marriage license before visiting the chapel. Fill out marriage license applications online prior to visiting. Read more about Las Vegas wedding chapels and ceremonies to kick off the planning and proceedings.