Few weddings over the years have been as memorable as the Las Vegas ceremony for Elvis Presley and his blushing bride Priscilla Ann Beaulieu. Bride and groom were beautiful and seemed to paint an idyllic picture of what a happy couple should look like on their big day.
Now, when people think about a wedding, it's inevitable that they consider Las Vegas and the now-famous Elvis weddings, officiated by impersonators. If you're dreaming of a Las Vegas wedding with an Elvis and Priscilla flair, we've got you covered. Here's the budget-friendly list you'll want to have as you plan a modern version.
The Venue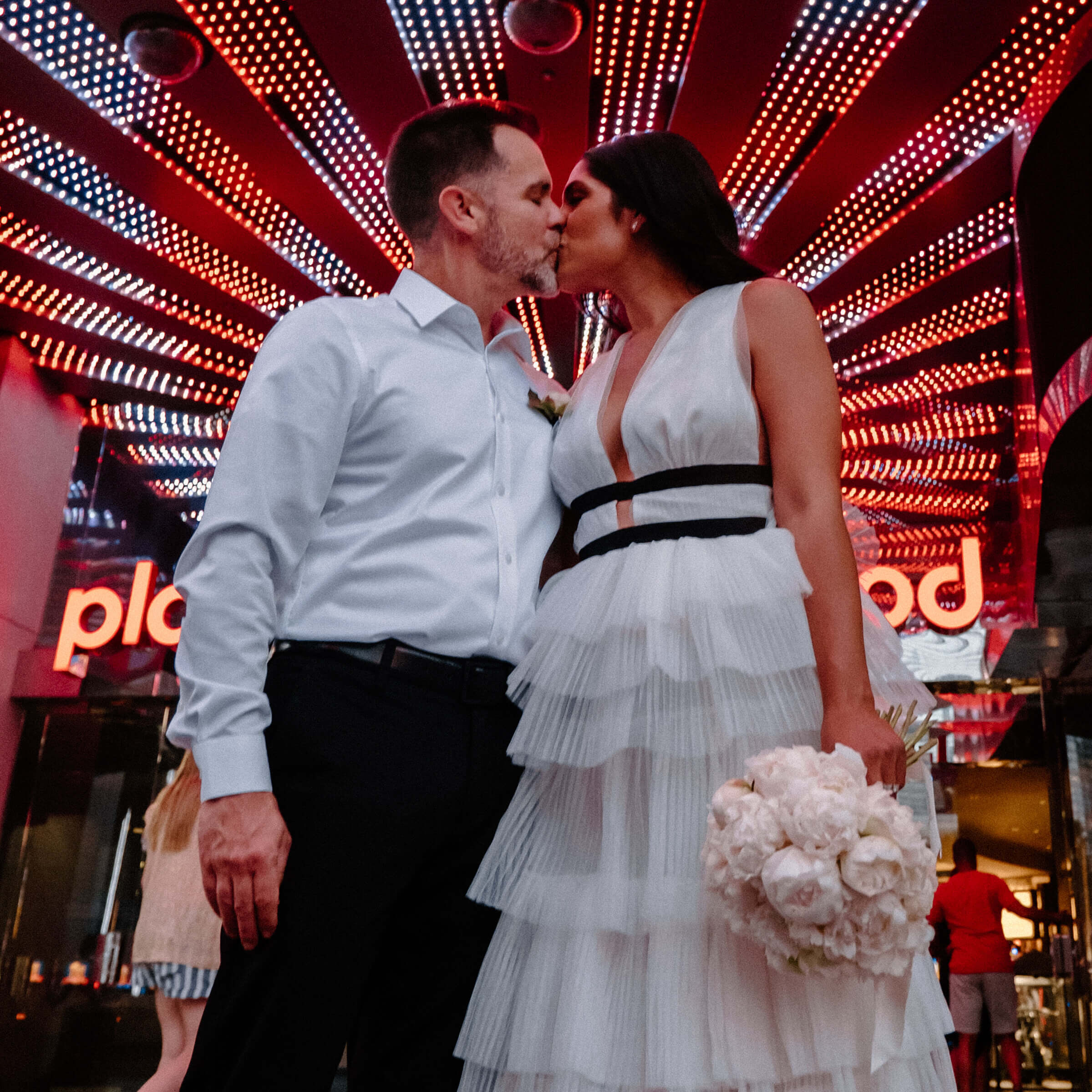 When planning your Elvis Vegas nuptials, you'll want to start with the venue. Elvis and Priscilla tied the knot in a private suite at the Aladdin Hotel in downtown Vegas. Unfortunately, the Aladdin is no longer around as it was leveled decades ago to make way for progress. But there's some good news, because in its place sits Planet Hollywood Las Vegas.
And they do offer a wedding package starting at $699. So if you want geographical authenticity, we recommend starting there. If you're still looking for overall authenticity, however, you're in luck.
Graceland Chapel, named in honor of the King of Rock himself, has occupied its place in downtown Vegas for over 80 years. And with packages starting at just $239, you can enjoy a timeless vintage chapel with an Elvis officiate to make your wedding extra special. And if you want to spring for the most expensive package, at $799, they'll even provide two different Elvis impersonators from his most famous eras.
The Dress And/Or Suit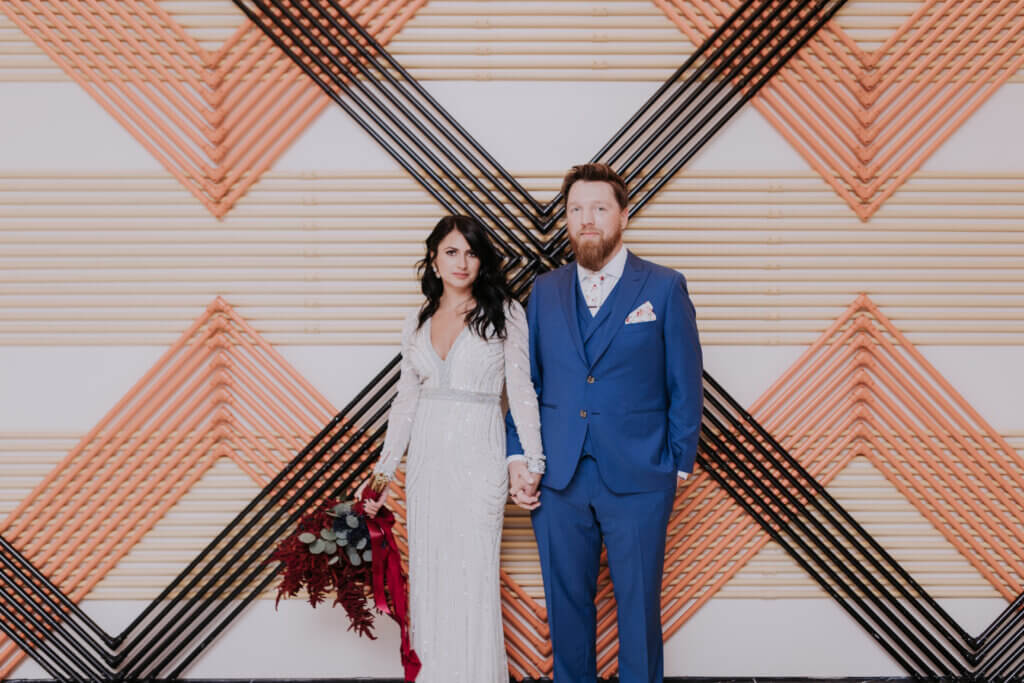 Of course, it doesn't matter if you have the right venue if you don't have a dress or suit to go with it.
There's some good news on that front. While Priscilla said "I do" to Elvis wearing a beaded chiffon gown trimmed in seed pearls, you won't find this gown at your average gown store. That's because Priscilla designed it herself. You can commission one from a dress designer, or try one of these amazing modern takes on the dress:
This Tulle Lux boho style gown doesn't come covered in pearls, but the combo lace and simple skirt embody the same vibe as Priscilla's dress, with a modern twist. At just $405, it's budget friendly too.
At $203, this Dorris Wedding dress offers ¾ lace sleeves with lace detailing across the neck.
This $399 1960's vintage Priscilla of Boston gown offers the same loose fit across the waist, lace detailing and similar sleeves.
Don't forget to snag a tiara and veil to finish the look. This $118 piece from Etsy offers an updated interpretation of Priscilla's elaborate head piece.
For those looking for a proper Elvis wedding suit, this one is an easier find. For his big day, Elvis wore a black brocade silk tuxedo with a paisley pattern overlay.
Hockerty offers a $429 black paisley print tuxedo with rounded lapels, and it comes with matching pants. This is made to order, so plan ahead.
For a similar effect with a bit more texture that won't take as long to arrive, try this $179 jacket from Perfect Tux.
The Cake (Hint: It's Not $22,000)
Once you've said your vows and it's time to celebrate, everyone looks forward to the next best part of a wedding: the cake.
For their wedding, Elvis and Priscilla paid $3,200 ($22,000 in today's money) for a 6-tiered yellow sponge cake with apricot marmalade, a kirsch flavored Bavarian cream, fondant icing and decorated with royal icing and marzipan roses.
While that may be out of reach for most people, there are some great options on a budget right there in Vegas, so your cake will be both beautiful and fresh.
For instance, this three-tiered vanilla and Bavarian cream cake from Freeds Bakery comes with delicate draped icing ribbons and roses. And it'll only set you back $77. The same bakery offers a number of tiered cakes in the same budget-friendly zone, so hop on over and pick out your dream delicacy.
Elvis and Priscilla bucked the norm in a lot of ways for their wedding, with the superstar singer striking any mention of the word "obey" from the traditional vows and hosting their reception at 9 a.m. While not everyone wants to pay $10,000 for a buffet that includes suckling pig, lobster, champagne and Southern fried chicken, Vegas offers a number of caterers that will bring the flavor right to you.
Renaissance Catering, for instance, says they love a challenge. And they offer a large variety of food options to choose from, so if you do want to go the "caviar dreams" route and make a big bucks reception, they've got you covered. They also have options for a more slimmed down budget.
Enjoy the Elvis and Priscilla Experience
Overall, Las Vegas is the perfect place to have your very own Elvis and Priscilla wedding. With endless Elvis impersonators and chapels to choose from, you'll need a list to narrow things down and get your search started.
So happy planning and congratulations!