It could be the plot of a rom-com. On a whim, Northern California lovebirds Mayra Ramirez and Luis Pantoja decided to secretly elope in Las Vegas. The longtime friends didn't know how their families would react to the news of their nuptials. Better wait to tell them later, when the shock wouldn't be so great.
Fast forward to the next day, February 20, 2022: The happy couple was quietly standing in line for their marriage license at the Clark County Clerk's Office in fabulous Downtown Las Vegas.
"We were trying to keep it low key," Ramirez says with a laugh. "The bride was wearing a onesie, Skecher sneakers and a messenger leather bag by nobody."
"I was wearing a black shirt, blue jeans and Converse," Pantoja adds, laughing.
Then—just like in the movies!—they're named the 5-millionth couple to get married in Clark County, a distinction over 100 years in the making. Cue the flashbulbs, balloons, flowers … and a commemorative Key to the Las Vegas Strip!
Here come the wedding celebrities
"My jaw dropped," Ramirez says.
But did the closet couple want to accept their prize? Gifts included a free hotel/spa package at Paris Las Vegas; tickets to Cirque du Soleil's The Beatles LOVE; gift certificates to Bootlegger Las Vegas and Fashion Show mall; an autographed print of the Marriage License Bureau mural by artist Jerry Misko; an official Diamond Five Million Love Stories ring from Michael E. Minden Diamond Jewelers; roundtrip airfare on Allegiant Airlines so that they could return to Vegas for the World's Largest Vow Renewal at Caesars Forum. Even country star Brad Paisley would go on to offer them show tickets and "give them a first dance."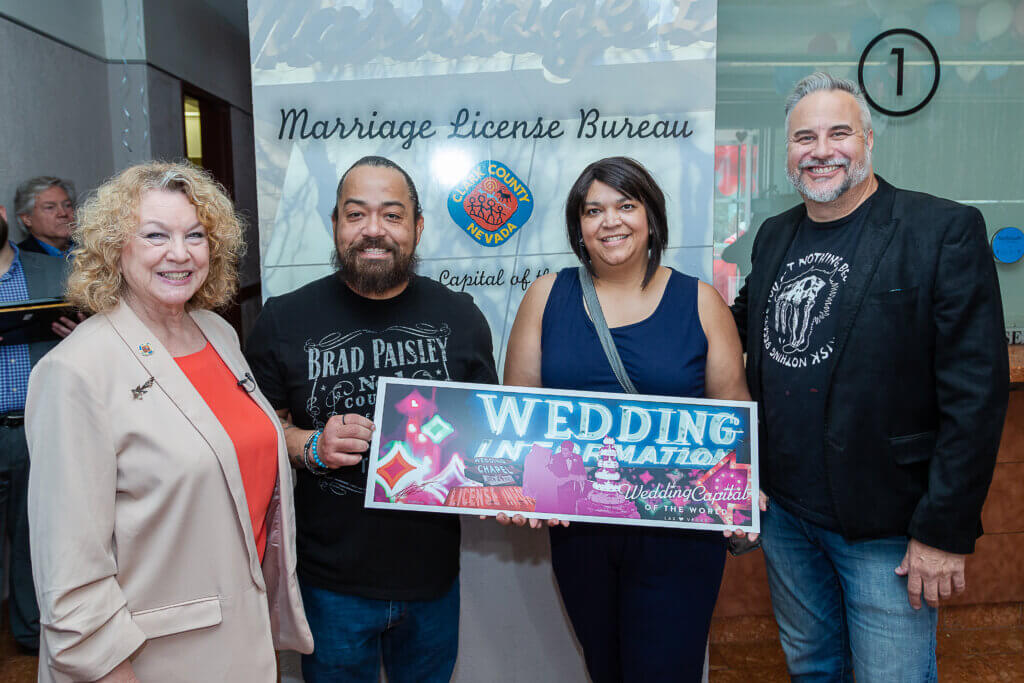 Yet … acceptance meant becoming the figureheads for Clark County's Five Million Love Stories yearlong celebration and, most importantly, loss of that coveted secrecy.
"It was a lot of attention," Ramirez says. "I was hesitant. I almost said no."
But in the Wedding Capital of the World, cupid always wins.
"It's part of our story now," Ramirez says. "It was meant to be."
"We were going to go hush-hush," Pantoja says. "But it came out into the light, we told everybody, and I'm glad that she's my beautiful wife."
As for the surprised family members? The couple says: They're happy that we're happy.
From friends to much more than friends
As family friends, Ramirez, 40, and Pantoja, 39, have known each other since they were teenagers. But last summer, their acquaintance grew to something more.
"I saw him at his dad's birthday party," Ramirez says. "I dropped the hint that I was single … "
" … And I took it," Pantoja says, laughing. "Little by little, the attraction built. As soon as she let me know she was single, I was like, 'Oh, it's my turn!'"
True to the couple's happy, laid-back vibes, the proposal was casual: "There was no kneeling, no big proposal," Ramirez says. "He was just like, 'Are you going to marry me or not?'"
The groom says he actually proposed multiple times: "Come on, let's just do it. I like you. You like me. It's perfect."
Something finally clicked, and they decided to combine a visit to Pantoja's family in Vegas with a last-minute ceremony. The couple had also researched getting married in their home state, but due to COVID, Santa Clara County had a months-long waiting list for marriage licenses. Fortunately, Nevada offered a smoother route.
Always ready for love
"We just decided let's do it today," Pantoja says.
"Literally the night before, we did the application online," Ramirez adds.
They recommend Las Vegas for anybody looking to get married fast: "If you're in Vegas, it can happen," Ramirez says. "So yeah, I'm glad we went to Vegas."
The couple eloped at A Special Memory wedding chapel.
"It was super cute," Ramirez says. "I loved it."
Since Ramirez and Pantoja had already chosen A Special Memory, another couple, Brianna Cloy and Trevin Patton out of Antioch, Calif., got to use the prize of a free wedding package at Chapel of the Flowers. Those lucky lovebirds won limousine transportation, fresh floral, photos and live online broadcast. Nothing wrong with sharing the wealth.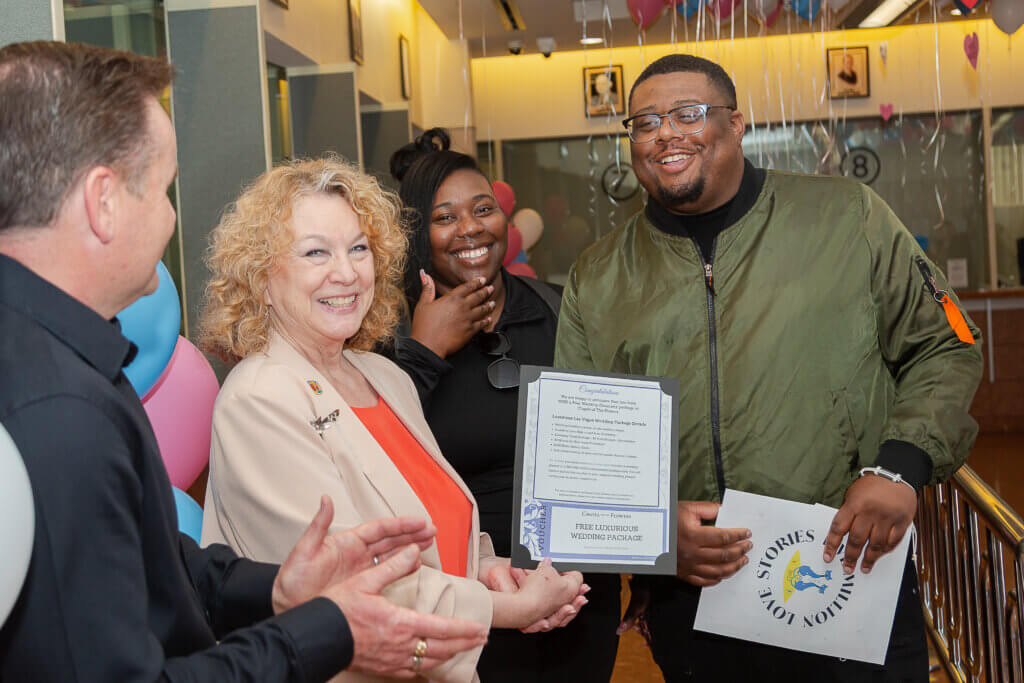 In their new lives as a married couple, Ramirez and Pantoja look forward to traveling the world. "Thailand, Brazil and Italy are the top three right now," Ramirez says. They also want to find some land in the Pacific Northwest and build a house.
Since getting married, Pantoja says that their bond just keeps growing stronger. "I mean, we're related now."
Still the change takes a little getting used to: "It was a little surprising," Pantoja says. "I've known her for a long time. Now just to say, "Oh, you're my wife!" And I'm glad you're my wife!"
"I call him 'husband' any chance I get," Ramirez says.
Five Million "More" Love Stories and counting …
Ramirez and Pantoja's love story may be one in a million. But every romance is special and unique in Las Vegas.
"We're so excited to be able to share this momentous occasion with Mayra and Luis, but it isn't just this one couple, but the five million love stories of all the couples that came before and made the decision to marry in Las Vegas," Clark County Clerk Lynn Marie Goya said in a statement. "Couples who married in Las Vegas are part of our history. If you were married in Las Vegas, YOU are part of our history. We are reaching out to our couples from all over the world and inviting them to send us their stories."