With 150+ marriages per day, Las Vegas is the "Marriage Capital of the World." We unveiled a new set of banners downtown to celebrate our wedding industry on "Wedding Row."
Wedding Row encompasses several chapels as well as the Clark County Marriage License Bureau, located at 201 E. Clark Ave. Wedding Row follows the previous launch of the Restaurant Row @ Carson Ave. and Brewery Row in downtown Las Vegas.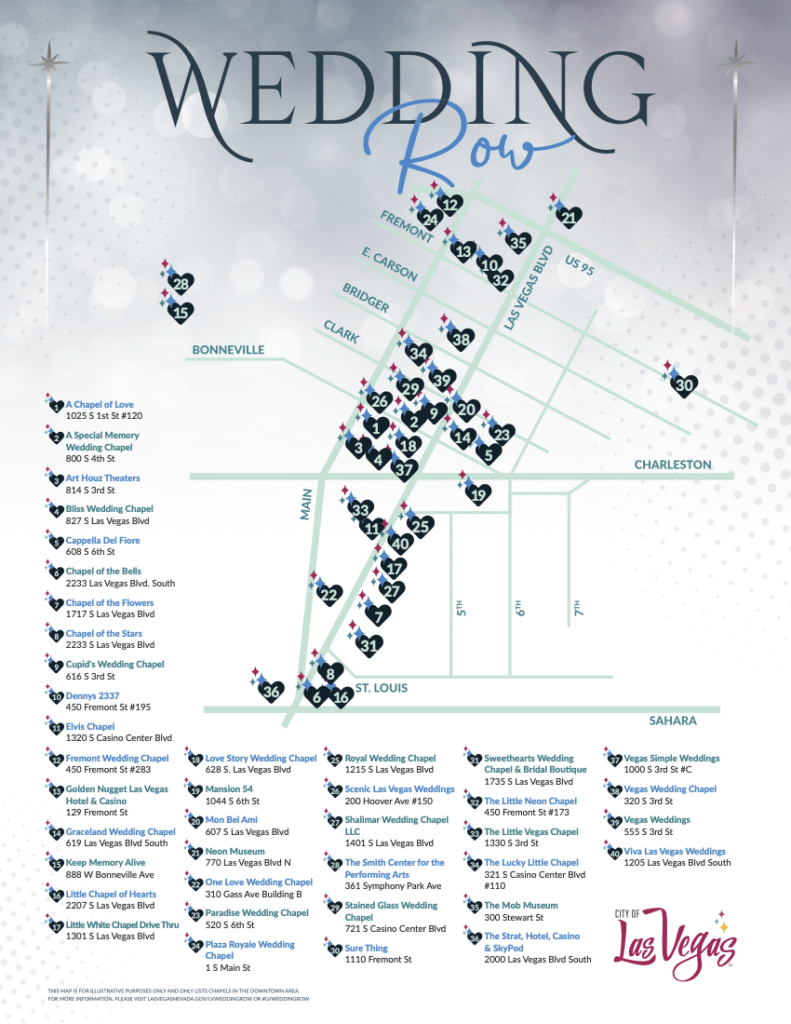 The 12 colorful banners in Wedding Row feature happy couples tying the knot in Las Vegas and are located downtown where there are multiple chapels offering a plethora of ways to get hitched.
The banners can be seen hanging from downtown light posts along Third Street between Bridger and Bonneville avenues, on Lewis Avenue between Casino Center Boulevard and Third, on Bridger between Casino Center and Third, and other locations downtown.
Tourists make up about 80 percent of marriage licenses issued in Southern Nevada, according to the Marriage License Bureau. In February 2022, the county issued its 5-millionth marriage license.
In 2021, the city launched a new project to identify key districts with banners and signage in downtown Las Vegas to help encourage visitors to the area. The district banners were outlined and approved by the Las Vegas City Council as part of the Downtown Master Plan – Vision 2045, adopted in June 2016. Districts included in this project are the Resort & Casino District, Civic & Business District, 18b Arts District, Gateway District, Symphony Park District, Market District, Fremont East District, Design District, Cashman District, Historic Westside District, Founders District and the Las Vegas Medical District. There are banners for Restaurant Row @ Carson Ave., Brewery Row, and now Wedding Row.