By John Katsilometes Las Vegas Review-Journal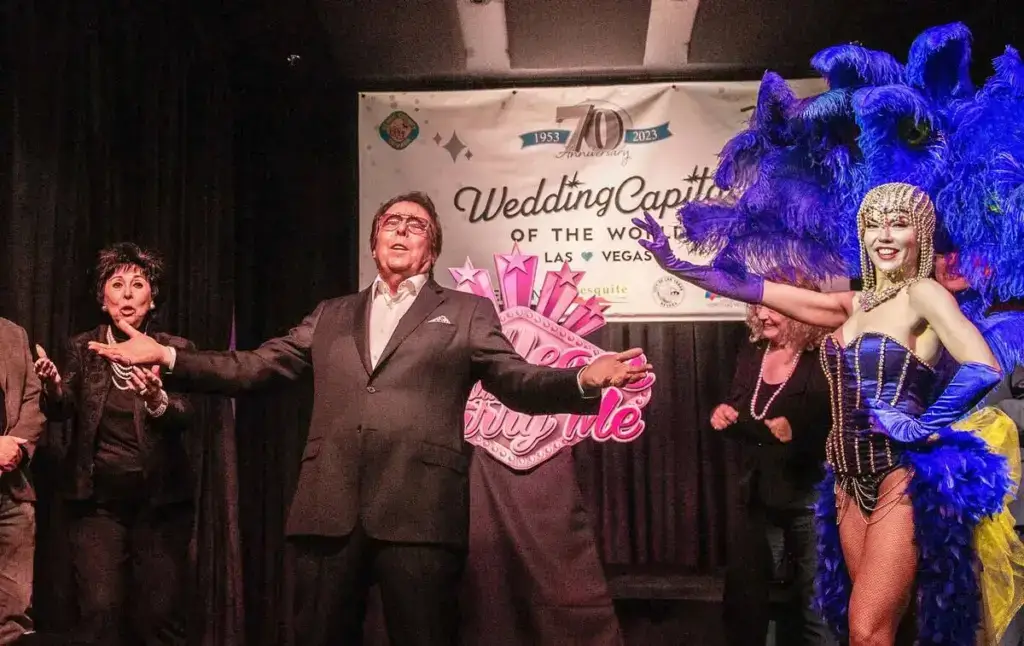 The Monterey Pop Festival of Matrimony is being staged next month on the Strip.
Titled "Las Vegas Will You Marry Me," the city's 70th anniversary celebration as the "Wedding Capital of the World" is set for Sept. 3 at Caesars Palace's Octavius Ballroom.
Some 250 couples (in a place dubbed the"Love Nest"), and a couple thousand ticket-holders (in the "Congregation") renewing their vows are expected to fill the ballroom, with doors opening at 10 a.m.
"We are celebrating 70 years of love and marriage in Las Vegas," says Lorraine Hunt Bono, the show's co-producer and co-creator. "This is a community event that will go all over the world. It will be a spectacular thing for the whole state."
The show's title is also the name of an original song, to be sung by venerable Vegas crooner and show emcee Dennis Bono, of "The Dennis Bono Show" at South Point Showroom.
The tune is penned by accomplished composer and arranger Dan Slider, who has written the score of several stage spectaculars, "Le Lido de Paris" among them. He's also penned the theme of "America's Funniest Home Videos," among many other projects.
The officiant for the in-show, mass vow renewal is to be announced. A champagne toast and cake by Buddy Valastro's Carlo's Bake Shop are in the ticket package.
This massive state of the unions is celebrating the 70th anniversary of a London Daily Herald story from Sept. 23, 1953, which called Las Vegas the "wedding capital of the world."
Familiar and favorite Vegas entertainers perform in a show that breaks down the city's history of quickie weddings dating to the 1950s. Love songs, exclusively. Breaking the roster down, by decade:
1950s: Vegas vocal impression icon Bob Anderson, and South Point Showroom headliners the Bronx Wanderers.
1960s: Bill Medley and Bucky Heard of the Righteous Brothers, and former "Jersey Boys" co-star Travis Cloer.
1970s: Ex-"Bat Out of Hell" and "Baz" co-star Anne Martinez.
1980s: Master showman currently in headline rotation at Myron's at the Smith Center, Earl Turner.
1990s: Two-time Grammy nominee, and also a Myron's headliner, Clint Holmes.
2000s: "Fantasy" vocalist and "Housekeeper to Headliner" show creator Lorena Peril.
2010: Vegas showman and purveyor of the party Chris Phillips of Zowie Bowie.
Packages for those seeking to renew vows are $170 per couple. Tickets are $70 for the show only. Those prices don't include fees (go to ticketmaster.com and search "70th Anniversary Celebration" or weddings.vegas/event for intel).
Damian Costa of Pompey Entertainment, a former Caesars Entertainment exec, is co-producing.
Clark County Clerk Lynn Marie Goya said in a statement, "The monumental event will not only spotlight Las Vegas as the world's top wedding location but also honor the more than seven decades of love stories and entertainment in our extraordinary destination."