By: Michelle M. Havich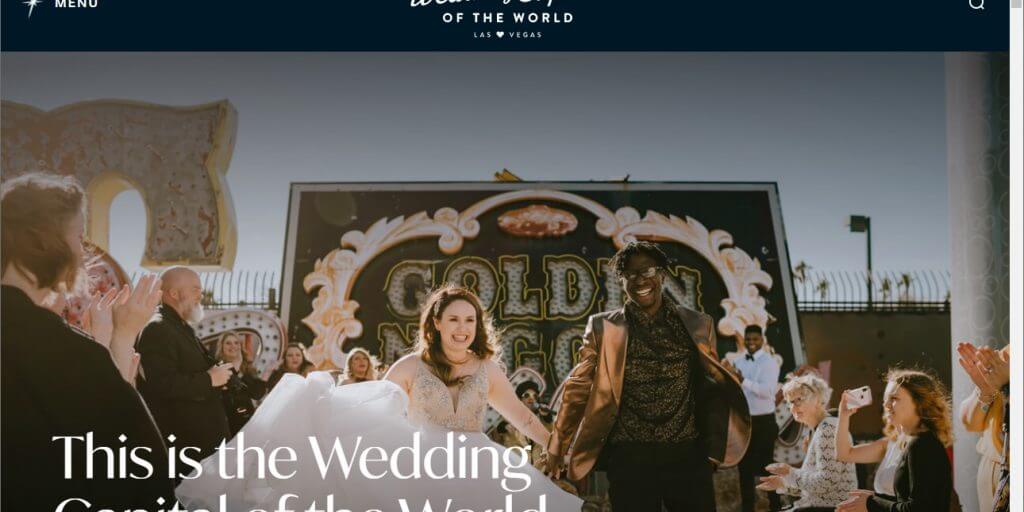 Clark County, Nevada, is the "Wedding Capital of the World," with approximately 129,000 marriage licenses issued over the past two years, 80 percent for out-of-towners. "We do more destination weddings than any other place on the planet that we can find," said Clark County Clerk Lynn Marie Goya. The county issue its 5-millionth marriage license this year, kicking off a series of year-long special events and promotions, with February 2022 being declared as Wedding Month.
In 2019, the County Fiscal Officers Association of Nevada (CFOA) was able to secure a steady source of technology funds, so the clerk's office was able to develop Weddings.Vegas, an innovative website that serves as an information portal for getting married in the county. The site also serves as the Clark County Clerk's official site, and incorporates other services offered by the office, and that is why the Clark County Clerk customer service website design was selected as one of American City & County's 2021 Crown Communities Awards winners.
Previously, when potential brides and grooms would call the Clark County Clerk's office to get information on licenses and getting married in the City of Las Vegas, the office would direct them to a URL that was long and clunky and hard to repeat over the phone, especially to couples calling internationally.
Also, people want more information than just how to get a marriage license. "What we find is that couples ask our clerks where they can go to get married and what to do while here, those kinds of questions. It's not appropriate for government to provide that specific information, so what we really wanted to do is to help couples understand the whole process of coming to Clark County to get married."
Weddings in Clark County are a $2.5 billion industry that employs more than 18,000 people and supports hundreds of businesses from independent photographers to the multi-billion-dollar resorts. "The design goal was to make it really simple, intuitive and beautiful so that people would get from images, as well as text, what it was like to get married here," Goya said. "Sometimes I go down to talk to couples in the marriage license bureau as they're waiting to get their license, and 'fun' is the number one word they use to say why they came to Las Vegas to get married. So, I think that the site reflects that is important."
Weddings.Vegas is populated with beautiful images of local weddings of all varieties, from casual to more formal, making it attractive to a new generation of couples. It also has a chat feature to help couples directly. "Millennials are the biggest group, and we're actually starting to see the post-Millennials" Goya said. "It was really important that it be a website that was attractive to them, that talked to their sensibilities and how they like to get information, rather than the older way that a typical government site would be laid out."
The site is not just for wedding couples. While it offers marriage license applications and other wedding related services, it also features information on all the services the Clerk's office offers, including proof of life verification, lobbyist registration, filing Fictitious Firm Name (FFN/DBA) certificates and public records request fulfillment for various boards and commissions, just in a more user friendly and up-to-date format.
"One of our other goals was to make it with a mobile-first design concept, because we know that close to 60 percent of our customers or visitors to our site do so on a mobile device, so it was important that it would lend itself well to different platforms and scalability, so that is still remains readable and easy to find the information," Assistant Clark County Clerk Carl Bates added.
To promote the site as a portal for all county information, the Clerk's office urges businesses to incorporate the simplified URL and a related QR code on all of their literature to make it easier for their customers. According to Goya, Clark County has around 3,500 marriage officiants and hundreds of small chapels. "We have a lot of conversations with them regularly," she said. "This isn't something we thought up and in six months we did it. It's something that's been in the planning stages for a few years."
The Clerk's office also works closely with the Wedding Chamber of Commerce, which vets companies to make sure they are bonded, hold a business license and are a legitimate business. "We are using their resources to focus on specific places, including photographer and other vendors," Goya said.
A phase two for the site is currently in the planning stage that will expand services for the Clerk's office into the site and have more functionality and full-service features into the site within the next six to eight months, according to Bates.