By: Matt Thomas | eGlobal Travel Media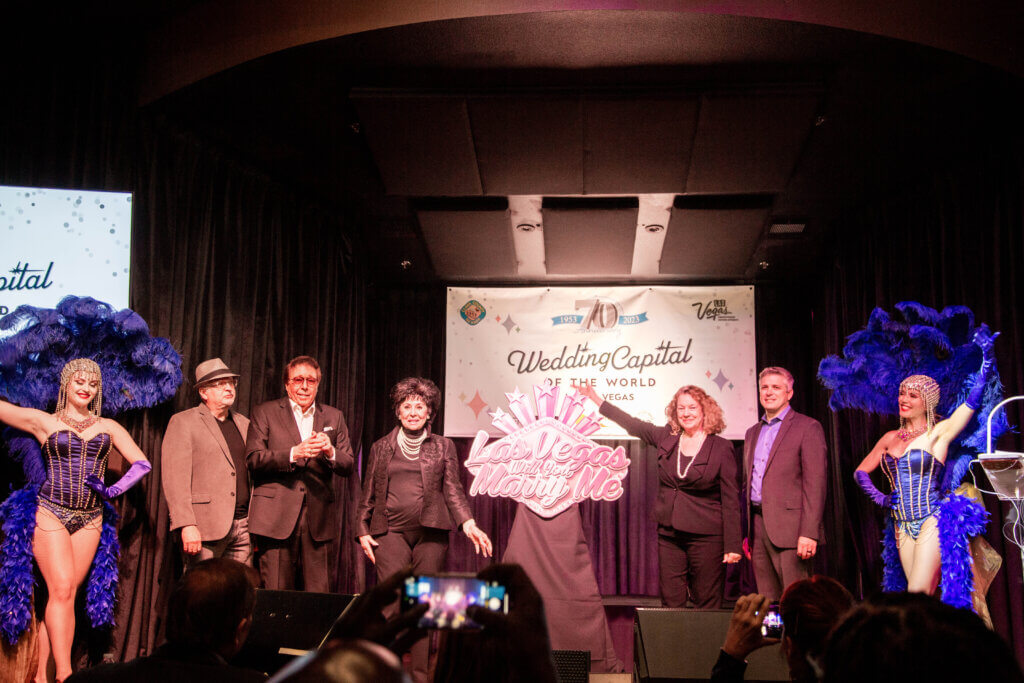 Southern Nevada, known as "The Wedding Capital of the World™," will celebrate its 70th anniversary as the world's premier wedding destination this September. With over five million couples tying the knot in Clark County, Las Vegas has cemented its status as the ultimate destination for lovebirds.
Las Vegas earned its moniker as the "Wedding Capital of the World" on September 23, 1953, when the London Daily Herald referred to it in an article about Las Vegas weddings. The destination broke records, charting one million weddings by 1974, three million by 2000, and five million by February 20, 2022.
Las Vegas will host a grand 70th Anniversary Celebration on Sunday, September 3, to commemorate seven decades of love stories at Caesars Palace. The event will feature a vintage-Vegas style show and a mass vow renewal ceremony that will be broadcast worldwide. The original production with a theme song written by Dan Slider, "Las Vegas Will You Marry Me," will be hosted by Dennis Bono, a recording artist and star of "The Dennis Bono Show."
Lorraine Hunt-Bono and Dennis Bono wrote and directed the original production of "Las Vegas Will You Marry Me," which was produced by Damian Costa of Pompey Entertainment. Organizers expect hundreds of couples to participate in the group vow renewal and enjoy activities and brunch-inspired fare alongside the production show. The event will benefit the Nevada Partnership for Homeless Youth.
General admission tickets for the celebration will start at $70, and VIP Vow Renewal tickets will start at $170 per couple. Ticket sales will begin in mid-May, and interested parties may register their names to the exclusive presale database by visiting weddings.vegas/event.
According to Lynn Marie Goya, the Clark County Clerk, "the best love stories start in Las Vegas," making it the most iconic wedding destination in the world. With endless possibilities, couples worldwide can make their wedding dreams come true in Las Vegas. She invites all couples to celebrate their love stories with them at the beautiful 70th Anniversary Celebration.
Clark County has been a popular wedding destination for years, with almost two million visitors travelling to attend or have a wedding in 2022. Over half of all licenses issued by Clark County last year included a millennial. Californians were the most significant domestic population outside of Nevada to marry in Clark County, representing 14,763 weddings. Visitors from the United Kingdom comprised the most prominent international population of couples married in Las Vegas, with 2,777 weddings last year.
Last year, weddings generated more than $2.5 billion in economic activity for Clark County. A portion of the revenue raised from the purchase of each marriage license supports the state's domestic violence prevention programs, including Safe Nest, Safe House, and the Rape Crisis Center.
Las Vegas has a rich history of famous couples tying the knot, including Jennifer Lopez and Ben Affleck, Michael Caine, Betty White, Billy Bob Thornton and Angelina Jolie, Clint Eastwood, Demi Moore and Bruce Willis, Elizabeth Taylor and Eddie Fisher, Elvis and Priscilla Presley, Frank Sinatra and Mia Farrow, George Clooney, Joe Jonas and Sophie Turner, Michael Jordan, Tom Petty, and many more.
In conclusion, Las Vegas's 70th Anniversary Celebration will be a fantastic opportunity for couples to renew their vows and celebrate their love stories. It will be an event to remember; people worldwide are invited to join the festivities.