"Las Vegas Will You Marry Me" - The Lineup
AN ORIGINAL VINTAGE-VEGAS MUSICAL PRODUCTION CELEBRATING LOVE AND MARRIAGE IN THE WEDDING CAPITAL OF THE WORLD, LAS VEGAS. THE SHOW IS WRITTEN, DIRECTED AND PRODUCED BY LORRAINE HUNT-BONO AND DENNIS BONO, AND CO-PRODUCED WITH DAMIAN COSTA, POMPEY ENTERTAINMENT. THE SHOW'S ORIGINAL THEME SONG, "LAS VEGAS WILL YOU MARRY ME", WRITTEN BY DAN SLIDER AND RECORDED BY DENNIS BONO.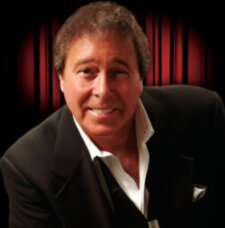 Dennis Bono
Master of Ceremonies, Director, and Co-Producer
Dennis Bono, the consummate interpreter of the Great American Songbook, proclaimed by the Chicago Tribune as "a thoroughbred singer, born and bred to sing," has achieved remarkable recognition as a recording artist with a career spanning decades.
In the early 80's, closest friend and confidant of Frank Sinatra, Jilly Rizzo heard Dennis' recordings, both were impressed by Dennis' discerning taste in music and his interpretation of the standards. Mr. S and Jilly consequently brought Dennis to Las Vegas which helped launch his future in the entertainment capital of the world.
23 years ago Dennis created "The Dennis Bono Show" which has become a Las Vegas staple. The show features celebrity entertainers and is performed weekly before a live audience in The Showroom at The South Point Casino on the South Las Vegas Strip. "The Dennis Bono Show", along with his recordings air on multiple radio stations, including CRN Network, and his music continues to play on Sirius XM Radio "Siriusly Sinatra" and globally on many digital platforms.
Beyond his musical success, Dennis is married to the 32nd Lieutenant Governor of Nevada, Lorraine Hunt-Bono, and with family, they own and operate The Bootlegger Italian Bistro and Copa on Las Vegas Boulevard.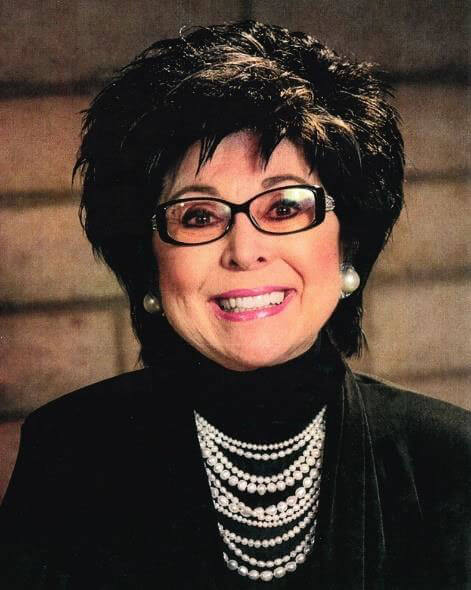 Lorraine Hunt-Bono
Writer, Director, Co-Producer
Lorraine Hunt Bono is CEO and President of Perri Inc. a real estate, restaurant, and entertainment management company established in 1972. Lorraine served two terms as Nevada's Lt. Governor leading the state's tourism and economic development initiatives. She also served as Chairwoman of The Las Vegas Convention and Visitors Authority (LVCVA) and the Nevada Motion Picture Film Commission.
Lorraine's entertainment credits include producer of Las Vegas' historic annual fundraisers for St. Jude's Ranch for Children, "The Nite of Stars", national television shows such as The Ed Sullivan Show, Red Skelton Show and CSI. In the late 60's, Lorraine's voice was heard on many famous radio and television commercials as the "voice" of The Tropicana Hotel, The Desert Inn Hotel, and The Landmark Hotel.
Lorraine is married to Dennis Bono, recording artist and star of the "Worldwide On Air Broadcast" of "The Dennis Bono Show" from Las Vegas, and with family they own and operate The Bootlegger Italian Bistro and Copa on the "South Strip".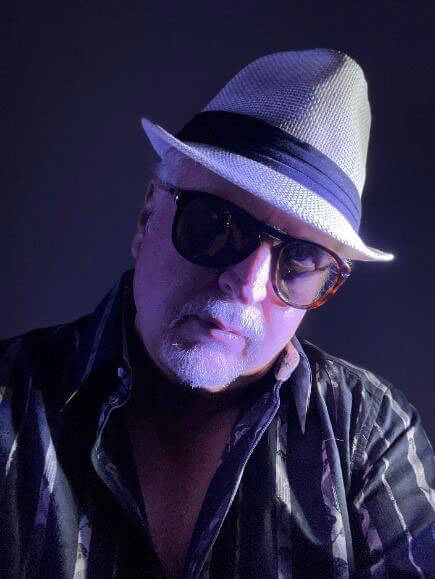 Dan Slider
Musical Director and Composer of the theme "Las Vegas Will You Marry Me"
Dan is a highly accomplished composer and arranger, with an impressive portfolio ranging from TV theme songs like "America's Funniest Home Videos" to scores for network television movies and large stage spectacles like "Le Lido de Paris." He has collaborated with notable artists like Dennis Bono and Rachel Sweet, along with the Vegas Headliner Big Band, showcasing his diverse talents. His expertise extends to original neo-classical works, exemplified by his compositions for Skywalker Symphony.
His musical journey includes formal education in film composing/arranging from Berklee College of Music and UCLA, as well as private mentorship from renowned figures like Dr. Albert Harris, Billy Byers, and Jim Harbert, who have worked with iconic performers like Barbara Streisand, Frank Sinatra, and John Williams, respectively. Dan's dedication and skill have earned him five BMI Film Music Awards.
Residing in Henderson with his wife Shirl, Dan enjoys life with their lively French Bulldog and Mini Bull Terrier.
Renowned Las Vegas Artists
(In Order Of Their Appearance)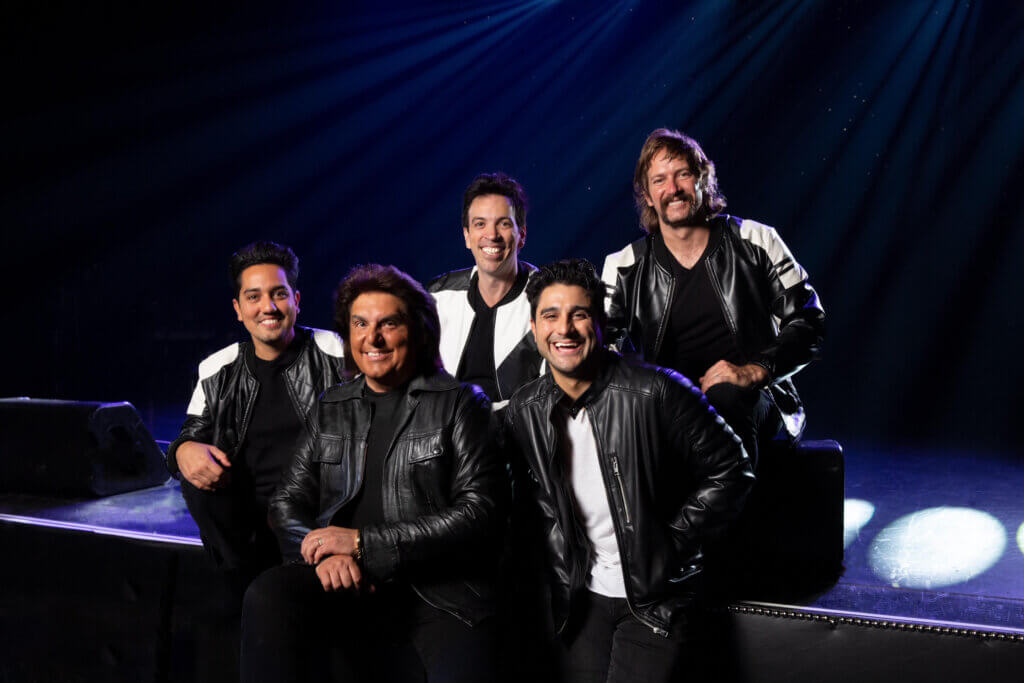 The Bronx Wanderers
Performing A Love Song of the 50's
What comes to mind when a father, his sons, and his three high school classmates get together and form a show? For starters, you can say a diverse recipe of hilarious personal stories, a vast repertoire of songs spanning all genres and decades, and one family's journey together through life and music. The Bronx Wanderers pride themselves on being one of the only shows able to entertain audiences of all ages in one sweeping musical tour deforce. They've had a top 5 show in Las Vegas for 7 years out of 223 shows, were winners of 12 Best of Las Vegas awards, currently have a residency at the South Point Hotel and Casino and were inducted into the East Coast Music Hall of Fame. In 2022, they were awarded the "Best Tribute Show" by Las Vegas Weekly. The chemistry and energy they exert show after show proves they are still having the time of their lives on stage 20 years later and you will too.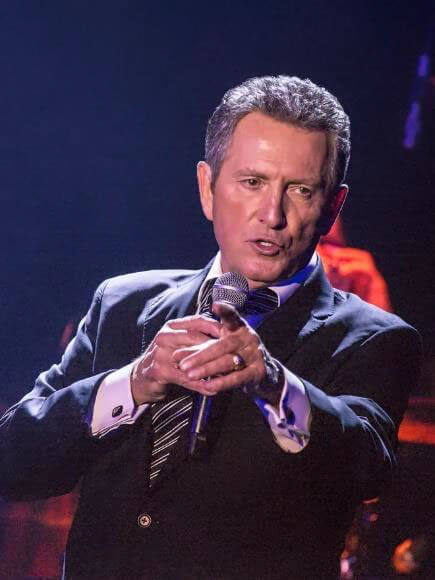 Bob Anderson
Performing A Love Song of the 50's
Bob Anderson is recognized as America's greatest singing impressionist and has been honored as the world's #1 impersonator by VH1 and People Magazine in 2015. He made a remarkable debut in 1973, replacing the Everly Brothers as Nancy Sinatra's opening act at the Sahara's Congo Room. This led to over 200 appearances on national television, including The Tonight Show, David Letterman, and The Merv Griffin Show. Anderson's talent and charisma shone on his award-winning show, FRANK The Man The Music, at The Palazzo Theater in Las Vegas, and quickly became a sensation shortly after its opening.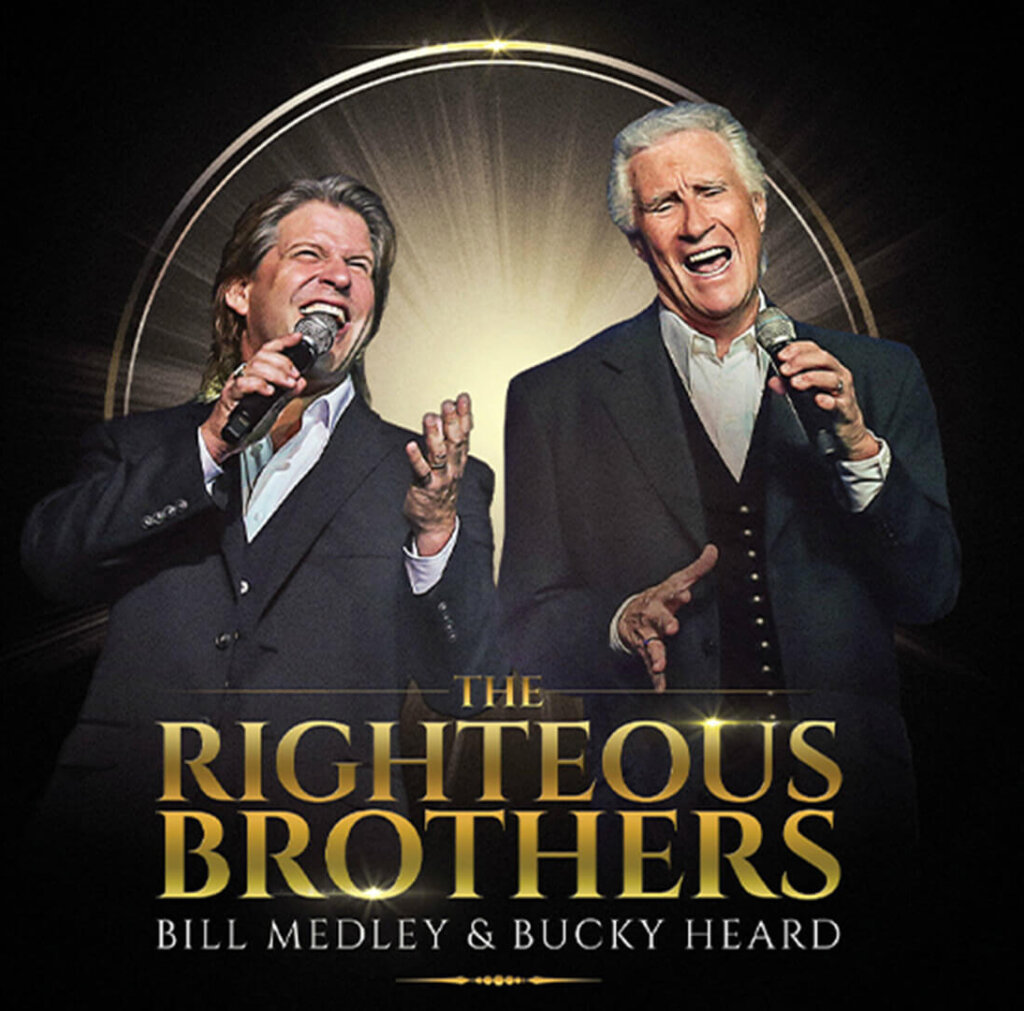 The Righteous Brothers
Performing A Love Song of the 60's
With a string of #1 classics including the most played song in American radio history, You've Lost That Lovin' Feelin', the Rock and Roll Hall of Fame duo of Bill Medley and Bobby Hatfield topped the charts in four decades. After Bobby's death in 2003, Bill Medley continued to perform to sold-out crowds around the world, but fans and friends pleaded with him to keep The Righteous Brothers alive. Says Medley … "No one could ever take Bobby's place, but when I caught Bucky Heard's show, it all came together – I found the right guy to help me recreate the magic."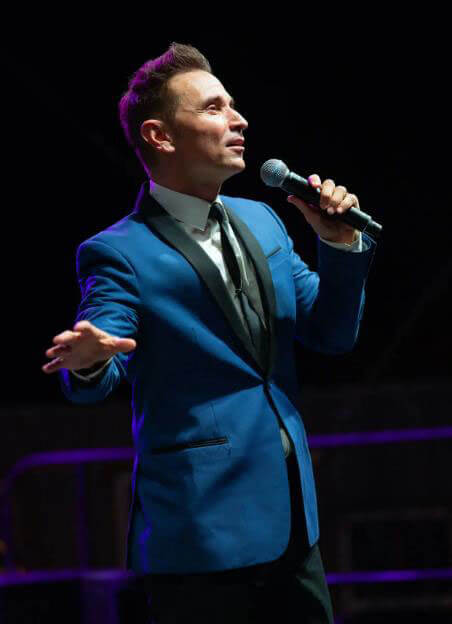 Travis Cloer
Performing A Love Song of the 60's
Cloer joined the original Broadway cast of the TONY & GRAMMY winning JERSEY BOYS setting a record as the longest running actor to play "Frankie Valli" in the show's history WORLDWIDE. With over 2200 performances, his portrayal earned him several BEST ACTOR nominations from BroadwayWorld.com. 944 Magazine calls his performances "riveting & transformative!" As a solo artist, he has released 3 albums & toured the world. Travis stars as the lead character voice in the animated film 'Little Emma' just released. A Kansas native and the son of a music minister, Cloer had music in his blood. From classical to Jazz, musical theatre to rock-n-roll, no genre of music escapes his masterful ability to grab a song & make it his very own. He's performed with the symphonies of Salt Lake City, Buffalo and Vegas, as well with the Radio City Rockettes. His voice, charisma & ability to command a crowd are unparalleled.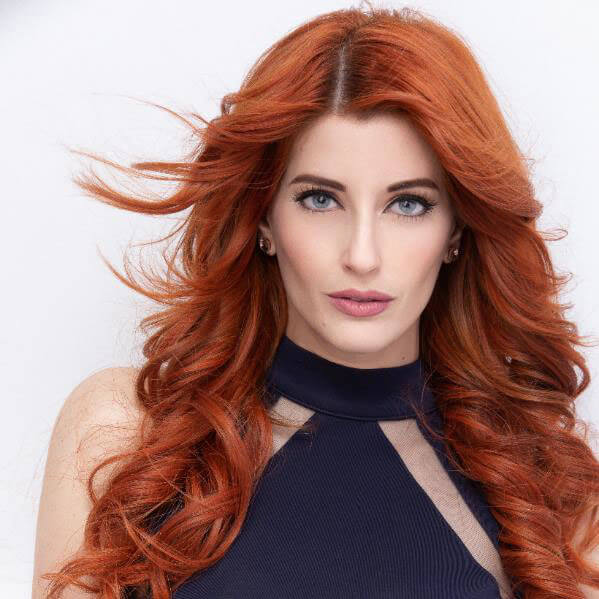 Anne Martinez
Performing A Love Song of the 70's
Anne Martinez is a headlining vocalist and showgirl in Las Vegas. She recently starred as Sloane BAT OUT OF HELL at the Paris and in BAZ: A MUSICAL TOUR DE FORCE as Satine at the Palazzo theatre. She has also performed in numerous Las Vegas Productions including FANTASY, THE TERRY BRADSHAW SHOW, JUBILEE!, PIN UP, SHOWSTOPPERS, BITE, ZOMBIE BURLESQUE, WORLD'S GREATEST ROCK SHOW, DANCING QUEEN, SEXXY, 50 SHADES, TOTALLY OUTRAGEOUS, and more. Anne has toured internationally with Foreigner, Asia & Englebert Humperdink. She also starred as leading roles in JEKYLL & HYDE, INTO THE WOODS, CINDERELLA, THE WHO'S TOMMY, CRAZY FOR YOU, THOROUGHLY MODERN MILLIE, MISS SAIGON. She holds a BFA (SUNY FREDONIA) & a MFA in Acting (UK's CENTRAL SCHOOL OF SPEECH AND DRAMA)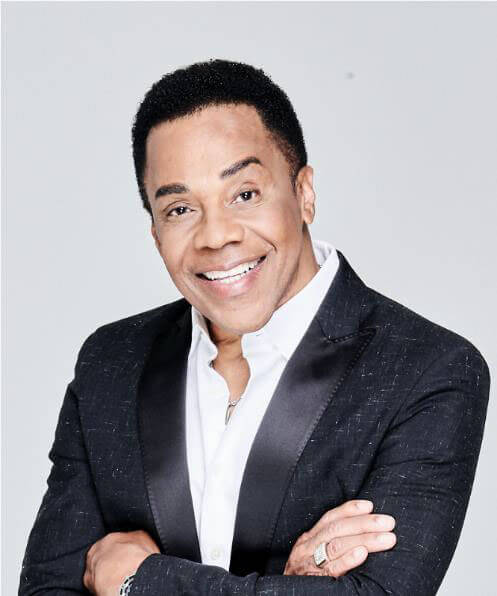 Earl Turner
Performing A Love Song of the 80's
Earl Turner is an entertainer in every sense of the word. From the clarity of his voice and explosive dancing, to his soulful guitar playing, he has owned the spotlight in showrooms from the Las Vegas Strip all the way to the heart of New Orleans.
Recently billed as 'Las Vegas' Most Electrifying Performer,' Earl has received numerous awards, including the Las Vegas Review Journal's 'Male Vocalist of the Year.'
Currently, a headliner for Royal Caribbean International, Earl still performs in Las Vegas, the city he calls home.
Earl is planning a Masterclass called, "Showmanship" scheduled to begin classes in 2023…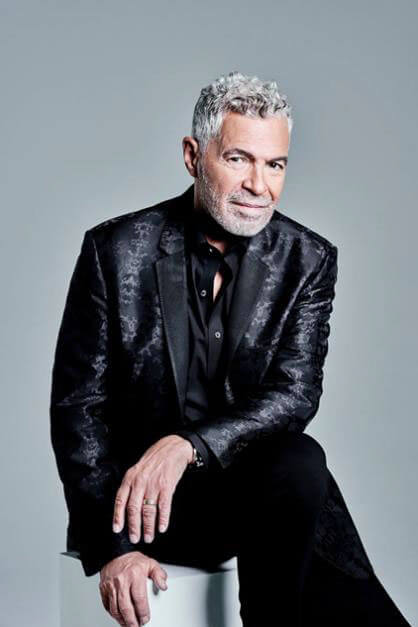 Clint Holmes
Performing A Love Song of the 90's
Clint Holmes' 40-plus year career has taken him from the top of the charts, to concert halls, on TV screens, and cemented his legacy as a veritable Las Vegas institution. His big break came in 1972 when he released "Playground In My Mind," a song that stayed on the Billboard Hot 100 chart for 23 weeks. Throughout his 40+ year career, Clint has received many accolades—most recognizably, the highest honor of a GRAMMY® nomination for his album, Rendezvous. Produced by eight-time Grammy Award-winner Gregg Field, the sophisticated album offers a diverse playlist that reinterprets modern day and classic pop hits, Jazz, soulful R&B, theatrical tunes, and numbers culled from the Great American Songbook.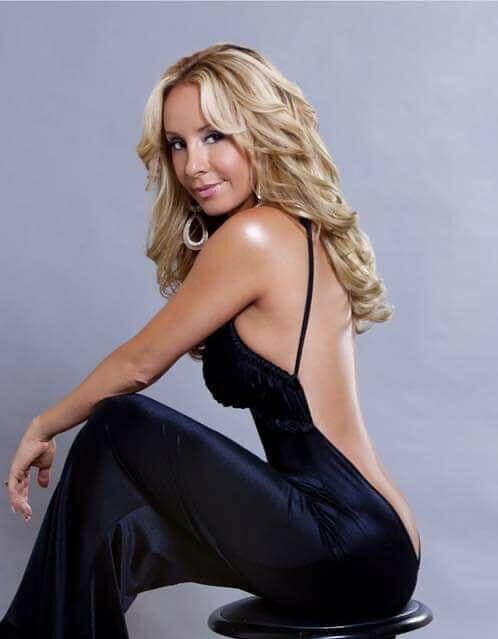 Lorena Peril
Performing A Love Song of the 2000's
Two Time Award Winning Headliner Lorena Peril has been entertaining audiences on the Las Vegas Strip since her arrival in 2005.
In 2010 She headlined as the Lead Singer in Anita Mann's hit production "FANTASY" at the Luxor Hotel and Casino.
Peril sang a duet with Rock Star Dee Snider in his "Twisted Sister" concert at the Las Vegas Hilton. She toured as the opening act for Barry Manilow during his multi city "Music and Passion" East Coast Arena Tour.
Peril appeared in the debut season of "The Voice." and has sang the National Anthem multiple times for Major sporting events.
She sang backup Terry Bradshaw at the Luxor Hotel and Casino.
In 2013, Peril and her Husband Ray Jon Narbaitz III hit the road in the much-anticipated European Tour of "Grease ¬The Arena Spectacular." She played the lead role of Sandy, and he played Vince Fontaine.
Peril will debut her own show "Housekeeper to Headliner" at the Smith Center. An adaptation musical of her Vegas success story. November 1st!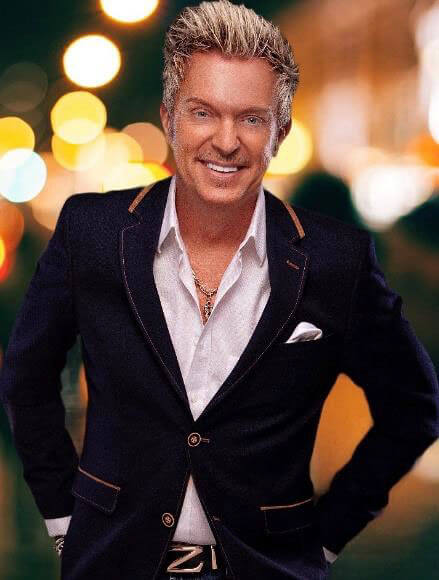 Zowie Bowie
Performing A Love Song of the 2010's
10 time "Best of Las Vegas" Gold winner ZOWIE BOWIE is the ultimate high energy "Vegas style" concert-party. From current top-40 to Vintage Vegas Classics, they are perfect for all events where everyone is sure to have the time of their life. Originally from Scottsdale Arizona, Zowie Bowie has been performing non-stop at various ongoing residencies since coming to Vegas in 2006. They have been featured as the headlining act in two national CBS New Years Eve specials. There are numerous great bands and shows in Vegas… but there is only one Zowie Bowie!